Back to the list
Top Crypto Analyst Predicts Massive Rally for Bitcoin (BTC) in 2023 – Here Are His Targets
dailyhodl.com
29 December 2022 19:26, UTC
Reading time: ~2 m
---
A widely followed crypto analyst is predicting an end to the Bitcoin (BTC) bear market with a massive rally.
Pseudonymous crypto trader Rekt Capital tells their 330,600 Twitter followers that Bitcoin is likely to surge by more than 176% next year from its value of $16,623 at time of writing.
The analyst bases their prediction on Bitcoin's historical price action using four-year cycle principles. Per the pattern, there are four-year-long candles for each stage of a market cycle. Candle one is the bull market peak, candle two is the bear market, candle three is the bottoming out with potential for an upside, and candle four is the recovery and start of a new trend.
Rekt predicts an upside to candle three in 2023 that would send the king asset to as high as $46,000.
"Technically, the most a BTC Candle 3 ever rallied was in 2019. In 2019, BTC rallied to Candle 1 and Candle 2 resistance at $13,900 (black). Therefore technically, the 2023 Candle 3 could rally plus-180% to tag the Candle 1 and 2 resistance at ~$46,000, at most."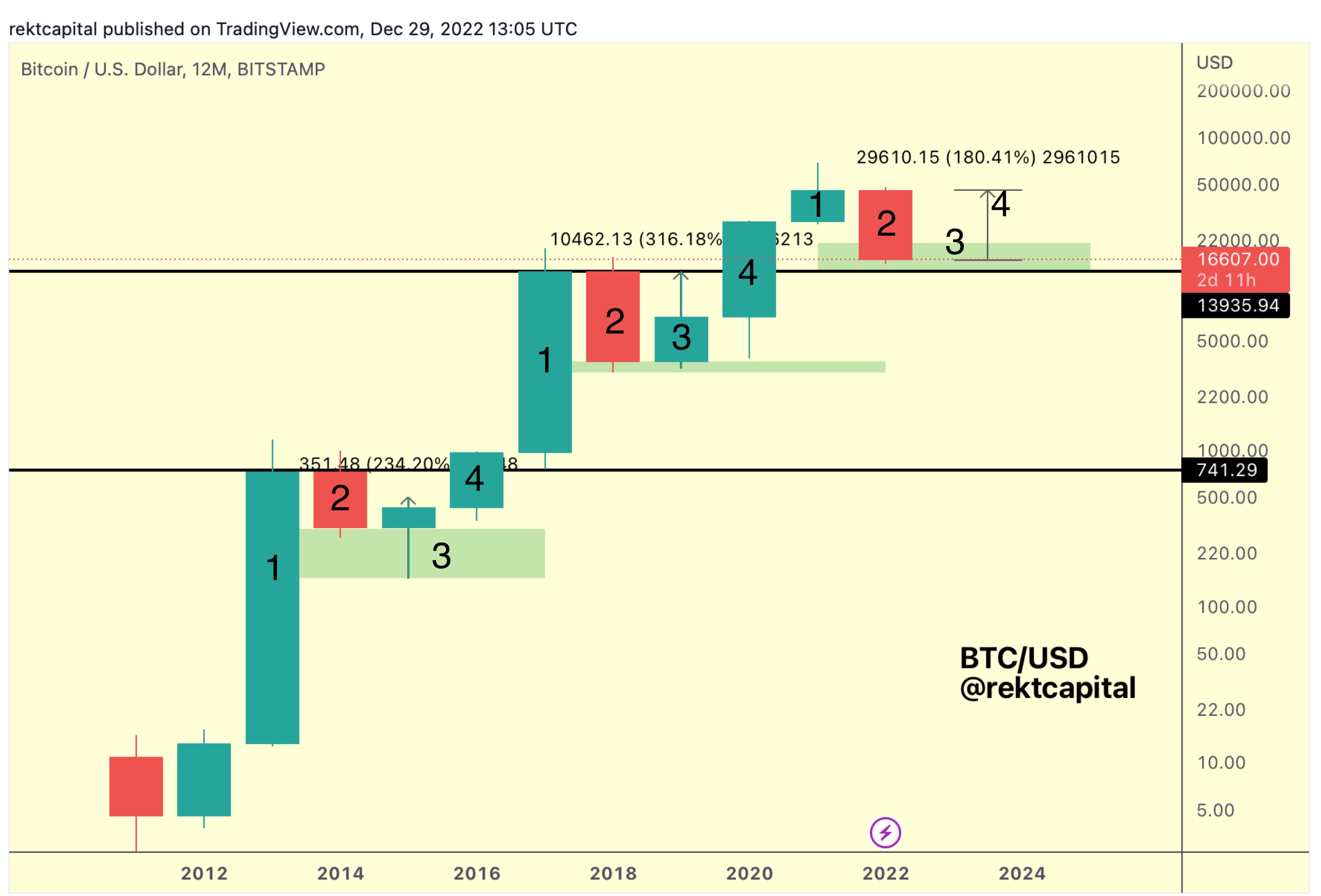 Source: Rekt Capital/Twitter
Rekt says further upside appears unlikely.
"Unless BTC performs downside wicking in the 2023 Candle 3… It is technically unlikely that BTC would repeat a +234% rally as such a move would see price rally to ~$55,000, beyond ~$46,000, which is the new 4-Year Cycle resistance just like $13,900 once was."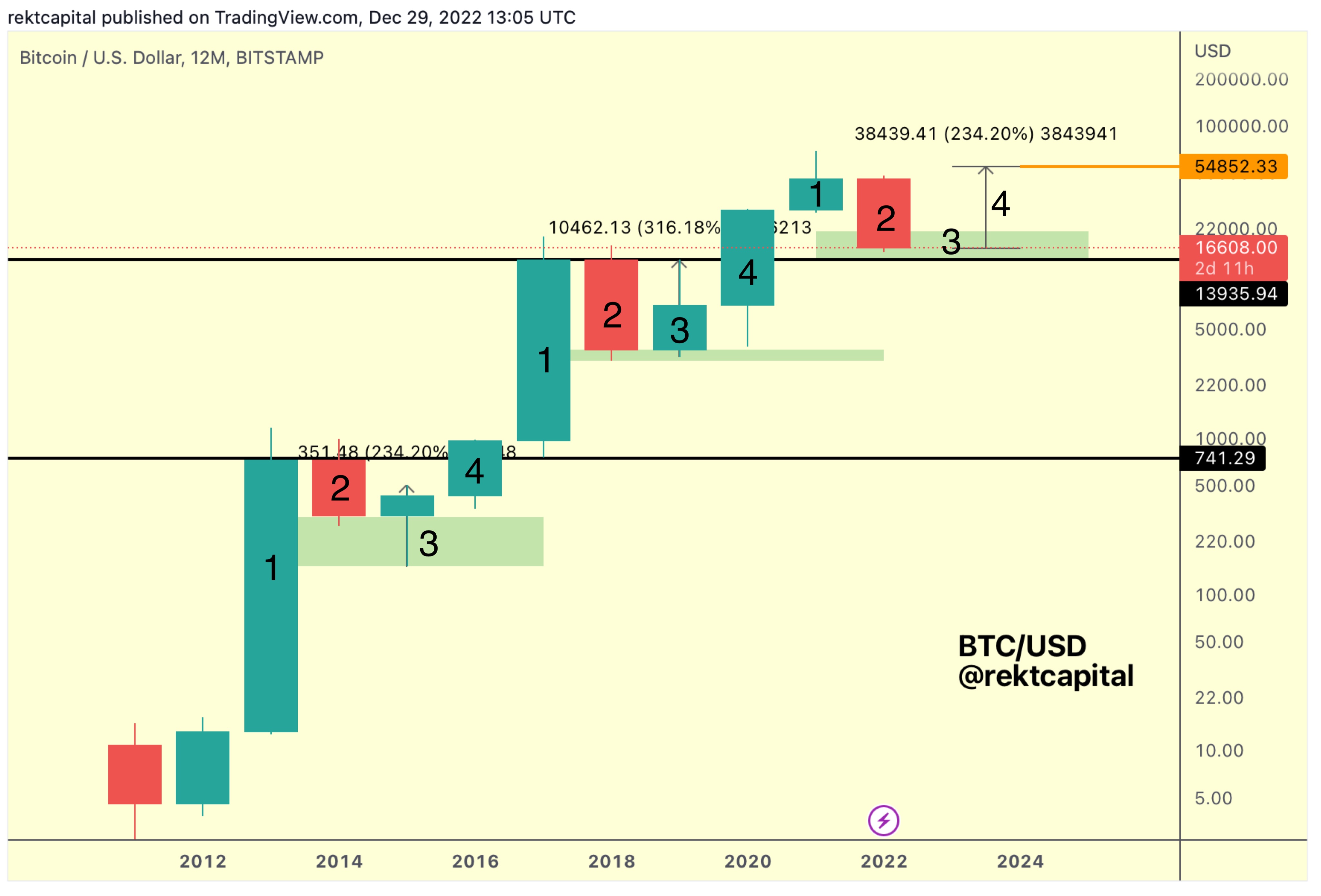 Source: Rekt Capital/Twitter
The trader says even more unlikely is Bitcoin reaching its all-time high price since that would historically occur in the fourth or first candle based on the pattern.
"On the other hand, a plus-316% BTC rally would be even more unlikely. A plus-316% move from current prices would see BTC rally to ~$68,000 to almost equal old all-time highs whereas old ATHs [all-time highs] tend to be revisited at the soonest in Candle 4 and Candle 1 at the latest."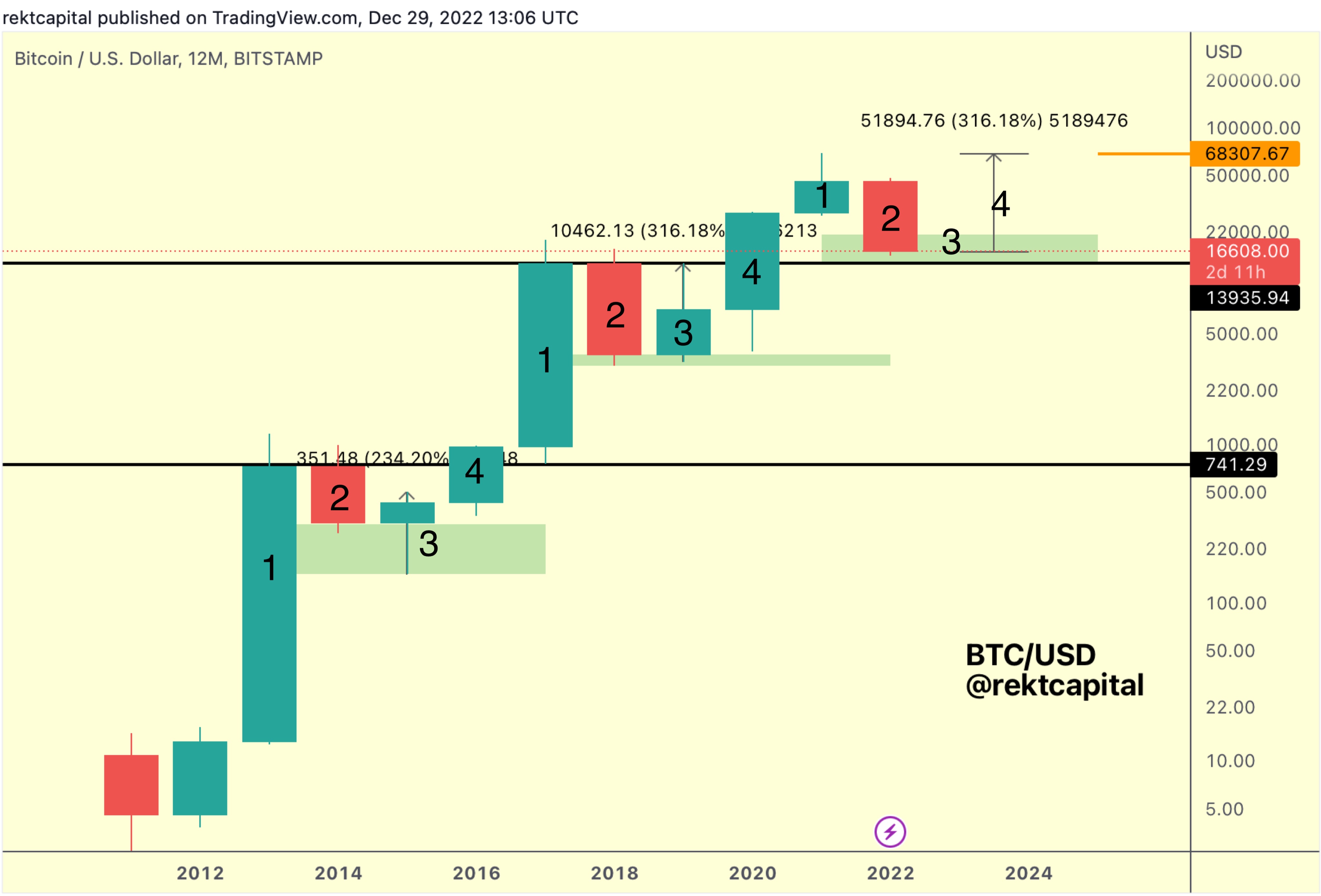 Source: Rekt Capital/Twitter
---
Source
---
Back to the list