Back to the list
Bitcoin (BTC) hash rate is nearing its all-time high
www.chepicap.com
24 May 2019 03:00, UTC
Reading time: ~2 m
---
The hash rate on the Bitcoin network is currently close to its all-time high. The last time it was at this level was November 2018, and it peaked several times before that, starting in August.
According to data from TradeBlock, the hash rate on the Bitcoin network as of yesterday is 48.7 EH/s. Its all-time high was 58EH/s, and it reached this level on September 29, 2018, when the Bitcoin price was around $6500.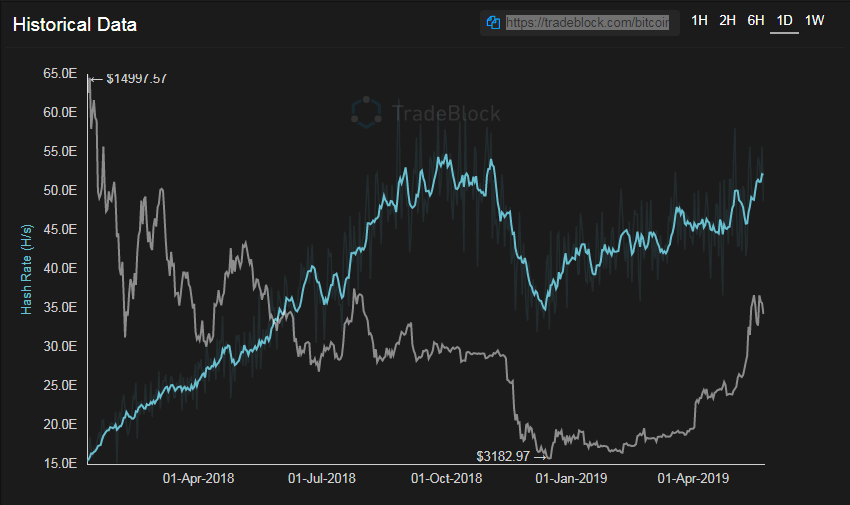 Since a market crash that coincided with the BTC hash rate's halving in less than a month at the end of 2018, mining power has increased the hash rate steadily for most of 2019, and there has been a rough correlation with the BTC price this year.
However, those who claim that 'price follows hash rate' were mostly proven wrong in 2018, as the price started to fall steadily well before the hash rate, which was reaching increasingly higher peaks. A more accurate analysis is that hash rate reflects the general sentiment towards Bitcoin, with more investment in mining reflecting either more confidence in the asset, or simply a preference for mining over buying more BTC.
While Bitcoin's hash rate continues to see new highs, other cryptos are not following suit. The ETH hash rate has dropped 50 percent since its all-time high and doesnt show any sign of recovery.
---
Source
---
Back to the list
Similar news