Back to the list
Block is Distracted by Bitcoin and That's Hurting its Bottom Line - Analyst Downgrade
cryptonews.com
23 September 2022 13:04, UTC
Reading time: ~2 m
---
Twitter founder Jack Dorsey's payment firm Block, formerly called Square, has seen a downgrade, dragged down by none other than bitcoin (BTC) - or rather, the company's "preoccupation" with it. 
Investment bank Mizuho downgraded Block from "buy" to "neutral", arguing that the company is significantly focused on BTC despite it contributing less than 5% of Block's gross profit. 
Therefore, even though BTC transactions account for a small percentage of gross profit, they "seem to disproportionately preoccupy management's attention," analyst Dan Dolev was quoted by MarketWatch as stating in a Mizuho note.
He added that,
"Assessing the stock's behavior shows it closely tracks bitcoin. This is unfortunate as it distracts both management and investors from focusing on SQ's broader ecosystem."
Per Dolev, Block "still has enormous potential," but he argues that the company has several factors to worry about, while it's also not taking advantage of its opportunities. 
Dolev wrote that,
"After years of rightfully being deemed the most innovative name in payments, we believe user fatigue, plateauing inflows, loss of the best-of-breed POS [point-of-sale] status, and BNPL [buy-now-pay-later] misexecution are blocking SQ's growth." 
Other worrying factors include:
a slowdown in net additions as customer-acquisition costs are rising;
estimates for buy-now-pay-later are going down, but Block acquired such a company, Afterpay, earlier this year. 
Meanwhile, SMBC Nikko Securities America analyst Andrew Bauch lowered the rating for Block as well, just a day earlier, suggesting that the crash in BTC's price may result in the company's Cash App outflows.
That said, Block is not the only company that faced downgrades. Bitcoin-supporting MicroStrategy, as well as major crypto exchange Coinbase and online trading platform Robinhood, among others, did so as well.
As seen today, Block shares dropped 5.92% to the price of $55.93.
On Friday morning (UTC) time, BTC is training mostly unchanged over the past day, with a price of $19,048. It is down 3.3% in a week and nearly 12% over the past month. Overall, it dropped 56% in the past year and 72% from its all-time high recorded in November 2011.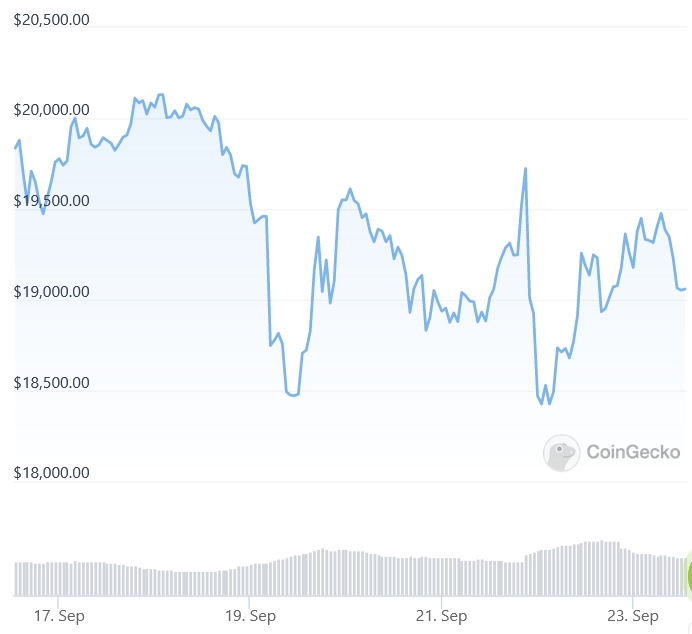 BTC 7-day price chart. Source: coingecko.com
---
Source
---
Back to the list