Back to the list
5 Bitcoin Price Predictions With Crypto Prices Crashing FOMC Day
cryptonews.com
21 September 2022 23:55, UTC
Reading time: ~3 m
---
The Bitcoin price crash post FOMC swept the September monthly low - is it time to buy BTC now and long the blood? We review five Twitter traders' Bitcoin price predictions.
Bitcoin Crash So Far
With the Wednesday daily candle about to close - FOMC day - the Bitcoin price has dropped as low as $18,125 on Binance. The previous September low was the Monday low of $18,232 this week.
The Fed announced a 75 basis points interest rate hike at the FOMC meeting earlier today and initially the stock market and Bitcoin price rallied to an intraday high of just under $20,000. 
Both the SPX and Bitcoin then crashed, recovered with a strong bounce to liquidate late shorts, and finally then crashed again to hit new daily lows. The S&P 500 dropped as low as 3,789.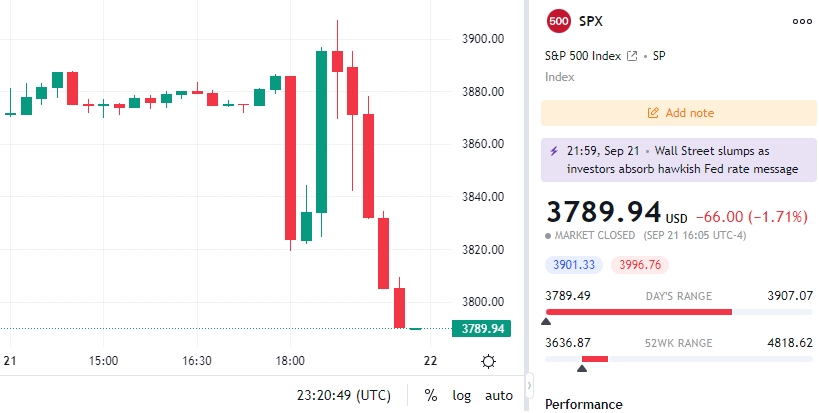 Why is Crypto Crashing Today?
Many market participants had predicted that markets would crash on bad news - if a 100 bps rate was to be announced.
A common prediction was that 75 basis points was priced in, was the higher probability outcome, and that a relief rally would be the result if that was announced - as the news could have been worse.
We reported on crypto analyst Ted Talks Macro's BTC price prediction along those lines - that 75 bps would be the outcome, the Bitcoin price would rally in the short term on FOMC day, but would then be capped by a hawkish price conference.
That was what happened - as Fed chair Jerome Powell continued a hawkish and 'restrictive' stance for the US economy.
We also noted trader Crypto Chase predicted the Bitcoin price would 'run liquidity in both directions' - i.e. liquidate both longs and shorts with volatile wicks, the 'Darth Maul' candle pattern - before moving in its 'actual direction' determined by Powell's speech.
Other crypto Twitter analysts have also pointed out the real Bitcoin price action plays out in the days following the FOMC meeting once the markets have had time to properly react and pick a direction.
Bitcoin Price Predictions
Michaël van de Poppe, who has 627,000 followers, is exercising caution while the crypto markets appear to be pricing in the worst possible outcome, but is optimistic it is a good time to buy Bitcoin now before 2023 - a period he predicts will be an accumulation cycle.
Trader Mayne, who has 326,000 followers, made an accurate Bitcoin price prediction before the FOMC meeting that 75 bps would be announced, the BTC price would rally, and he would fade the move. So far he has been correct, and if he continues to be Bitcoin could sweep the $17,600 yearly low in the coming days.
In a follow up tweet @tradermayne did add:
I think ppl who accumulate $BTC between $10-20k and $ETH between $500-$1000 will look pretty smart next cycle.
BigCheds, who has 285k followers posted a Bitcoin price prediction for 2022 of $12,000 since back in June - and has continued to double down on it, pre FOMC and post FOMC. He made a long term Bitcoin price prediction of $100,000 for after the Bitcoin bottom is in.
MacnBTC, who has 236k followers also tweeted a Bitcoin price target of $12,000 for the bear market bottom and an Ethereum price prediction of $700, alongside Terra LUNA going to zero and Solana to $17. He didn't comment on Terra Classic (LUNC) which was pumping earlier this week prior to the FOMC meeting.
Crypto Chase posted a follow up to his pre FOMC Bitcoin price prediction, and then also posted a $12,000 Bitcoin target.
Shortly after the above Crypto Chase posted this image: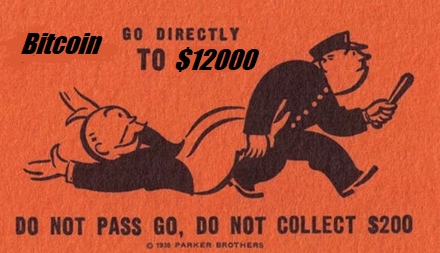 ---
Source
---
Back to the list