Back to the list
MANA Technical Analysis: On a High Rising to Find Support at $0.722
cryptoknowmics.com
07 July 2021 07:19, UTC
Reading time: ~2 m
---
Decentraland (MANA) defines itself as a virtual reality platform powered by the Ethereum blockchain that allows users to create, experience, and monetize content and applications.
In this virtual world, users purchase plots of land that they can later navigate, build upon and monetize.
Decentraland was launched following a $24 million initial coin offering (ICO) that was conducted in 2017. The virtual world launched its closed beta in 2019 and opened to the public in February 2020. Since then, users have created a wide range of experiences on their parcels of LAND, including interactive games, sprawling 3D scenes, and a variety of other interactive experiences.
Past Performance
On July 5, 2021, MANA started trading at $0.595 and closed at $0.534. During the later hours of trading, it rose to $0.633. In the past week, the MANA price has increased by roughly 34%. During the last 24 hours, MANA has traded between $0.545 – $0.737.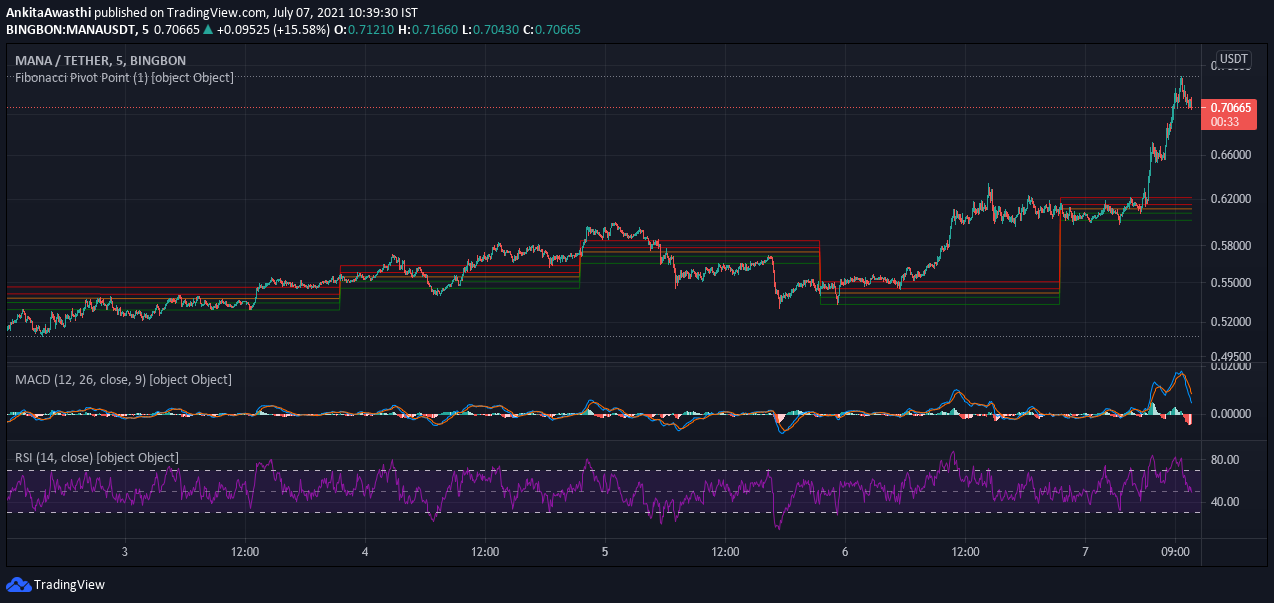 https://www.tradingview.com/x/yxedapO2/
Day-Ahead and Tomorrow
MANA was trading at $0.550 on July 6, 2021; This was one of the most recent highs after which the price has been rising through July 7, 2021 to find support at $0.722. Expect the prices to move positively, keeping in mind the direction of other indicators.
The MACD and signal lines are positive. Moreover, a neutral crossover by the MACD line over the signal line has occurred. Thus, the overall market momentum seems positive. We can expect the price to move upwards in a slow trajectory.
Currently, the RSI indicator is at 61%. It faced rejection at 84% and rallied to the current level. Thus, selling pressures are high. Thus, the RSI indicator is giving further credence to flat signals given by the MACD oscillator.
MANA Technical Analysis
Currently, the price is above the Fibonacci pivot point of $0.721. The price is soon likely to breakout of the first resistance level of $0.755. The price may break out of the subsequent resistance levels of $0.791 and $0.801 respectively, in the coming few days.
Thus, as of now, the neutral to positive trend seems strong, and the price rise is likely to continue the same as well.
---
Source
---
Back to the list