Back to the list
SHINJA Price Prediction 2022-2031
www.cryptopolitan.com
01 August 2022 00:55, UTC
Reading time: ~8 m
---
Some cryptocurrencies, including the Texas-based Shibnobi, aim to launch a line of DeFi, NFT, and metaverse devices. However, Shibnobi integrates well into the rest of its competition with its Shiba Inu-inspired logo. The team at Shibnobi is hopeful that its environment will be sufficient to set it apart.
Shibnobi's randomized strategy to increase demand focuses on approachability and safety, but not everyone is buying into these assertions since CertiK discovered severe flaws with Shibnobi's smart sign. Consider also that the Shibnobi Twitter account has been suspended for some reason.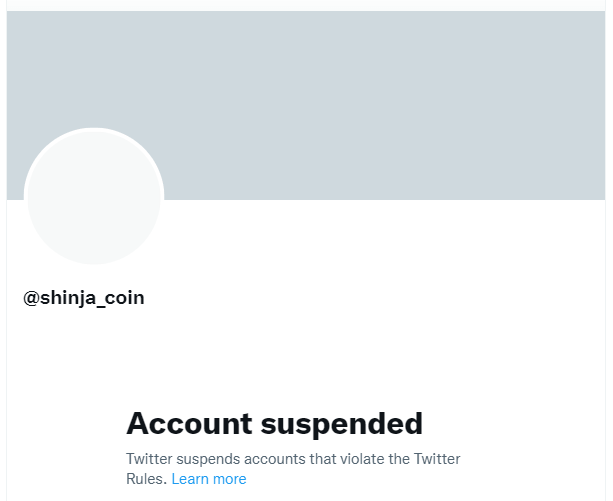 Source: Profile / Twitter
Today's Shibnobi price is $8.62e-16 with a 24-hour trading volume of $3,823,497. Shibnobi is down 2.39% in the last 24 hours. The current CoinMarketCap ranking is #2829, with a live market cap of not available. The circulating supply is not available and the maximum supply is not available.
Contents
1
What is Shibnobi (SHINJA)?
3
CertiK audit found 'major' problems
4
SHINJA Technical Analysis and Price History
5
SHINJA Price Predictions by Authority Sites
5.3
Price Predictions.net
5.3.1
SHINJA Price Prediction 2022
5.3.2
SHINJA Price Prediction 2023
5.3.3
SHINJA Price Prediction 2025
5.3.4
SHINJA Price Prediction 2030
6
SHINJA Price Prediction by Industry Influencers
What is Shibnobi (SHINJA)?
The cryptocurrency firm Shibnobi aims to create a community-driven ecosystem that will help the next generation of investors get started. According to the firm, simplicity and safety are prioritized to make the crypto ecosystem fairer and more informative for the typical investor. Shibnobi has shown its support for other platforms as well.
Founders of Shibnobi
The cryptocurrency firm Shibnobi aims to create a community-driven ecosystem that will guide future investors. According to the business, simplicity and accessibility are prioritized to make the crypto space experience better for everyone. Cliff Fettner created it, and someone only known as Luke C. on LinkedIn claims he formerly held the IT director position at Carter Intralogistics. This firm specializes in warehouse automation.
Luke, who has not revealed his last name, is currently employed by TheCryptSpace, a different cryptocurrency initiative. By establishing significant world accountability for the programs it is cooperating with, the business hopes to fulfill its guard aims. It states that "know your customer" and business checks will be used to accomplish this.
Shibnobi Ecosystem
Even though there are four projects in development, none of the goods that make up Shibnobi's ecosystem have been published. Shibnobi firmly thinks that building great utility inside its ecosystem for its end users, in particular, will generate sentiment and user acceptance that would encourage projects to join the Shibnobi ecosystem, according to the whitepaper, is a fine example of corporate nonsense.
SHINJA has also been listed on Bitmart.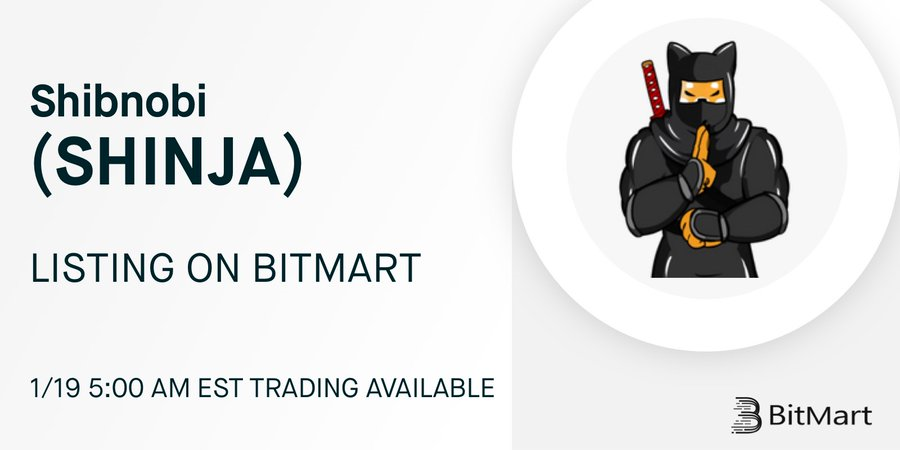 Shibnobi's local exchange, Dojoswap, was created to be a user-friendly trading platform, according to the firm. The exchange plans to use liquidity pools driven by investors to facilitate simple trading across several networks.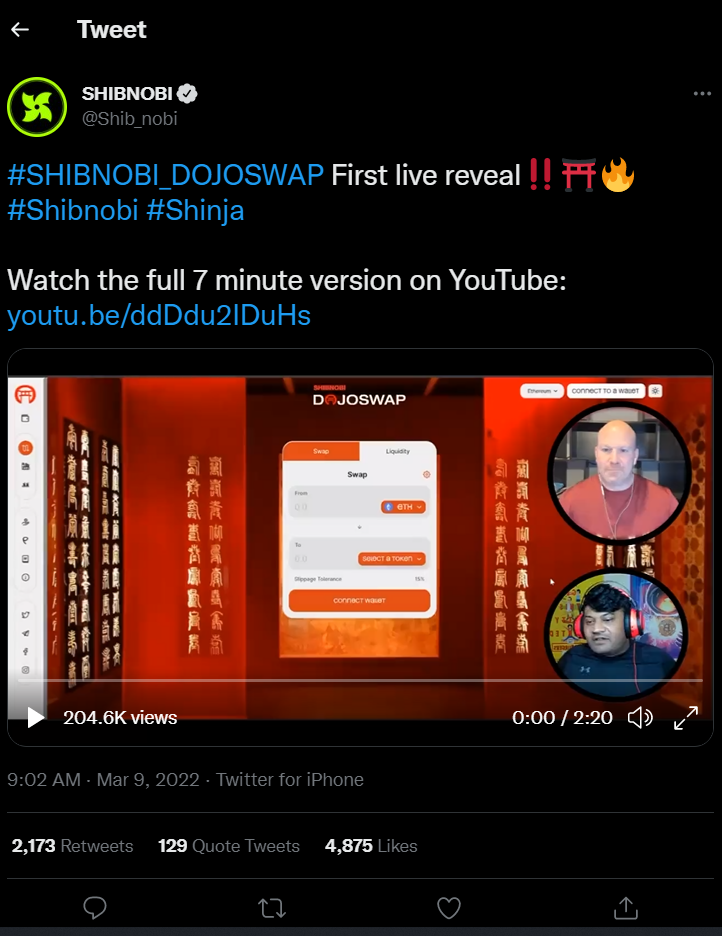 Conclusion
Shibnobi is bruited to beThe World's Most Deadly Shiba. SHINJA is an innovative deflationary token aiming to revolutionize Defi, building its own Kusari Blockchain, and introducing a multi-chain swap (DojoSwap) across Ethereum, Binance, Cronos, and Polygon.
According to the Shibnobi network, an exchange, wallet, blockchain, and metaverse will be available in the next two years. SHINJA crypto would still face other challenges even if it successfully implements its plan. The low price point and the dangers associated with centralization may put investors at a disadvantage. So, calling it a good investment is difficult to believe in the meantime.
Please do your research and seek professional investment advice when investing in anything.
Disclaimer. The information provided is not trading advice. Cryptopolitan.com holds no liability for any investments made based on the information provided on this page. We strongly recommend independent research and/or consultation with a qualified professional before making any investment decisions.
---
Source
---
Back to the list