Back to the list
TRX Technical Analysis: Will Tron Prices Crash 20% This Month?
cryptoknowmics.com
06 July 2022 11:22, UTC
Reading time: ~2 m
---
TRX Technical Analysis shows a rising wedge pattern in the daily chart teasing a bearish breakout to retouch the bottom support at the $0.055 mark.
Key Technical Points:
TRX price action shows a diminishing range in the rising trend.
The price action shows a double bottom Pattern formation at the $15 mark
The 24-hour trading volume of Tron is $604 Million, indicating a drop of 2.58%.
Past Performance of TRX
The bullish reversal from the $0.055 mark accounts for more than a 20% jump in the TRX market value. However, the bullish trend forms a rising wedge pattern which increases the likelihood of a breakout shortly. Additionally, the higher price rejection in the daily candles projects the idea of a bearish breakdown.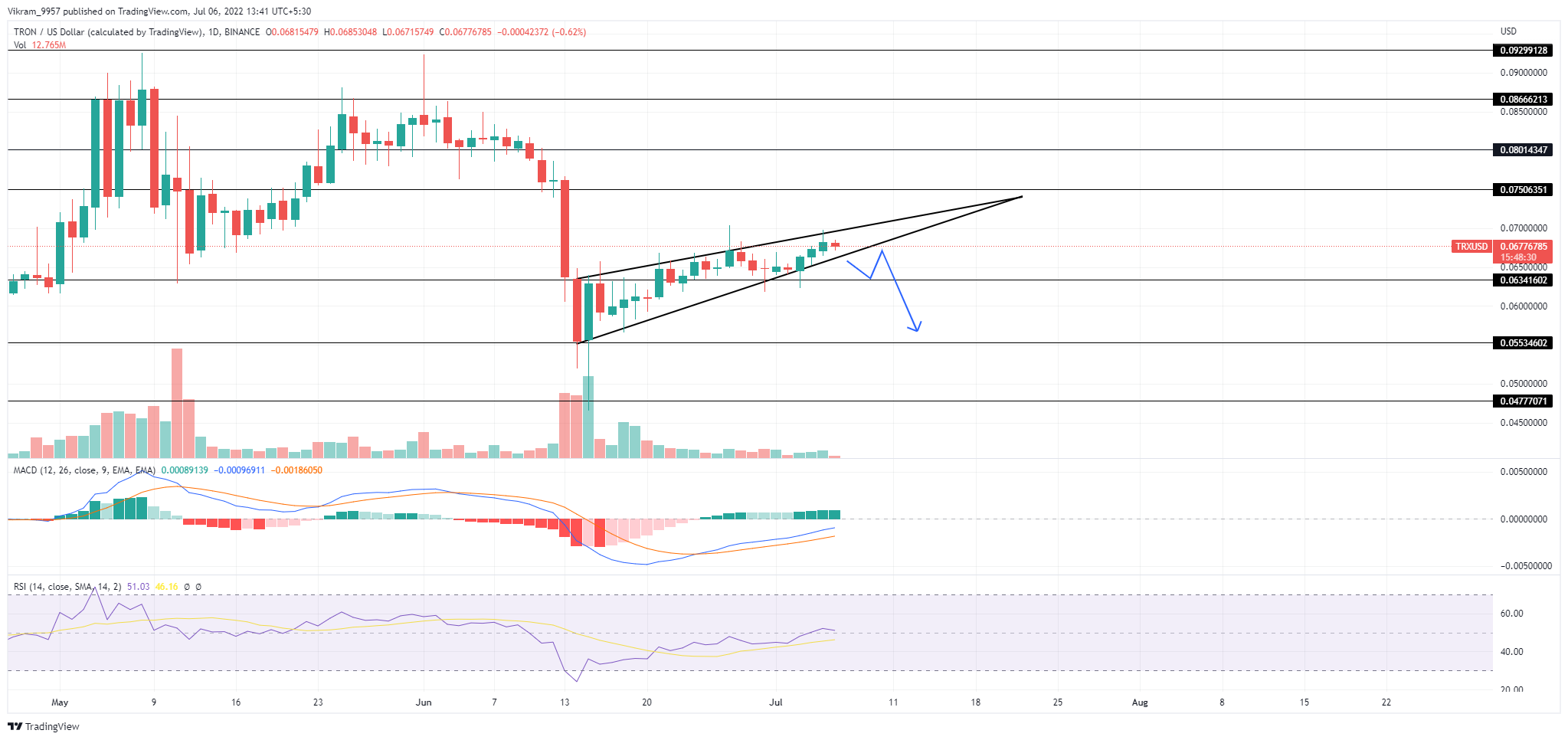 Source - Tradingview
TRX Technical Analysis
Over the last three days, the 5.50% bullish jump in the TRX prices approaches the resistance trendline leading to the long-wick formations. Hence the price action analysis takes a bearish standpoint indicating a potential bearish breakdown of the rising wedge pattern. The bullish trend in the fast and slow lines of the MACD indicator approaches the zero line with an increase in the bullish spread. Hence, the MACD indicator displays a rise in the underlying bullish sentiments and keeps an optimistic point of view. The RSI indicator shows a Gradual increase in the underline bullishness as the  RSI  slope surpasses the Halfway line. The bullish continuation comes after taking support from the 14-day average line. Hence the technical indicator takes a bullish side, indicating the higher likelihood of an upside breakout. In a nutshell, the TRX technical analysis shows the price action analysis going against the indicators, suggesting buyers wait for a  breakout confirmation.
Upcoming Trend
The bullish breakout of the rising wedge pattern will lower the TRX prices to the $0.075 mark. On the other hand, the bearish breakout can show a retest demand from $0.064  before continuing the bearish trend to $0.055. Resistance Levels: $0.075 and $0 080 Support Levels: $0.064 and $0.055
---
Source
---
Back to the list