Back to the list
Is UNI A Good Investment After The Genie Acquisition?
www.altcoinbuzz.io
22 June 2022 21:58, UTC
Reading time: ~2 m
---
The nonfungible token (NFT) market aggregator Genie has been acquired by the decentralized exchange (DEX) Uniswap, according to a Tuesday announcement. According to Uniswap, this action is a component of its objective to enable universal ownership and exchange on its platform.
Uniswap is currently incorporating NFTs into its product range. Later integrations are rumored to include developer APIs and widgets. Uniswap has already dealt with NFTs, so this is nothing new. In the spring of 2019, it introduced Unisocks, a platform that provided NFT liquidity pools backed by physical assets. The price of the Uniswap coin has been oscillating throughout the last few days, and it has been in a bullish state during that time period. Meanwhile, the UNI token recovered around 35% in the last 4 days. Let's take a look at the UNI price
UNI Price Prediction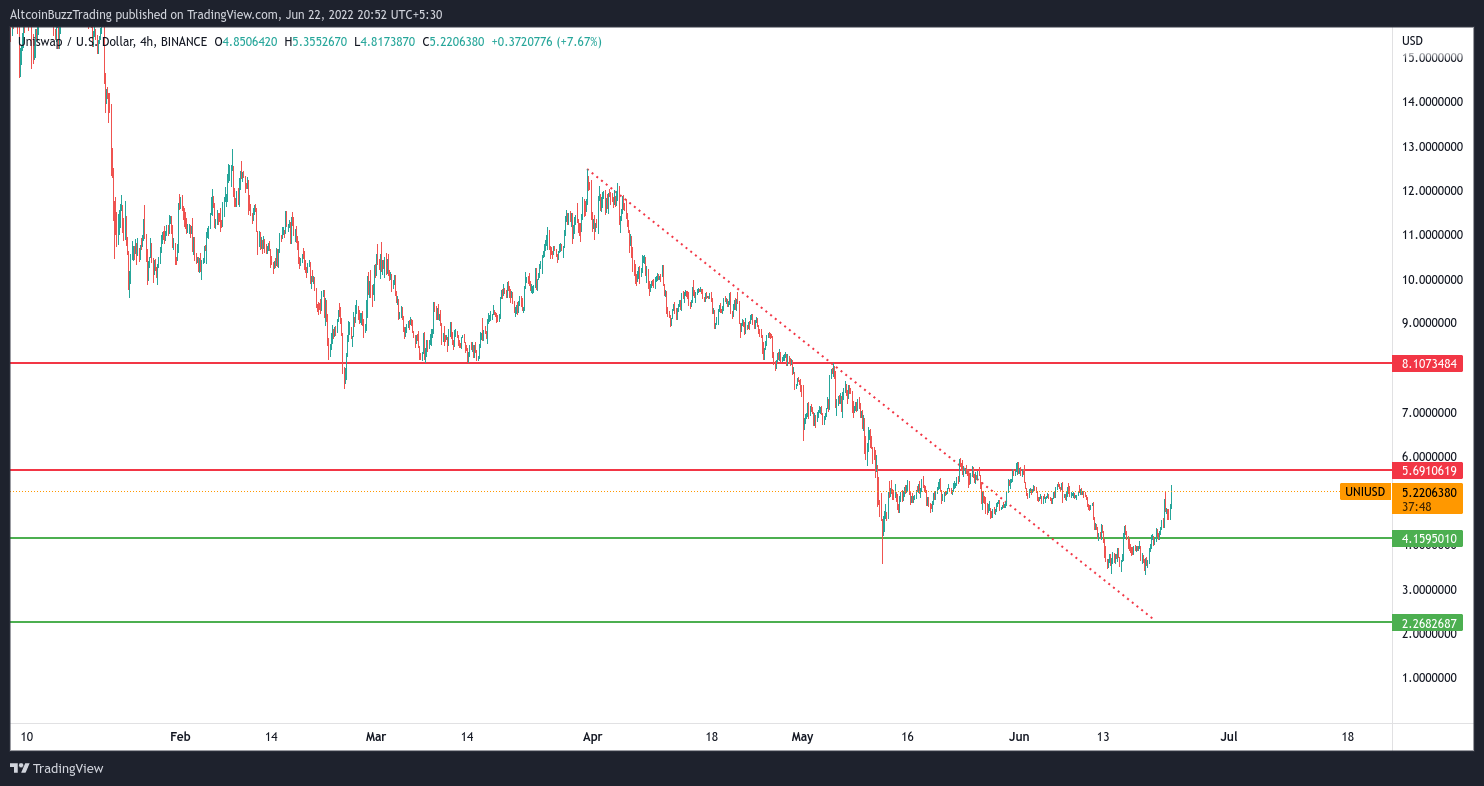 The UNI token has surpassed the 20-day exponential moving average in the context of the daily price chart. On the other hand, the bulls are barely keeping the UNI price above the $5.69 resistance level. If bulls are unable to overcome the $5.69 resistance level, the price will drop to the $4.15 support level.
Uniswap announced that it would airdrop USD Coin (USDC) to former Genie users as a way to share the rewards of this acquisition and integration of the Genie marketplace. But only if UNI closes over the $8.1 resistance level will we be bullish in the medium term.
And for our best, freshest research on NFT buys, Layer 1 chains, DeFi, or games, come check out Altcoin Buzz Access. Plans start at only $99 per month
For more information on cryptocurrency, visit the Altcoin Buzz YouTube channel.
Images courtesy of TradingView.
Disclaimer
The information discussed by Altcoin Buzz is not financial advice. This is for educational and informational purposes only. Any information or strategies are thoughts and opinions relevant to accepted levels of risk tolerance of the writer/reviewers and their risk tolerance may be different than yours. We are not responsible for any losses that you may incur as a result of any investments directly or indirectly related to the information provided.
Do your own due diligence and rating before making any investments and consult your financial advisor. The researched information presented we believe to be correct and accurate however there is no guarantee or warranty as to the accuracy, timeliness, completeness. Bitcoin and other cryptocurrencies are high-risk investments so please do your due diligence. Copyright Altcoin Buzz Pte Ltd. All rights reserved.
---
Source
---
Back to the list