Back to the list
POND Technical Analysis: Bearish Breakout Retest Warns Death Spiral
cryptoknowmics.com
17 June 2022 11:50, UTC
Reading time: ~2 m
---
POND prices rise 40% over the last week to retest the bearish breakout of the rising channel pattern. Will the retest reversal break under $0.0068? Key technical points:
The market price has increased 12.20% over the past 24 hours.
The retest phase faces opposition from the 50-day SMA.
The 24-hour trading volume of Marlin is $22.61 Million, indicating a hike of 17.10%.
Past Performance of POND
POND prices show a failed a rising channel as the selling pressure increased over the weekend breaking under the support trendline. The supply dump on 11th June pushes the price lower to the bottom support at $0.071 where the lower price rejection starts a retest phase.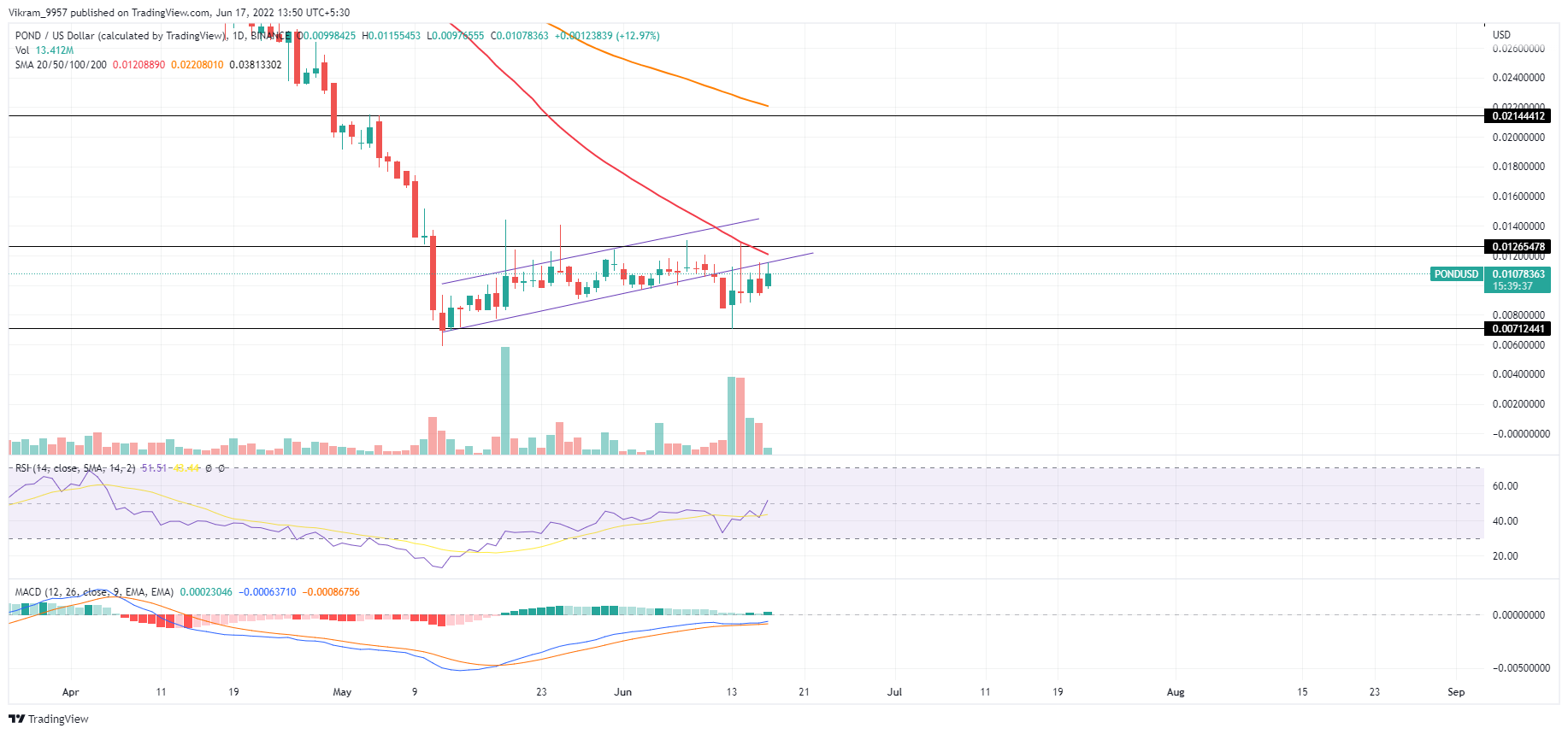 Source- Tradingview
POND Technical Analysis
POND prices showcase a higher price rejection in the retest candles teasing a high likelihood of post-retest reversal. However, the fall in trading volume over the past couple of days reflects a weak bearish commitment. The crucial SMAs – 50, 100, and 200-days maintain a bearish trend with the 50-day SMA providing resistance to the retest phase. Hence, the breakout of the SMA will result in a high-momentum uptrend. The RSI slope shows a bullish trend in motion from the oversold boundary surpassing the 14-period SMA and the halfway line. Hence, the indicator reflects a boom in the underlying bullishness. The MACD indicator shows the fast and slow line struggling to sustain the uptrend but trends higher to reach the zero line. In a nutshell, the POND technical analysis displays the bullish reversal as a retest with a high potential for a bearish reversal.
Upcoming Trend
POND prices can probably surpass the overhead resistance at the $0.012 mark if the uptrend surpasses the broken trendline. However, the post-retest reversal can break under the $0.0071. Resistance Levels: $0.012 and $0.0016 Support Levels: $0.0080 and $0.0071
---
Source
---
Back to the list