Back to the list
Can ADA Bulls Trigger a 60% Relief Rally After ADA Drops Lower?
coinquora.com
15 June 2022 11:38, UTC
Reading time: ~2 m
---
According to crypto market tracker CoinMarketCap, the price of Cardano (ADA) has declined over the last 24 hours.
At the time of writing, the price of ADA is around $0.4667, which is 6.58% lower than it was yesterday. The 24-hour price movement has also added to ADA's slump in price over the last seven days as the coin now finds its price down by almost more than 26% over the last week.
Ranked number 7 on CoinMarketCap's list of the biggest crypto projects by market cap, the current market cap of ADA is approximately $15.76 billion. This ranks it above Ripple (XRP), with a market cap of $14.83 billion, and below Binance USD (BUSD), with a market cap of $17.44 billion.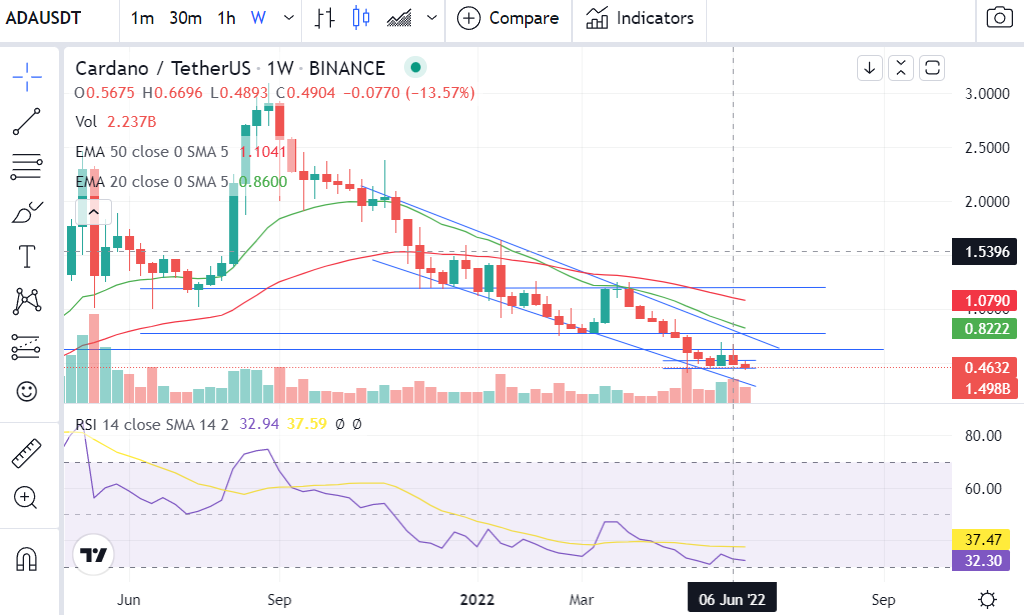 Price of ADA below key weekly level (Source: CoinMarketCap)
On the weekly chart for ADA/USDT, the price of ADA has dropped below the $0.6494 level, which is a key level on the weekly chart for ADA. The last time ADA's price was at this level, it spiked to around $1.47 before retracting slightly again.
The key difference between this breach of the weekly level and the aforementioned jump is that the jump happened in a bull market. Currently, bears dominate the crypto market.
Looking at the technicals, the RSI shows that ADA is heading to oversold on the weekly, which is a very early bull flag. However, the 20 EMA line is positioned below the 50 EMA line, which is a relatively substantial bearish flag.
If bulls jump in to take advantage of the price of ADA breaking below the key weekly level, then we could see the price of $0.6083. This would be a 30.3% jump in price. On a fundamental basis, the chances of this move taking place are strengthened by the anticipation and excitement around the Vasil Hard Fork.
Any move above 30% may not happen in the coming days or weeks as the bearish pressure in the market is overwhelming at the moment.
Disclaimer: The views and opinions expressed in this article are solely the author's and do not necessarily reflect the views of CoinQuora. No information in this article should be interpreted as investment advice. CoinQuora encourages all users to do their own research before investing in cryptocurrencies.
---
Source
---
Back to the list