Back to the list
Flow Coin Price Prediction 2022-2030: Is FLOW a Good Investment?
www.cryptopolitan.com
28 May 2022 03:03, UTC
Reading time: ~11 m
---
Seasoned traders go by the time-tested formula: invest most of your crypto portfolio in BTC (50%); 35% in a basket of big-cap coins and the rest in small projects with huge upside. But for beginners, all cryptocurrencies are risky investments and so must, tread lightly and keep all their senses open in the crypto space.
Investors looking for coins experiencing some buying pressure are looking at Flow as the crypto has bucked the trend, up 3% 10 days ago. That has an interest in Flow price predictions picking up later in the days that followed. Flow has been on the gaining side as the market has turned bullish. The data for the last 24 hours shows that it has reduced losses to 1.07%. The change in the seven-day losses is also evident as it shows a recession of 8.13%. The price value for FLOW for that day was enhanced to $2.74.
Flow is a leading blockchain project that seeks to become a better alternative to Ethereum. It is a proof-of-stake platform that has faster speeds and lower transaction costs than Ethereum. As a result, its developers hope that it will become the go-to platform for web 3.0 deployments. The platform was created by the team that built CryptoKitties.
The decision by Yuga Labs on ApeCoin deployment and the ongoing permissionless contract development progress could trigger FLOW price action. The upgrade, which is expected to be launched soon, will focus n code-hardening, professional audits, and a bug bounty program.
We would like to echo a positive perception at this point:
The global crypto market has seen a transition towards bullishness due to the influx of funds. The changes have been positive, bringing Bitcoin, Ethereum, and others considerable gains. The change is evident from the global market cap value, which is currently about $1.27T. There are little chances that it would cross the previous threshold level. The previous data shows that the market has lingered in the same range and might continue to do so. The downward pull hasn't let it change value.

Cryptopolitan
Today's Flow price is $2.35 with a 24-hour trading volume of $50,404,805. Flow is down 0.96% in the last 24 hours. The current CoinMarketCap ranking is #31, with a live market cap of $2,433,732,751 USD. It has a circulating supply of 1,036,200,000 FLOW coins and the max. supply is not available.
4
Past price analysis and market status
5
Flow Coin Price Prediction (Update)
5.1
Flow Technical Analysis
5.2
Flow Price Predictions 2022 – 2030
5.2.4
Cryptopolitan
5.2.4.1
Flow Price Prediction 2022
5.2.4.2
Flow Price Prediction 2023
5.2.4.3
Flow Price Prediction 2024
5.2.4.4
Flow Price Prediction 2025
5.2.4.5
Flow Price Prediction 2026
5.2.4.6
Flow Price Prediction 2027
5.2.4.7
Flow Price Prediction 2028
5.2.4.8
Flow Price Prediction 2029
5.2.4.9
Flow Price Prediction 2030
5.3
Flow Price Predictions by Industry Influencers
Flow coin Partnerships
The Flow Network is continually looking at partnerships. Cheese announced that they would be partnering with the Flow blockchain. Cheeze is a photography-based NFT Media and Entertainment company. They will help to promote the recent NFT development of Flow.
🥳 HELLO 2022 🥳

Wishing all our #NFTphotographers and @Twitter Family a wonderful New Year!

We are excited to bring your #photos to the @flow_blockchain and capture new moments together. Let's do this…. pic.twitter.com/m8OZqy7vvh

— Cheeze (@Cheeze) January 1, 2022
If you remember, on 14 September 2021, Flow announced a partnership with Google Cloud's power. The collaboration is expected to bolster the connection between consumers and app developers globally.
"A blockchain wallet in every pocket" https://t.co/3vS0QSdDrp

— Flow (@flow_blockchain) September 25, 2021
On 1 January 2022, Think Fund, in collaboration with Blocto App, announced a partnership with emerald DAO, the first DAO built on the Flow blockchain.
We're delighted to announce our collaboration with @emerald_dao💎

Now you can verify https://t.co/yp6O8CNRmb membership #NFT on @flow_blockchain via @BloctoApp to unlock new perks in our Discord!

Emerald City are the outstanding devs that created the fantastic DAO tool! #onFlow pic.twitter.com/DdmQKUbFMc

— THiNG.FUND (@thing_fund) January 1, 2022
Latest developments
Flow blockchain started the year by introducing the customers to Flowverse, a new project in the ecosystem.
Happy New Year! 🥳
Start the new year right and explore the vibrant Flow ecosystem with @flowverse_ 🌊
🤖 Join their Discord: https://t.co/wa6QaXfxLq
🔖 Check out their app directory: https://t.co/2oM5rGLkrF
🗓️ Follow their drop calendar: https://t.co/rq5w2Pav80

— Flow (@flow_blockchain) January 1, 2022
FLOW has several essential characteristics that make it the ideal currency for a new generation of games, consumer applications, and the digital assets that will power them. Let's delve into more details of the Flow ecosystem, its functions, unique features, technical analysis, and price predictions.
Overview of Flow
Developed by Dapper Labs in 2018, Flow is a fast and decentralized layer one blockchain infrastructure designed to function as the base protocol for NewGen applications, games, and digital assets. The Flow blockchain is created from scratch and intended for applications and internet-scale protocols that demand distinctive customer experience. It's reputed to be the only blockchain-based technology that incorporates user-experience improvement features into its protocol layer.
The team behind the development of this project is renowned for consistently delivering top-notch blockchain consumer experiences with products like Dapper Wallet, NBA Top Shot, and CryptoKitties.
The Flow ecosystem is developer-friendly and has continued to attract top developers and some blockchain enthusiast brands, already building products on the network. Also, Flow has established collaborations with top-tier game developers, including nWay and Animoca Brands; entertainment brands, including LaLiga, NFL, Warner Music, NBA, and UFC; leading crypto platforms, including Binance; development studios, such as Samsung and Ubisoft, and a couple of NexGen high-growth startups like Opensea.
The native cryptocurrency token that fuels the Flow ecosystem is FLOW. It is utilized by developers, validators, participants, and applications on the network. FLOW token is designed to serve several purposes, including network fees, rewards, payment method, and a reserve asset in the long run.
Features that make the Flow network unique include upgradeable smart contracts, in-built logging support, consumer-friendly onboarding, and high-throughput without sharding. It leverages Cadence, a resource-oriented programming language for developing app assets smart contracts.
Now that you're familiar with the Flow network and its features, do you think its highlighted developments and future potential can make FLOW a valuable cryptocurrency both in the short-term and long term?
Let us get into the price analysis and price prediction for this asset. 
Flow Overview
Flow Coin Overview
Coin
Symbol
Price
Marketcap
Change
Last 24h
Supply
Volume (24h)

FLOW
$

2.38

$

2.46 B

1.35%

1.04 B
$

48.16 M
Past price analysis and market status
The past price analysis and current market status of the Flow coin are based on the data available from Coinmarketcap. Although FLOW has been in the crypto space since 2018, we have carried out this past price analysis based on the earliest available data.
FLOW hit its all-time low of 1.50 USD on January 26, 2021, and the price of FLOW rode with the bulls afterward. A few months later, FLOW attained its current ATH of 46.16 USD on April 05, as seen on the chart. The significant price rise of over 2900% can be attributed to the development in the ecosystem and the overall positive sentiments in the crypto market that also hiked bitcoin prices and those of other assets like ETH and BNB.
Within 7 days, the market value of FLOW has fallen by over 13%. Also, in the last 30 days, the price movement of FLOW has been bearish, with the coin's value attaining 18.90 USD and dropping to 11.61% – a 38.57% price drop. Over a 90-day period, FLOW reached a maximum market price of 28.79 USD, and afterwards, it took to a downward trend, losing about 60% of its value.
Although FLOW has seen several bullish movements within the years, the uptrends have been followed by consolidations, corrections, fluctuations, and reversals. FLOW has not performed well lately; could this trend continue for a little longer?
Currently, the Flow coin is trading at 13.21 USD, and it ranks at no. 48 on the cryptocurrency market, with a market cap dominance of 0.14%. The total token supply of this crypto is 1,378,211,739 FLOW, and its circulating supply is 310,613,212.00 FLOW. According to Coinmarketcap, the current ROI is over 13,000% if FLOW was purchased since its launch.
Flow Coin Price Prediction (Update) 
Flow Technical Analysis
Flow has had low price momentum in the last two weeks after dropping and moving into oversold territory on 11th May. With the 14-day relative strength index almost moving into oversold territory, the MACD histogram suggests decreasing price momentum to the downside.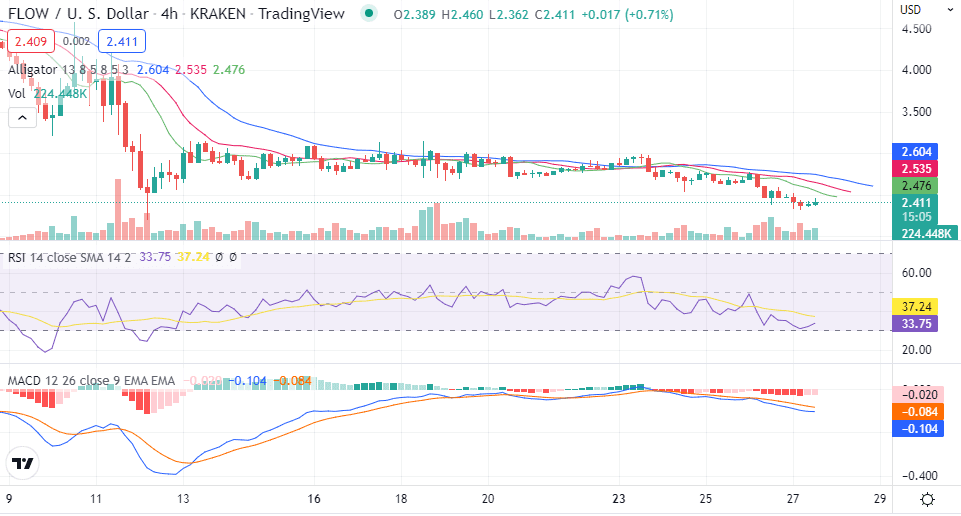 Flow Price Predictions 2022 – 2030
Walletinvestor
Flow historical data is rated 'C' by Wallet Investor. The ai forecast system proceeds to state that Flow is a 'bad' long term investment with a likelihood of falling by 90.116%from its current value. They give a bearish market price prediction for the coming two weeks with Flow falling from its current price to $0.998. Data from the last 30 days suggest Flow is highly bearish. Flow return on investment in 2024 will be -73.882%, 2025 will be 42.352%, 2026 will be 84.946% and 2027 will be 91.812%. Will Flow price drop? Yes.
TradingBeasts
Trading beasts analyze past performance and use regression to forecast coin prices in the crypto market. In June, Flow tokens will trade at an average price of $2.458 reaching a maximum value of $3.072 and a minimum value of $2.089. They anticipate a price fall in the remaining part of the year which will close at $2.40. In 2023 Flow will be on an upward trajectory. The year will open with the lowest price at $2.713 and close at $4.775. 2024 will perform just as well opening at $4.929 and closing at $6.257. The bullish trend will continue into 2025 and the year will close at an average price of  $7.281.
Digitalcoin Price
Flow has been on a downward trend since the beginning of April and had a sharp decline in May, Digital Coin Price expects a price rise in June to $3.31 as the crypto market recovers. Flow average trading price will range from $3.57 to $3.14 for the remaining part of the year.  According to their price analysis, Flow is a profitable investment whose price will be bullish for the entire period between 2023 and 2031. The bullish Flow price prediction will see it reach $4.45 in 2025.  The average forecast price for 2030 is $11.02  while getting a minimum price value of $10.59 and a maximum price level of $11.31. Flow average trading price for 2031 will be $12.56.
Cryptopolitan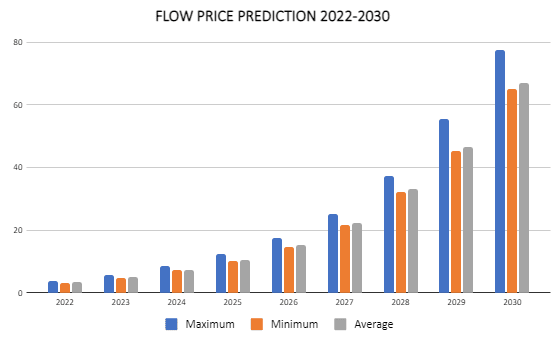 Flow Price Prediction 2022
Flow price prediction for 2022 is $3.41. Flow has been on a negative trend for most of 2022. The flow price forecast suggests a price increase in the second half of 2022 as the market recovers from bear markets. Flow cryptocurrency will trade between a maximum price of $3.86 and a minimum price of $3.27.
Flow Price Prediction 2023
Flow price prediction for 2023 is $5.00. Flow is the blockchain for developers. It helps developers create a lasting impression on users. Flow boasts over 7000 developers building on its platform. This will increase in the future as blockchain dAPPS grow in demand. Flow crypto will trade between a maximum price of $5.73 and a minimum price of $4.86.
Flow Price Prediction 2024
Flow price prediction for 2024 is $7.34. Flow has a 750M development fund. The fund is meant to streamline the Flow platform processes and provide support to developers. This means developers can gain insight and guidance from Flow personnel or even apply for grants.  Flow average price will trade between a maximum price of $8.44 and a minimum price of $7.14.
Flow Price Prediction 2025
Flow price prediction for 2025 is $10.56. Flow has over 1000 active projects on its chain. These include  TopShort, Genies, Gaia and Bloctobay. The projects offer real use cases and at the same time increase the value of the Flow Chain.  Flow average price will trade between a maximum price of $12.39 and a minimum price of $10.19.
Flow Price Prediction 2026
Flow price prediction for 2026 is $15.19. The difficulty of coding on blockchains has been a real challenge to developers. Flow uses Cadence programming language which is more friendly and has a flow client library, a line of code that helps developers integrate any type of wallet on Flow for their custody or fiat currency payments. Flow average price will trade between a maximum price of $17.58 and a minimum price of $14.66.
Flow Price Prediction 2027
Flow price prediction for 2027 is $22.28.  The ease of use of the Flow platform allows developers to securely fix bugs, upgrade or make changes to specific parts of smart contracts. Flow average price will register its highest price at $25.22 and its lowest price at $21.52.
Flow Price Prediction 2028
Flow price prediction for 2028 is $33.01. Unlike Bitcoin and Ethereum, Flow runs on a proof of stake mechanism which is environmentally friendly. Minting an NFT on FLow has been equated to leaving a smaller carbon footprint than sending a post on social media. Flow token's value in the cryptocurrency market will range from $37.38 to $32.12 for the year.
Flow Price Prediction 2029
Flow price prediction for 2029 is $46.59.  The continuous Flow growth will see the coin reach its previous all-time high of $46.16 set on 5th April 2021. The milestone will likely see speculators jump into the coin and send its value higher. Flow crypto will trade between $55.46 and $45.27.
Flow Price Prediction 2030
Flow price prediction for 2030 is $67.04. As the whole crypto world grows mainstream, it is expected that early entrants into the space will be the highest gainers. The years of experience will grant Flow a position in the top cryptocurrencies and proof to be a good investment for retail investors. Flow crypto will trade between $77.57 and $65.18.
Flow Price Predictions by Industry Influencers
According to the Crypto Vault youtube channel,  Flow will trade at $9.27 in 2023.
Conclusion 
Flow has proved to be a valuable platform for developers and today boasts over 5.5M wallet accounts. Its scalability has allowed for the development of a myriad of decentralized applications. 
Flow has not had a good performance this year, but as the cryptocurrency market begins to recover, Flow will soar back to its former glory.  Flow market cap will rise and probably trade at $67.04 in 2030.
Note that this is not investment advice.
FAQS about Flow
Is Flow a good Investment?
Flow is a good investment that is profitable in the long term.
Where can I buy Flow crypto?
You can buy Flow on Uniswap, Binance and Ku Coin.
Will the price of Flow reach $100?
Yes, in 2032.
What will be the price of Flow 5 years from now?
Flow coin will be $22.28 in 5 years.
What will be the price of Flow 10 years from now?
Flow coin will be $100.2 in 10 years.
Disclaimer. The information provided is not trading advice. Cryptopolitan.com holds no liability for any investments made based on the information provided on this page. We strongly recommend independent research and/or consultation with a qualified professional before making any investment decisions.
---
Source
---
Back to the list