Back to the list
Tron Price Prediction 2020, 2023,2030
www.cryptopolitan.com
28 May 2022 02:16, UTC
Reading time: ~15 m
---
TRX, or rather Tronix, is the native crypto asset of the TRON Network.TRON is a Blockchain-based decentralized network targeting an unchained, worldwide digital content entertainment structure using distributed ledger technology and enabling straightforward and cheap data sharing.
A sideshow would be Mr. Sun, who is now an ambassador and Permanent Representative of Grenada to the World Trade Organization, is offering $60 per share to buy Twitter. This amount is roughly 10.7% higher than Elon Musk's offer. How is owning Twitter affect TRX's price?
I believe @Twitter is far from unleashing its full potential, thus I am offering $60 per share to take the platform private. But we fully support the reform initiatives of @elonmusk and would love to see Twitter becoming crypto-native and Web3 friendly.

— H.E. Justin Sun 🅣🌞🇬🇩 (@justinsuntron) April 14, 2022
Your response could vary among those given:
We want to move Twitter offshore and make its workforce decentralized so that it can be more neutral and less US-centric.
We want to turn Twitter into a more open and decentralized Web3 framework that is open source and friendly to developers.
We want to encourage more user engagement and start to develop a mechanism to clean the scammers and bots immediately.
Twitter has also clarified that its plan doesn't prevent the board from engaging with parties or accepting an acquisition proposal if it's in the company's best interests. By this development, we want to prove a point that coin price movements are influenced by factors whose outcomes can be predicted. And so, let's keep a close tab on who wins the bidding and the developments after. Those who fail to keep watch will repeat their errors over and over. As we've said, this is a sideshow but rather crucial to TRX prices.
Today's TRON price is $0.080228 with a 24-hour trading volume of $1,412,175,314. TRON is down 0.11% in the last 24 hours. The current CoinMarketCap ranking is #13, with a live market cap of $7,538,079,621. It has a circulating supply of 93,957,926,259 TRX coins and the max. supply is not available.
Also Read:
• How To Mine TRON?
1
Developments affecting the TRX Price
3
What other factors affect the TRX price?
6
Tron Technical Analysis
7
Tron Price Predictions 2022 – 2030
7.1
Tron Price Prediction 2022
7.2
Tron Price Prediction 2023
7.3
Tron Price Prediction 2024
7.4
TRX Coin Price Prediction 2025
7.5
Tron Crypto Price Prediction 2026
7.6
Tron Coin Price Prediction 2027
7.7
Tron Trx Price Prediction 2028
7.8
Tron Trx Price Prediction 2029
7.9
Tron Trx Price Prediction 2030
8
Tron Price Predictions by Industry Influencers
Developments affecting the TRX Price
The price took a sudden hit of 7% when, on December 17,  Justin Sun announced that he had been appointed as Ambassador, Permanent Representative of Grenada to the World Trade Organization and would be stepping back from TRON. As a result, the TRON Foundation has said it has "settled to dissolve itself on July 25, 2022".
Despite this, the Tron (TRX) price still keeps going up. Could it be that the strategic investment of an undisclosed amount in the DeFine social NFT platform is finally bearing fruits? The funding will be used to develop the first NFT marketplace in the TRON ecosystem and launch auctions soon. Or could it be that the network's BTFS file storage system (integrated with DeFine in September? Or TRON's expansion into the NFT ecosystem with APENFT is operating successfully? Or some other strategy hatched up by Justin Sun?
🚀#Huobi × @Tronfoundation Special Promotion

😻3.35M $TRX Worth of BAYCTRON #NFT up for grabs

🎁Join to get your new year gifts!$TRX $NFT $TUSD

— Huobi (@HuobiGlobal) January 1, 2022
🎉 @vaneck_us is now holding #TRON ETN worth of more than 1.04 billion #TRX!

🚀 VanEck is one of the first asset management companies to submit a Bitcoin ETF application to the US regulator SEC.

💪 Since its establishment, #TRON has spared no effort in global compliance. pic.twitter.com/swLF7MNXDO

— TRON DAO (@trondao) December 31, 2021
What Is Tron (TRX)?
Tron (TRX) was created by tech entrepreneur Justin Sun in 2017. The TRON project funds were raised through an Initial Coin Offering (ICO), with a subscription of funds reaching 70 million. This was one of the largest ICOs and increased cryptocurrency popularity even further.
Today, Tron has grown into one of the largest cryptocurrencies with over $6.4 billion capitalizations, while the 24-hour trading volume exceeds $1 billion. The coin ranks among the top 30 coins and has a circulating supply of 71,659,657,369 tokens.
At first, TRX ran on Ethereum's ERC-20 blockchain as it offered a quick and easy solution for running the peer-to-peer network. Later on, the developers of Tron switched the blockchain to their custom-made solution.
The blockchain used proof of stake mining and validation consensus algorithm and was one of the first cryptocurrency projects to implement this solution.
One of the primary use cases and benefits for the TRX platform is the support for content creators and artists by providing ownership over the content they create.
This is done by storing and tracking the information about created content and its use on the blockchain.
Therefore, content creators can directly track how their creations are used and their reward for producing them. The middle man is eliminated, and content creators get paid instantly.

Tron Overview
Tron Overview
Coin
Symbol
Price
Marketcap
Change
Last 24h
Supply
Volume (24h)




TRX
$

0.080697

$

7.59 B

0.03%

93.96 B
$

1.50 B
Tron Foundation
The Tron foundation is the governing body of the Tron blockchain. They aim to popularise and further develop the blockchain. Based in Singapore, they ensure that the TRX blockchain is regulated and complies with laws. Tron, Justin Sun, is still the Tron foundation leader and is listed in the Forbes list of 30 under 30 in Asia.
In 2018, a popular peer-to-peer torrent sharing network – BitTorrent, announced that the TRON Foundation had acquired them to use TRX token to incentivize and reward network users. This created massive interest for the token, and soon, it exceeded a $1 billion cap.
Several other projects and development phases have since been launched, with the most notable ones being the Odyssey, which created a system for incentivizing content creators. Further development phases – Great Voyage and Apollo-enable content creators to build their brands and issue personalized initial coin offerings to raise funds for their projects.
Further, plans to develop the ecosystem are in line for the future with phases of Star-Trek, which is estimated to launch in mid-2023, and Eternity estimated to launch in late 2025.
Therefore, we are likely to see interest in Tron and blockchain itself grow even further in the upcoming years and increase the price.
Let's look at Tron's previous price history to understand what the future price could look like. IT is a good investment if you are losing money rapidly in all others.
Tron has been compared with Ethereum due to its lower fees and fast payment. When ETH was at its all-time high, a considerable amount of fees as applicable for transfer, and this reason, people started shifting to TRON.
What other factors affect the TRX price?
Factors affecting Tron's price are the same as any other cryptocurrency – mainly, the supply and demand on cryptocurrency exchanges. More significant deals are often done off the exchanges, creating a negligible impact on the Tron price.
Supply and Demand
The supply of the coin naturally comes from the number of tokens that are released into the market every day. In the case of Tron, you can earn a mining reward by staking the coin.
As of now, staking TRX offers around a 7 percent annual yield. However, this yield will vary over time and based on market conditions.
On the other hand, the demand for Tron comes from investors who want to buy it with the expectation that its long-term value will grow. Another motivation for purchasing Tron is the ability to stake your coins, which in return gives you an annual yield.
Staking TRX tokens also gives the power to vote on various issues that the network developers want to solve or features that they want to add. Therefore, by purchasing and staking TRX, you help ensure the TRX blockchain's consensus mechanism.
Regulatory Compliance
Recently rumors of the United States and China investigating the TRON Foundation and the blockchain itself. In his Twitter account, the founder of Tron Network, Justin Sun, ensured no reasons to doubt the accusations of malpractice as the network is run as a decentralized network. Therefore, claims of centralized manipulation are of no sense since the TRON Foundation is only one of several thousands of participants.
Overall, TRX is compliant with various regulations over the world as any other major blockchain. This ensures the demand for TRX continues growing. Therefore, over time, the crypto market price should continue to rise over the next five years.
The Rise of Apps
Over the last months, the TRX network experienced an increased interest in decentralized applications (DApps). As of now, more than 100 DApps are running on the blockchain, offering various categories of functionality ranging from exchanges to gaming and gambling.
Websites such as DappRadar offer a quick overview of the most popular ones and how many users have each decentralized application attracted over time. User count ranges from several hundred to several thousand, and this number is expected to grow further over the next 5 year period.
This raised interest for the TRXs blockchain functionality creates an additional appeal to invest in Tron. Therefore, creating extra trading volume and market growth for the cryptocurrency market.
Where to buy Tron?
Tron is available for trading on practically every major exchange, just like Bitcoin or Ethereum. It is one of the best-known cryptocurrencies with a high average trading volume of more than $2 billion per day. As seen during previous bull markets of cryptocurrencies, this number is likely to grow over the next five years. Therefore purchasing crypto shouldn't be an issue for anyone interested in trading or investing.
How to store Tron?
Tron offers several options for storing crypto. The basic one is the so-called TRON paper wallet, which involves a primary method of printing out your private keys and keeping them on a piece of paper in a place where only you have access. This basic solution comes from earlier cryptocurrencies such as Ethereum.
Other options include Tron Android wallet, Tron IOS wallet, Chrome wallet, Exodus desktop wallet, and the commonly used hardware wallets of Ledger Nano and Trezor. This means that the Tron coin can be stored in as many different wallet options as other well-established cryptos such as Ethereum.a
Tron Price History
As seen on the Tron chart, the price of Tron cryptocurrency has seen a good amount of volatility over the past years.
After spending the second half of 2019 retracing from $0.04, TRX eventually found support around the exchange rate of $0.11.
This resulted in a push higher at the beginning of 2020 as the price set a new higher high, indicating that a new bull cycle has potentially begun.
However, after peaking at $0.026 in the middle of February 2020, the Tron price got heavily rejected to the downside, destroying any bullish price prediction at the time. What followed for the price of crypto was another dump lower.
The Tron price pushed through previous support and set a new several-year low at $0.07.
The price started to slowly recover from there on, creating a bullish Tron (TRX) price action structure by the end of the year.
In September, the Tron price moved and saw a very sharp spike to the upside, resulting in a brief breakout from the significant resistance of $0.04 as it hit a new several-year high of $0.05.
During the following weeks, the crypto retraced towards the previous resistance of $0.22-$0.025 and retested it as a support.
As expected by analysis of several well-known traders at the time, Tron price reversed from thereon. After spending the end of 2020 in a consolidation, Tron pushed higher at the beginning of February in a solid bull run, resulting in a $0.065 level being reached, beating several predictions.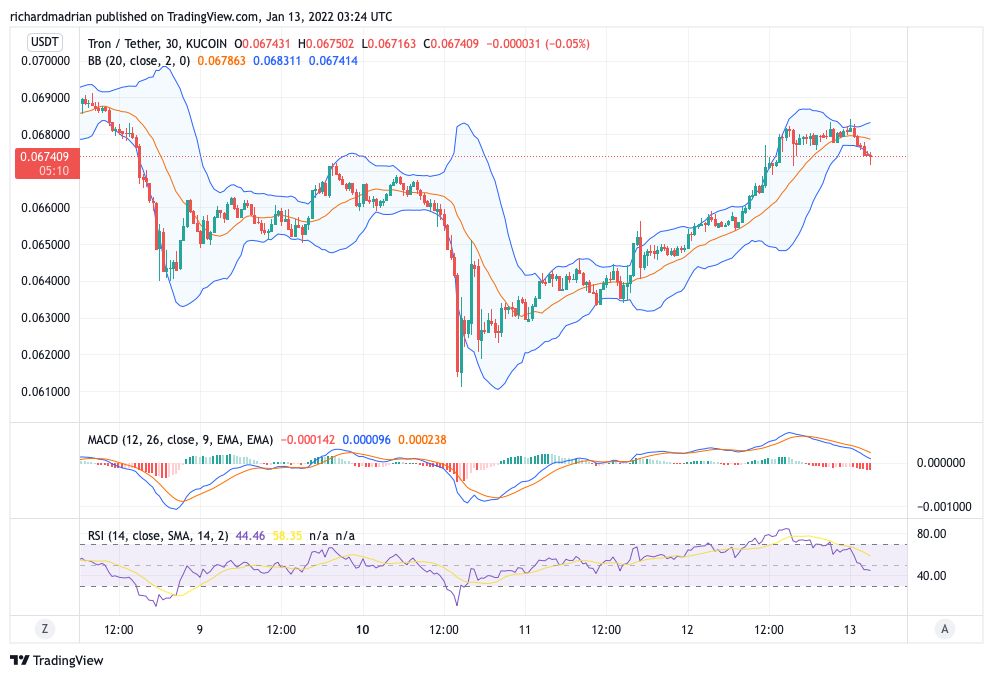 It is in a bearish momentum and has an RSI index of 39. In the 4-hour chart, we can make a short-term Tron price predicition using the above technical analysis. With the reversal in the trend, the coin price has changed its bearish outlook as it is trading above the 50-day and 100-day MA, breaking out of the upper end of the Bollinger Band.
Now, let's look at the long-term Tron price prediction for the upcoming years and remember that these Tron price predictions are not investment advice.
Tron Technical Analysis
Tron has been on a gradual upward trend in the last two weeks. The William Alligator trend lines are moving closer to each other meaning the market is slowing down. The 14-day relative strength index is moving towards 50 signalling a relatively stable market. MACD histogram indicates some price momentum to the downside. Tron price will likely stagnate in the short term.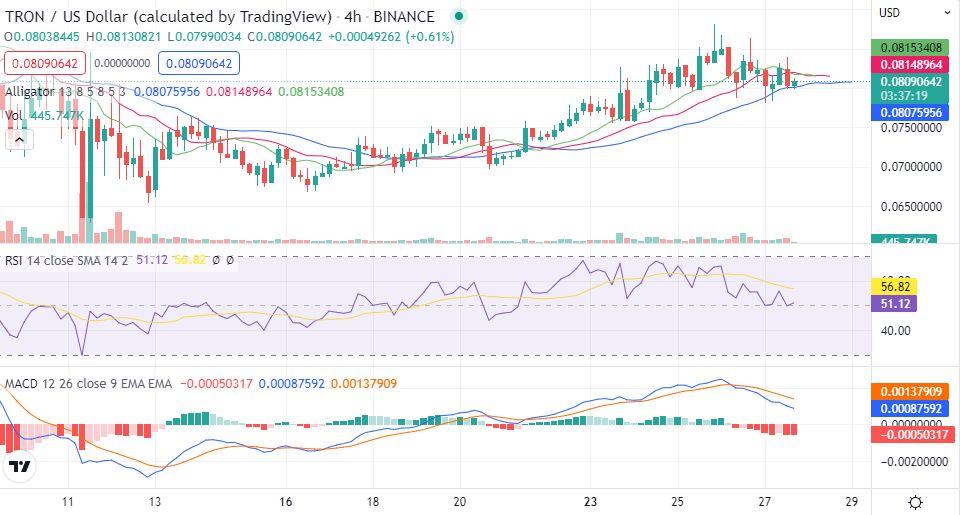 Tron Price Predictions 2022 – 2030
Walletinvestor
Wallet Investors use ai algorithms to predict crypto prices. They rank Tron's historical performance 'C' and suggest it would make a good investment. Tron will be worth $0.0894 in one year with its value rising by 10.3%. Short term, Tron will be bullish in the coming two weeks with its value rising from its current price to $0.0862 towards the end of the period. Data from the last month suggest Tron is extremely bullish. Tron's return on investment (ROI) for 2024 will be 24.7%, 2025 will be 40%, 2026 will be 55.3% and 2027 will be 74%. Will the Tron price drop? No.
TradingBeasts
Trading beasts analyzed Tron's past performance and combined linear and polynomial regression to provide a TRX price forecast. Tron will trade at an average of $0.1057 in June then it will embark on a gradual fall to December when it will sell at $0.1047. In 2023, bears will dominate the Tron crypto market. TRX's price will fall from $0.1043 in January to $0.0914 in December. The Tron prediction for 2024 is bullish. Tron will start recovering from $0.0938 in January to  $0.1191 in December offering a reprieve to TRX investors.  The trend will continue into 2023 with the year opening at $0.1213 and closing at $0.1436. Will Tron crash? It's not likely.
Digital coin price
Tron cryptocurrency has been performing quite well in the last six months when compared to other coins in the crypto space. Tron price will rise in June to an average price of $0.11 and maintain it to the end of the year.  TRX price forecast for 2023 is $0.12 with a mixed trend through the year. It will then drop to $0.11 in 2024 before rising to $0.16 in 2025. Tron will then be bullish for the remaining period to 2031. In 2030, Tron's future price will be $0.37 and will range between $0.36 and $0.38. Tron will sell at $0.43 in 2031.
Cryptopolitan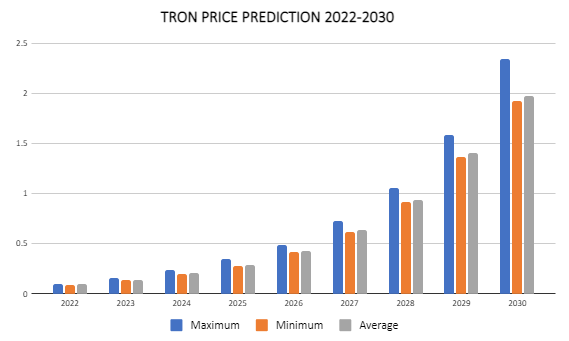 Tron Price Prediction 2022
TRX price prediction for 2022 is $0.095. Tron cryptocurrency has outperformed many coins in the cryptocurrency market this year. When the market begins to recover, Tron will break the $0.95 mark in the second half of 2022. This will see the TRX price reach a high of $0.1.
Tron Price Prediction 2023
TRX price prediction for 2023 is $0.14. Tron has had an upsurge of users and developers on the Tron blockchain. This saw Tron surpass EOS with the highest number of Dapps. Tron is currently more environmentally friendly than Ethereum and might as well pass it. Tron will trade between $0.14 and $0.16 for the year.
Tron Price Prediction 2024
TRX price prediction for 2024 is $0.21. The Tron ecosystem is continuing to grow every day. Currently, Tron has use cases in the payments industry and voting on and off-chain. Tron will probably invest in the web 3 with utility in NFTs, gaming and the metaverse. Tron cryptocurrency will sell between a minimum price of $0.20 and a maximum price of $0.24.
TRX Coin Price Prediction 2025
TRX price prediction for 2025 is $0.29. Proof of stake models, decentralized governance and tokenization has been good selling points for blockchain systems. Tron allows for the election of super representatives who are in charge of the Tron blockchain. Voting on the system earns voters rewards. Tron will trade between a maximum price of $0.35 and a minimum price of $0.28.
Tron Crypto Price Prediction 2026
TRX price prediction for 2026 is $0.43. Tether USD is a TRC20 token stable coin built on the Tron blockchain. Tether USD has gained immense popularity and at the time of writing has a market cap of  $73B.  This shows the robustness and scalability of the Tron network. Tron's average trading price will range from $0.49 to $0.42.
Tron Coin Price Prediction 2027
TRX price prediction for 2027 is $0.64. Cryptocurrencies and tokenization of assets are set to gain fame as jurisdictions create financial frameworks around them. This will help attract institutional investors and funding from banks. Just Lend platform on Tron will grow as the first decentralized algorithmic bank with lending and borrowing features. Tron price analysis suggests Tron coins will trade between $0.73 and $0.62.
Tron Trx Price Prediction 2028
TRX price prediction for 2028 is $0.94. With the growth of the dAPP industry, we will have many tokens on the Tron blockchain. Decentralized exchanges like Sunswap will enable the swapping of these tokens while using Tron to pay gas fees. The Tron future is bright and TRX prices will hover between $1.06 and $0.92.
Tron Trx Price Prediction 2029
TRX price prediction for 2029 is $1.4. Tron will eventually trade above $1 in 2029. The continuous growth will however depend on the stability of the crypto market and news noting the market is mostly driven by speculation. A market crash would be devastating for Tron. The Tron forecast and price prognosis, suggest Tron will trade between $1.36 and $1.58.
Tron Trx Price Prediction 2030
TRX price prediction for 2030 is $1.97. As we move into web 3, industries will dare to change and adopt blockchain systems. Winklink is the official Tron oracle. The oracle will help these enterprises and industries easily plug into the Tron blockchain. Tron's price will range from a maximum value of $2.34 to a minimum value of $1.92.
Tron Price Predictions by Industry Influencers
Crypto Vault youtube channel goes through a detailed Tron price prediction and top news. They note that TRX has the potential to reach $0.53 in 2025.
Conclusion 
Most Tron price predictions by analysts are bullish for the long term. Through fundamental analysis, Tron has a robust, scalable blockchain with near-zero transaction fees and will therefore remain relevant into the future.
Tron will have little price growth in the remaining part of this year. When the market begins to recover, it is anticipated Tron will soar and outperform many cryptocurrencies.
Tron however remains a risky investment, always doing enough research before purchasing.
FAQS about Tron
Is Tron a profitable investment?
Yes, Tron is a profitable long-term investment.
Where can I buy Tron?
You can buy Tron on  Huobi global, Ku coin, and Binance.
Will Tron's price hit $1?
Tron's price will hit $1 in 2028.
What will be the price of Tron 10 years from now?
Tron will be worth $2.67 in 10 years.
Can TRX be mined?
You can earn TRX by staking your coins and making an annual yield. For further reading on TRX mining, see our comprehensive guide.
By reading your favorite coins' price analysis and daily roundups, you may keep yourself updated and better able to make a decision.
---
Source
---
Back to the list