Back to the list
Pledgecoin Price Analysis: PLG Retains A Bullish Momentum, Spikes $0.001751
cryptoknowmics.com
18 May 2022 16:21, UTC
Reading time: ~2 m
---
Pledgecoin is bullish today

Pledgecoin is currently trading at $0.001751
Pledgecoin price analysis reveals a bullish trend today. Contradicting almost the whole market that is bearish, price analysis of Pledgecoin on various timeframes reveals a consistent uptrend.
Price Analysis Over The Last One Day: Bullish Trend
PLG opened the day at a price of $0.001431and quickly surged to a high in the first few hours of trading. The price has been on an upward trend ever since and is currently trading at a price of $0.001751 The 24-hour volume for PLG is currently $3,801,049 USD and the market capitalization is.$17,975,048.52 The RSI indicator is currently at 46.85, which indicates that the market is in a neutral state. The MACD indicator is also in the bullish zone and is currently above the signal line.
The 4-Hour PLG Price Chart Analysis: Uptrend
The 4-hour PLG price chart analysis shows that the market is in an uptrend as the price has made higher highs and higher lows. The market is currently trading near the resistance level of $0.002322. If the market breaks out of this level, it can move to the next resistance level of $0.004044.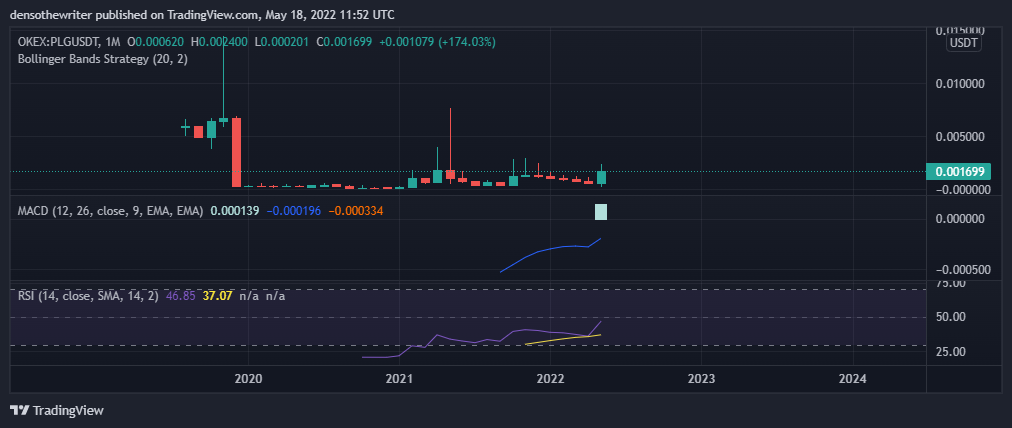 As a result of the bullish trend, buyers are in control of the market and 17 out of 26 major crypto analysis indicators indicate a buying segment while 9 indicate a neutral segment while the oscillators are indicating a buying segment. 
PLG Price Analysis: Conclusion
The market is in a bullish trend and as long as the market trades above the support level of $0.00182, the uptrend is likely to continue. The next resistance levels to watch out for are $0.0023 and $0.004. Technical indicators also support the bulls. As a result, we may anticipate prices to continue to rise in the near term, with a target of $0.004 as the next objective. The market is now held by the bulls; prices have been trading above moving averages for some time. In case of a large sell-off, investors should be cautious as the market may enter a period of consolidation. The market is expected to continue its bullish trend in the near future as prices are now trading well above the moving averages.  
---
Source
---
Back to the list