EOS token price has been trading at $7.16 with an up move of 10.75% in the last 24 hours.
The 24-hour volume in EOS is at $5,925,769,887 with a 78% increase.
The EOS/BTC pair was trading at 0.0001321 BTC with a gain of 14.5%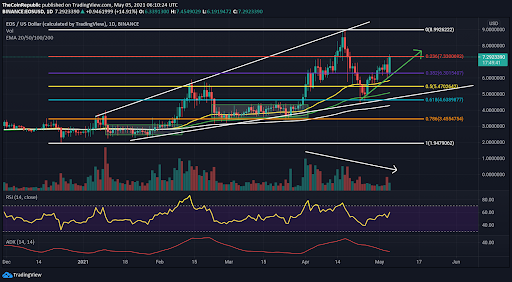 EOS token price is being traded at $7.16 with a gain of 10.75% in the last 24-hour. In contrast, the volume of the coin is declining. The EOS token price is sustaining the uptrend with the help of a support trendline. EOS coin is indicating that the bulls are overpowering bears, with the frequently made bullish engulfing candles. EOS coin price has risen more than 60% in the last 24 hours. The live market capitalization of the coin is $6,827,311,789.
EOS coin price breaks out with volume burst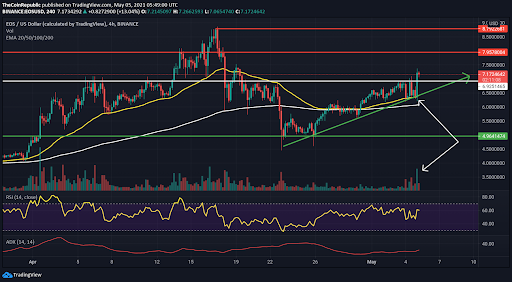 The daily technical chart of EOS token price action forecasts a continued bull run. According to Fibonacci levels, EOS's critical support level is placed at $6.3. At the same time, the broken price is finding some supply near $7.33. The breakout of the $6.9 level with the sudden boost of buying volume in the 4-hour timeframe indicates bull run to continue further. The decreasing volume in the daily timeframe indicates some underlying weakness in the uptrend. Low buying pressure in EOS might drive its price back to previous levels.
EMA- (50,100,200) provides strong support in the coin. 100 EMA (green) provided strong support where the coin price made a morning star pattern with a strong bullish engulfing candle. The price recently crossed over 50 EMA (yellow). Investors may seek this as a positive crossover of price above the 50 EMA, and the recently made bullish engulfing candle adds to this thought. Also, the 50 EMA is above the 200 EMA (white), indicating bulls in control.
The relative strength indicator (BULLISH), with a value of 60, indicates a buy signal in the coin. Also, the RSI slope did boost from 50 in the last few trading sessions, with space to rise higher. 
ADX indicator, with a value of 20 in the 4-hour timeframe, is rising higher, indicating that a boost in trend momentum could be expected soon.
Conclusion – The breakout of the $6.9 level with the boost of volume indicates the bull run to continue further, but the volume is declining on the bigger timeframe charts. The declining daily volume does pose a threat of reversal, but the chances do seem low due to the frequent bullish engulfing candles.
Resistance: $7.33 and 7.95
Support: $6.3