Synthetix is an open-source liquidity protocol. It allows users to trade in derivatives on a decentralized platform and gain exposure to a wide range of digital assets. It also provides users with a robust infrastructure to build synthetic assets. SNX is the native token of the network, and the technical analysis is as follows:
Past Performance
On April 26, 2021, SNX opened at $14.12. On May 2, 2021, SNX closed at $17.33. Thus, in the past week, the SNX price has surged by approximately 23%. In the last 24 hours, SNX has traded between $17.23-$17.82.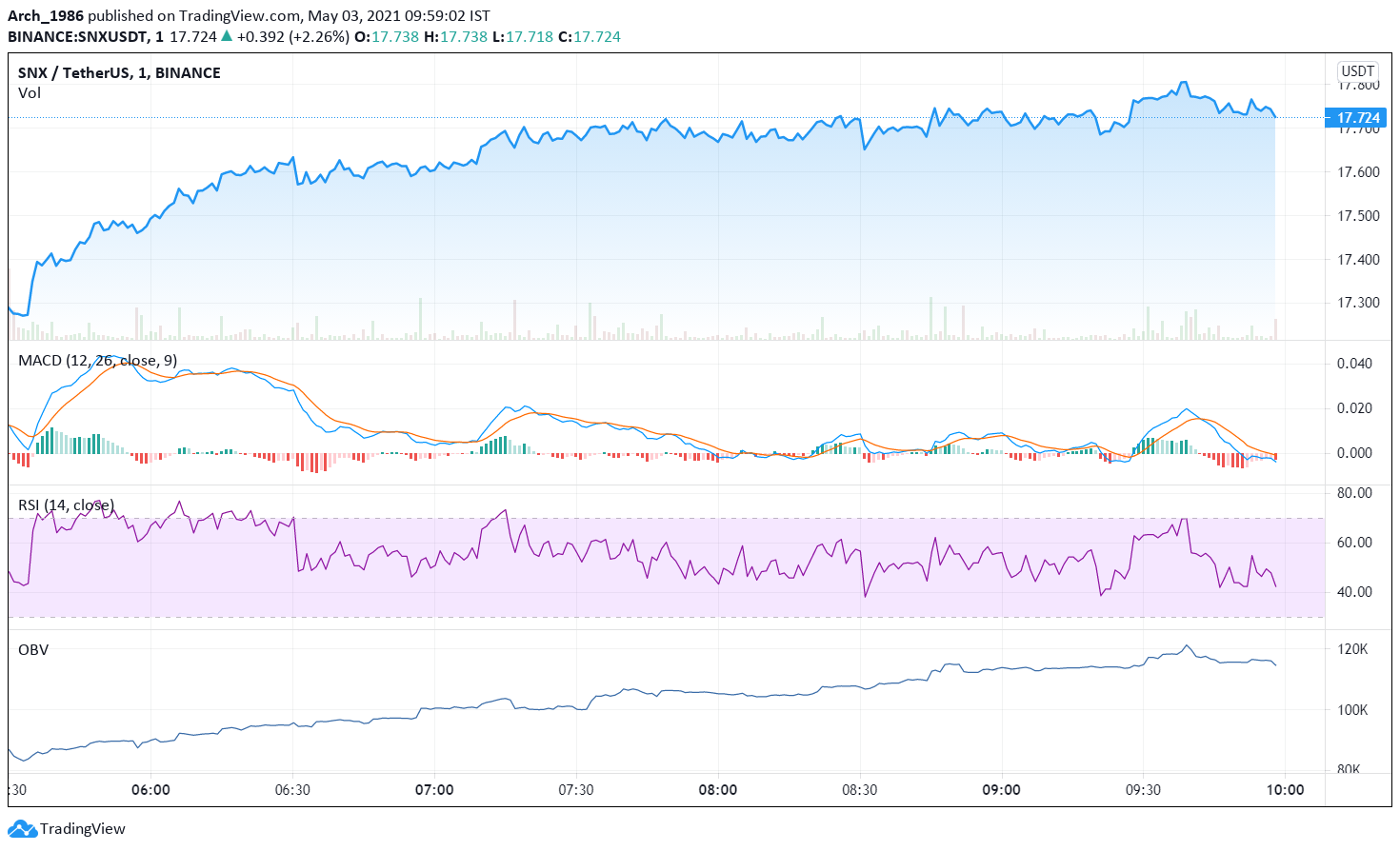 https://s3.tradingview.com/snapshots/e/eeUtpNVX.png
Day-Ahead and Tomorrow
Currently, SNX is trading at $17.72. The price has increased slightly from the day's opening price of $17.33. Thus, the market seems to be uptick.
The MACD and signal lines have turned negative. Moreover, a bearish crossover by the MACD line over the signal line has occurred. Thus, the overall market momentum is bearish. Hence, we can expect the price to start declining.
Currently, the RSI indicator is at 48%. It faced rejection at 41% and rose to this level. Thus, buying pressures are slowly mounting. However, since the MACD oscillator has indicated a price pullback, we can expect the price to start rising after a brief dip.
The OBV indicator is upward sloping. Thus, buying volumes are higher than selling volumes. High buying activity will exert upward pressure on the SNX price.
When we look at all the oscillators together, we can say that the bullish trend seems strong, but temporary price pullbacks cannot be ruled out.
SNX Technical Analysis
The price is currently above the first Fibonacci pivot resistance level of $17.68. If the bulls remain strong by day end, we can expect the price to surpass the subsequent resistance levels of $17.82 and $18.05, respectively.
The price has tested and broken out of the 23.6% FIB retracement level of $17.68. Thus, the bullish trend seems strong. Hence, after some intermittent price pullbacks, the SNX price may continue its upward journey today and tomorrow.