Back to the list
Why IOTA Is Investible for Future - Technical Analysis
cryptoknowmics.com
16 February 2021 13:00, UTC
Reading time: ~3 m
---
The past week has been positive for IOTA. On February 10, 2021, IOTA started trading at $0.79. As of February 15, 2021, the closing price of IOTA was $1.27. In short, the IOTA price has soared by approx. 61% in the past week.
IOTA Foundation's partnership deal with Dell technologies on project Alvarium is largely responsible for this bull run. Moreover, the fall in Bitcoin price has worked positively for most Altcoins.
In the last 24 hours, IOTA traded between $1.03 and $1.40.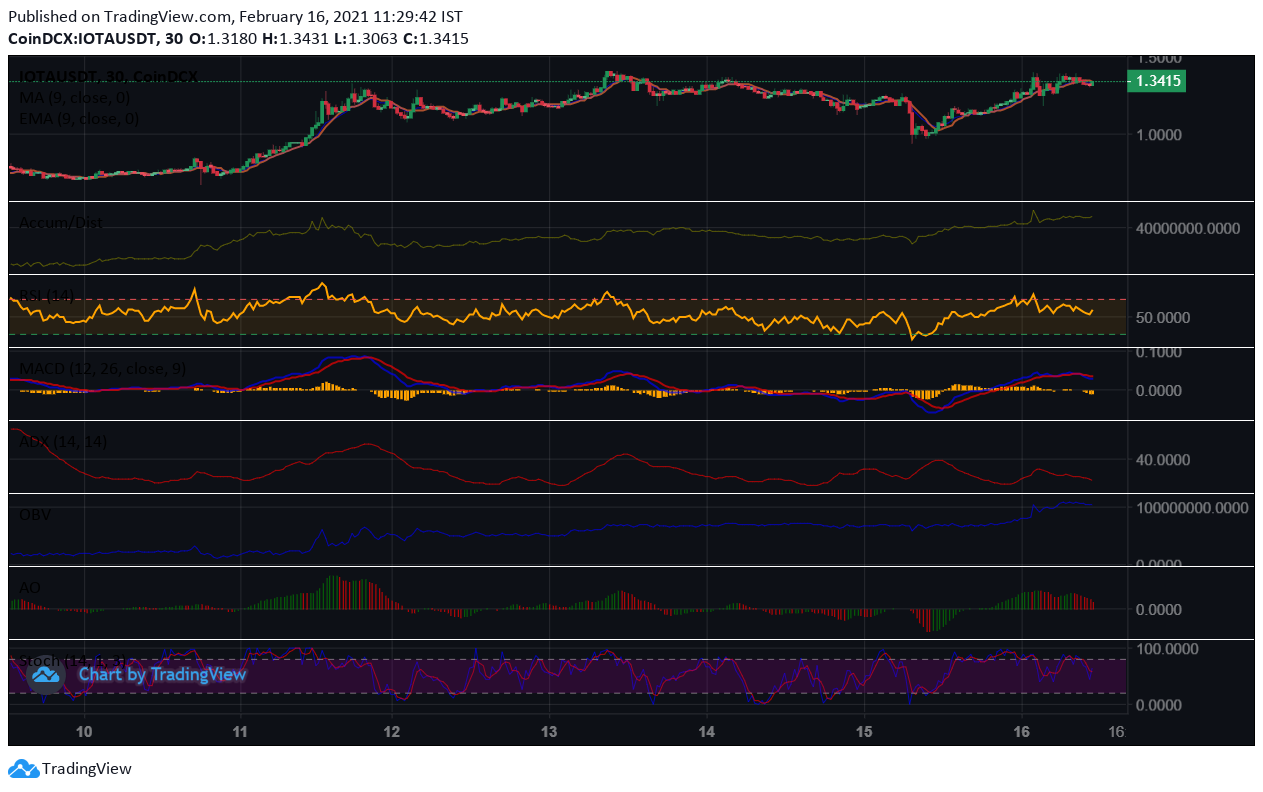 https://www.tradingview.com/x/jJN4BtZO
Technicals to Watch Out for IOTA
Currently, IOTA is trading at $1.34. The price has risen from the opening price of $1.27. The price is trading above the SMA and EMA lines too. Thus, the market seems bullish.
The stochastic oscillator went below 30% into the 'oversold' territory, a few minutes back. Thereafter, it started rallying. Swing traders can go long now. The bullish crossover by the actual value-line over the 3-day SMA line implies that the market momentum is bullish.
Similarly, the RSI indicator faced a bullish swing rejection at 30%, a few minutes back. Thereafter, the RSI started rising and has reached 55% now. Thus, buying pressures are increasing. Hence, we can expect a price uptrend.
The OBV indicator is continually rising implying that buying volumes are greater than selling volumes. However, the A/D indicator fell steeply earlier in the day and is rising at a much slower rate now. This indicates that whale distributions are still high. There is a negative divergence. So a price pullback or trend reversal can occur.
The AO indicator was negative. But, presently, it has just crossed above the zero line and become positive. 'Sell' signals have become very weak while 'buy' signals are gaining strength. So, the price is likely to go up.
However, the MACD and signal lines are negative. The market is still bearish. But, they are closer to the zero line and will become positive soon. Moreover, a bullish crossover by the MACD line over the signal line indicates a trend reversal.
The ADX indicator is also slowly rising. Thus, the bullish momentum is becoming stronger. Hence, we can expect a price uptick.
Currently, IOTA is trading well above the Fibonacci pivot point of $1.23. By the end of the day, we can expect the price to go above the first Fibonacci pivot resistance level of $1.37.
The price has already broken out of the 23.6% FIB retracement level of $1.31. Hence, the price uptrend is expected to continue today as well as tomorrow. The market sentiment looks positive too.
---
Source
---
Back to the list