Back to the list
Analyst: SushiSwap Token Price to Hit $9.00 Eventually as Strength Grows
www.newsbtc.com
03 December 2020 22:00, UTC
Reading time: ~2 m
---
Sushiswap's governance token, called Sushi, has posted some massive gains as of late, benefiting from the inflows of capital into the DeFi market and regaining its hype and momentum following a partnership with Yearn.finance.
Naturally, the clout and hype surrounding the Yearn ecosystem drew massive amounts of capital towards the Sushi token, with investors sending its price rocketing higher over the past few days.
Its price is also being boosted by an influx of trading volume into the platform, which comes as users begin trading more DEX-listed tokens to maximize their gains heading as the newly formed bull run heats up.
Although SushiSwap has an embattled past, with a fraction between the founders and the community still having lasting impacts on its success, it does appear that these issues are beginning to fade into the past.
One trader is now noting that Sushi could be well-positioned to see some massive gains throughout 2021, noting that a move to $9.00 could come about in the immediate future.
Sushi Price Rockets Following Yearn Acquisition
At the time of writing, SushiSwap's governance token's price is trading up just under 18% at its current price of $2.26. This marks a massive surge from weekly lows of $1.40 set a handful of days ago.
The intense uptrend that has allowed the cryptocurrency to erase its recent losses came shortly after a merger & acquisition with Yearn.finance was announced.
This isn't the only reason why its price has been ascending, however, as liquidity and trading volumes on SushiSwap's DEX are also rapidly rising. This trend will help continue driving value to the Sushi token.
It does appear to be facing some resistance around its current price region, making a surge past $2.30 critical for it to see further upside.
Sushi's Price Likely to See Exponential Growth in 2021: Analyst
One trader explained in a recent tweet that he believes Sushi's price will rocket towards $9.00 in the coming months.
He even goes so far as to call it one of his "top 3 alts for 2021."
"SUSHI: This is one of my top 3 alts for 2021. Been accumulating heavily since $1.90ish. I expect this to hit $9 sooner or later," he said while pointing to the below chart.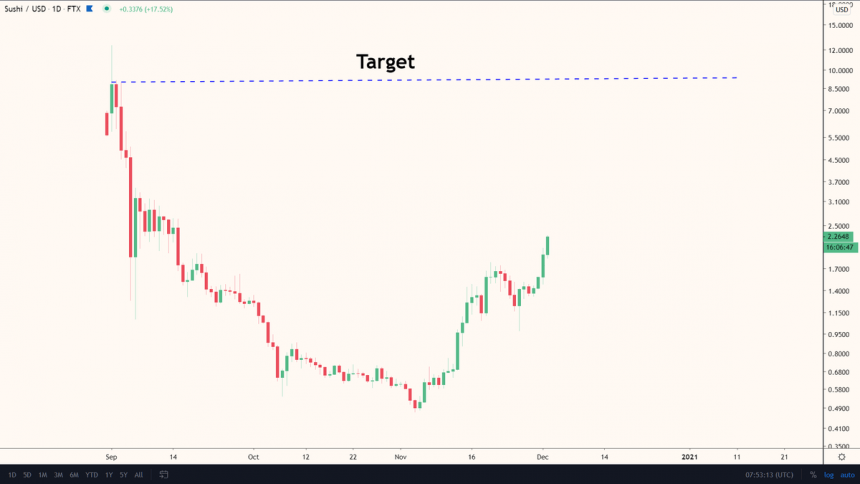 Image Courtesy of Altcoin Psycho. Source: SUSHIUSD on TradingView.
Unless there's a shift in the DeFi trend or in the strength seen by the aggregated market, there's a strong possibility that SushiSwap's token, and other DeFi tokens, will continue rallying higher.
Featured image from Unsplash. Charts from TradingView.
---
Source
---
Back to the list