Back to the list
How Investors Could See "Max Pain" Following Friday's $740m Bitcoin Options Expiry
www.newsbtc.com
28 August 2020 02:50, UTC
Reading time: ~2 m
---
In just a few days, the Bitcoin options market will see a massive $740 million contract expiry, which accounts for roughly 37% of the total outstanding open interest within the market.
This expiration may have some impacts on the crypto market's price action, as those holding both calls and puts may move to cover or roll-over their positions depending on where the benchmark cryptocurrency is trading at around this time.
The vast majority of these contracts are on Deribit – signaling that the platform still has absolute domination over the crypto options market.
The platform is also noting that over the next several months, option holders could experience a "max pain" scenario if Bitcoin ranges between two key levels.
Because both of these levels have been established as strong support and resistance, there's a real possibility that this range could persist throughout the rest of the year, striking a blow to options holders.
Bitcoin Options to See Massive $740m Expiry on Friday
This Friday, the Bitcoin options market will see one of the largest single-day expiries in its history.
In total, 65,000 BTC worth of contracts will expire, having a cumulative value of roughly $740 million.
Deribit spoke about this expiry in a recent post, explaining that this expiry represents 37% of the total open interest across all the major options trading platforms.
"Big options expiry this Friday 28 Aug 2020! 65k BTC options will expire this Friday with a notional value of > USD 740 million which represents approx. 37% of total market open interest (Deribit + CME + OKEX etc.)."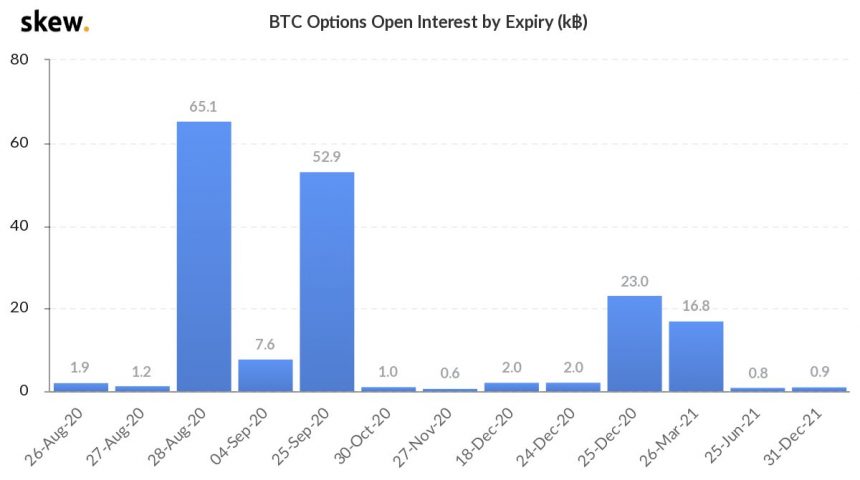 Image Courtesy of Skew.
Roughly 76% of these 65,000 BTC options contracts are expiring on Deribit.
Here's How BTC's Price Action Could Provide "Max Pain" to Options Holders
Deribit further went on to explain that a trading range between $9,000 and $12,000 could provide Bitcoin options holders with max pain in the months ahead.
They explained this in a later tweet, noting that a continued bout of trading between these two levels could have adverse impacts for investors holding both call and put options.
"Max pain is a calculation that shows at what price level option holders (buyers) would as a whole suffer the maximum amount of financial pain. As can be derived from the chart this would be a range from USD 9-12k."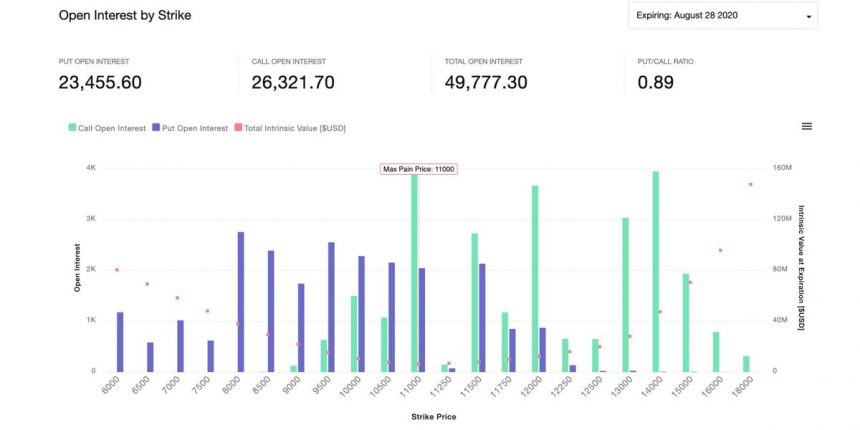 Image Courtesy of Deribit.
Because $9,000 has been established as strong support for Bitcoin throughout the spring months and $12,000 has become an insurmountable resistance level in recent weeks, this range may persist in the mid-term.
Featured image from Unsplash.
---
Source
---
Back to the list