Back to the list
Bitcoin Hits Massive 1,350 BTC Sell Wall; Here's Why Buyers Won't Break It
bitcoinist.com
23 June 2020 23:30, UTC
Reading time: ~3 m
---
Bitcoin has seen a tempered upswing over the past several hours that has come about in tandem with a rise in the stock market
This upwards movement has done little to alter its underlying technical strength, as it still remains squarely within its long-held trading range
This move has also led it up against a massive sell wall on Binance, which may slow the cryptocurrency's ascent and stop it from incurring any notable momentum
There are a few simple reasons recently laid out by one analyst that suggest Bitcoin will not break above this resistance anytime soon
Bitcoin has led the aggregated cryptocurrency market higher today. After trading sideways around $9,200 for the past several days and weeks, the crypto has since made an upwards push towards $9,500.
This momentum slowed once the crypto reached its current price levels, and this appears to be the result of a massive sell wall established just above its current price.
Unless the whale who formed this wall removes it, or buyers garner a massive amount of momentum, it is unlikely that it will be easily surmounted.
It also appears that there are a few key factors that are signaling Bitcoin is bound to see further near-term downside.
Bitcoin Reaches Key Resistance Level Following Overnight Upswing
After consolidating around $9,200 for the past several days, Bitcoin's buyers appear to have gained the upper hand over sellers as they push the benchmark crypto up towards its key resistance within the mid-$9,000 region.
At the time of writing, Bitcoin is trading up just under 1% at its current price of $9,450. It did push as high as $9,500 earlier but has since been forced lower by intense selling pressure.
It is important to note that BTC's upswing happened to come to an end as soon as it reached a massive 1,350 Bitcoin sell wall that has been erected on Binance at $9,450.
One trader spoke about this, noting that it is one of the larger sell walls he has spotted in a while.
"1350 BTC Binance sell wall. One of the bigger sells 'spotted' in a while," he said.
These Three Factors Signal BTC is Bound to See Further Downside
There are a few factors that signal Bitcoin will not be able to break above this heavy resistance region.
Another popular cryptocurrency analyst spoke about these factors in a recent tweet, explaining that BTC is forming a rounded top formation, is seeing a massive spike in selling pressure, and remains below its local point-of-control.
"If I'm honest with myself then I have to admit that this looks bearish. Rounded top formation just like in February. Sell volume > buy volume. Below local POC."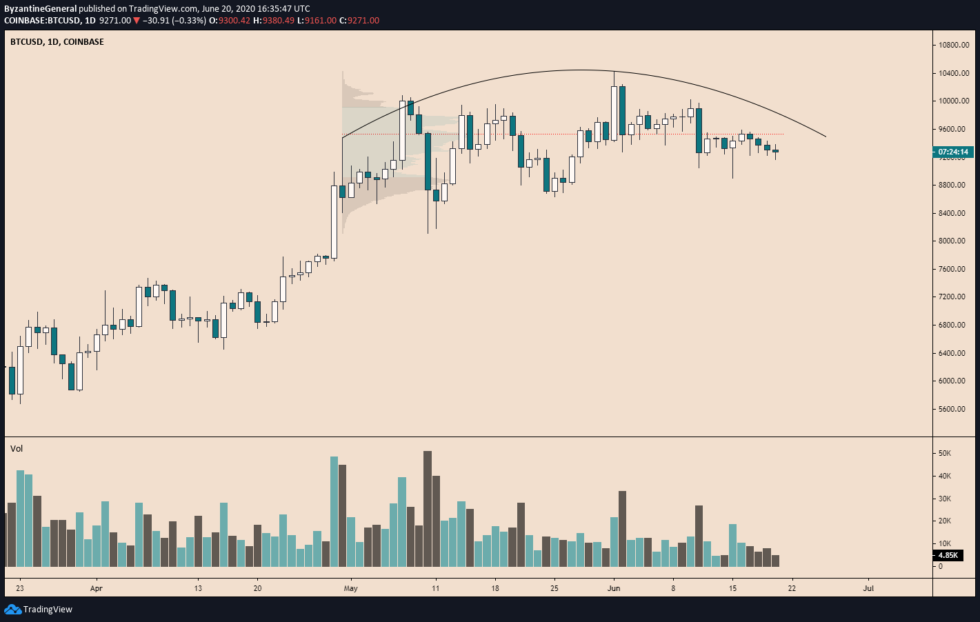 Image Courtesy of Byzantine General. Chart via TradingView
If Bitcoin fails to break above its heavy near-term resistance, there is a strong likelihood it will soon see major downside.
Featured image from Shutterstock.
Charts via TradingView.
---
Source
---
Back to the list