Back to the list
Bitcoin Sells Off At $9.5K Ahead of Trump's China Response; What's Next
www.newsbtc.com
31 May 2020 02:00, UTC
Reading time: ~3 m
---
Bitcoin breaks below $9,500, a crucial support level, a day after breaching it to the upside.
The cryptocurrency pared its intraday gains ahead of Donald Trump's retaliating press conference on China's national security law for Hong Kong.
Its downside move laggingly tailed a similar price action in the S&P 500. The U.S. benchmark closed Thursday down 0.2 percent.
Bitcoin traded lower on Friday as traders refrained from taking more significant risks amid escalating geopolitical tensions between the U.S. and China.
The benchmark cryptocurrency was down 1.18 percent at $9,467.04 as of 10:18 UTC. The bitcoin futures on Chicago Mercantile Exchange surged 0.16 percent to $9,545.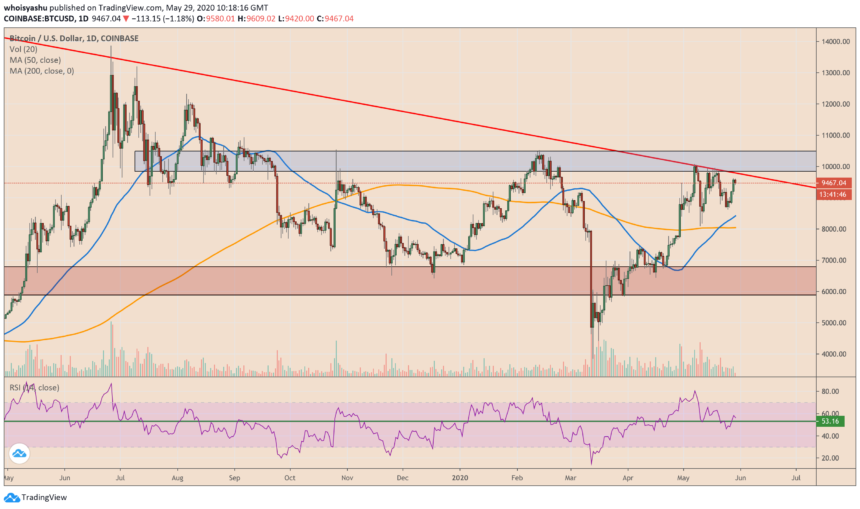 BTCUSD shows bias-conflict near $9.5K | Source: TradingView.com, Coinbase
Bias Conflict Rising
The $100 difference between bitcoin's spot and futures prices hinted at a looming bias-conflict.
The cryptocurrency yesterday rallied above $9,500 with hopes to extend its gains, at least until $10,000. Nevertheless, the upside move stalled a little above $9,500 after Donald Trump's response to China's new national law for Hong Kong. The U.S. President said he would hold a press conference on Friday.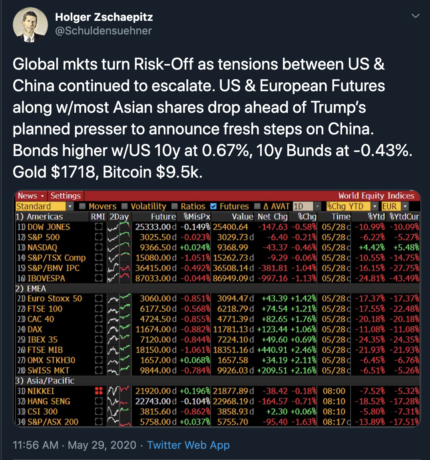 Source: Twitter
Trump's puzzling response led to last hour's losses on Wall Street. The S&P 500 pared its early Thursday gains and fell 0.2 percent before the New York closing bell. Bitcoin, which remains positively correlated to equities since March 2020, chose to hold its intraday gains above $9,500, a crucial support level.
The cryptocurrency – historically – tends to react to rifts between the U.S. and China.
Its price exploded by more than 100 percent in Q2/2019 as Beijing and Washington imposed tit-for-tat tariffs on each other. Global media also found evidence of bitcoin achieving a negative correlation with then-falling Chinese yuan.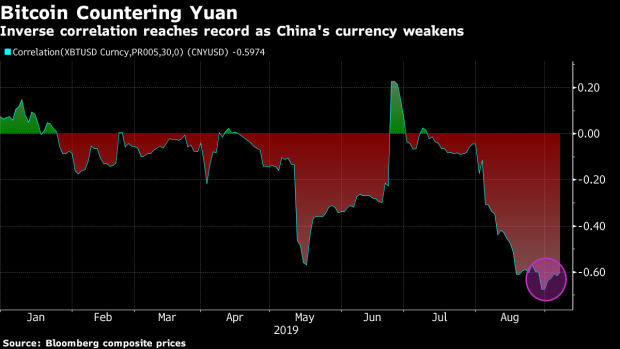 Bitcoin moved higher against a dwindling yuan in 2019 | Source: Bloomberg
But in the current scenario, Bitcoin is more loyal to the moves in the U.S. stock market. The March 2020 sell-off created an uncanny correlation between the two, with investors choosing cash as their safe-haven, instead. Even Gold, a traditional hedging asset, fell.
That serves as the basis of its short-term bias conflict. While the escalating U.S.-China rift could raise bitcoin's safe-haven amid among regional investors, its proximity with the S&P 500 gives a more bearish outlook.
The $8,700-10,000 Bitcoin Range
Bitcoin was down for a week as more countries reopened their economies after virus-induced lockdowns. That pushed investors towards risky equities, allowing bitcoin to break its positive correlation with the U.S. stocks.
The BTC/USD exchange rate recovered only after traders showed optimism over a Goldman Sachs client meeting about bitcoin, surging 8.19 percent in Wednesday-Thursday trade session. Meanwhile, its pullback surfaced after the banking giant recommended clients against investing in bitcoin.
The cryptocurrency's price action this week, therefore, appears more orchestrated than organic. That leaves it under the risk of giving up its gains to profit-seekers to retest $$8,700-9,000 as its support range.
Meanwhile, if U.S.-China tensions boost safe-haven sentiment, bitcoin can surge higher and test $10,000 as its short-term resistance.
---
Source
---
Back to the list