Back to the list
Three Recent Incidents that Prove Bitcoin is Better than Gold
www.newsbtc.com
15 May 2020 07:20, UTC
Reading time: ~4 m
---
Bitcoin has beaten Gold in terms of returns on investments in its 11-year existence.
Now the cryptocurrency is taking on the biggest hedging asset for its limitations in the 21st century.
The Bitcoin market is on the move again. The cryptocurrency has seen its price ballooning by more than 150 percent from its March-lows. Meanwhile, it has surged little over 34 percent on a year-to-date timeframe. If Bitcoin were equity, the "firm" would be worth more than Airbnb and Adobe at its current market cap of roughly $175 billion.
But the cryptocurrency is fighting Gold, a giant worth a couple of trillions of dollars, more than individual stocks. Analysts have found similarities in the economic model of Bitcoin and Gold.
First, they both behave as safe-haven assets against geopolitical and macroeconomic risks. Second, both are speculative investments. And last, both tend to portray themselves as scarce assets against inflation worries. Nevertheless, many gold bugs have accused bitcoin of being a sham, even though the cryptocurrency has grown 8,000 percent in its 11-year lifetime.
But the fast-spreading coronavirus pandemic is proving those accusations as false. As the virus forces people into their homes to practice social distancing, it has kept businesses across all the leading sectors closed. The global economy is expected to shrink by 3.2 percent in 2020, according to the United Nations.
The demand for gold is rising as the world's oldest safe-haven. Nevertheless, the yellow metal has turned out to be a heavy object for some, leaving many bitcoin enthusiasts to play "what if" with Gold bugs. Here are three incidents that prove it.
#1 That Non-USD Oil Deal
Two nations hit by U.S. sanctions last month joined hands to open a private commercial and financial route. Venezuela's president Nicolás Maduro sent Iran about $500 million worth of Gold via airplanes in exchange for help reviving its battered oil industry.
As Bitcoiner Stephen Cole pointed, Maduro must have spent a fortune moving 9 tons of gold across Atlantic ocean and Caucasia. Had it been a Bitcoin transfer online, the socialist politician may have just paid a little less than $3 in fees.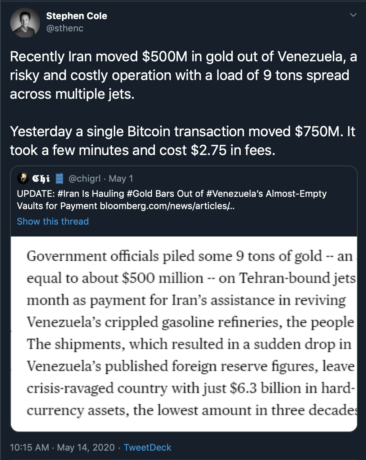 Source: Twitter
The use-case proved that Bitcoin is much cheaper to transfer – and probably saves the environment from unnecessary carbon footprints.
#2 Give Me Back My Gold
The Coronavirus pandemic put an additional economic burden on some countries. While Venezuela was sending its gold reserves to Iran, it was also requesting a third-party custodian to sell its yellow metal to raise cash. But sadly, the country never got even to see a single gram of its very-own property.
In retrospect, Venezuela kept part of its gold reserves in vaults owned by multiple foreign financial institutions, including the Bank of England. But the bank since 2018 has refused to hand back 31 tonnes of Venezuela's Gold to its President Maduro. The Western superpowers don't see Maduro as a rightful leader of the Latin American country.
Battered by a crash in the oil market, Maduro – literally – pleaded with folks at BoE to sell their Gold to the United Nations. But the request again fell on deaf ears.
That left the emerging nations' central banks with another lesson: Whatever that is yours is not yours until it is in your hands. Bitcoin, of course, is better. The cryptocurrency stays with its master, locked in a digital wallet protected by a 16-word code. Had Venezuela had Bitcoin, all they would do is open the digital vault and sell them online.
#3 Faster Recovery
As stated, bitcoin recovered faster and broader than any other traditional asset after the global market sell-off in March. Even Gold's gains felt dwarfed at just 15 percent YTD.
It isn't just the price but the digitization itself. As the world prepares for a post-lockdown world, where making physical contacts would risk infection, people will operate digitally. So rather than moving physical gold from one hand to the other, why not transfer bitcoin one wallet to another.
---
Source
---
Back to the list
Similar news