Back to the list
Internet Computer price forecast: how will ICP perform by the end of January 2022?
invezz.com
19 January 2022 16:52, UTC
Reading time: ~2 m
---
Internet Computer ICP/USD is essentially this set of protocols that allow independent data centers across the globe to work together and offer decentralized alternatives to the current centralized cloud providers.
ICP is the token that is native to the network and is used for governance and as a means of rewarding network participants for good behavior, alongside being used to pay for fees whenever a transaction is made within the network.
Canister smart contracts as a catalyst for growth
On January 5, 2022, we covered how ICP gained 13.8% due to the Terabithia bridge launch.
On January 18, 2022, DFINITY Foundation made an announcement on Twitter that Canister smart contracts, which run on the Internet Computer blockchain network, explored over 28,000 within the span of the previous seven days, which marked a 69% increase. 
Additionally, through VentureBeat, DFINITY Foundation also made an announcement about a true web3 blockchain game development contest with a $10 million prize pool and an NNS DAO to access billions of dollars to scale to millions of gamers.
All of these developments can contribute to the further growth of the Internet Computer.
Should you buy Internet Computer (ICP)?
On January 19, Internet Computer (ICP) had a value of $27.08.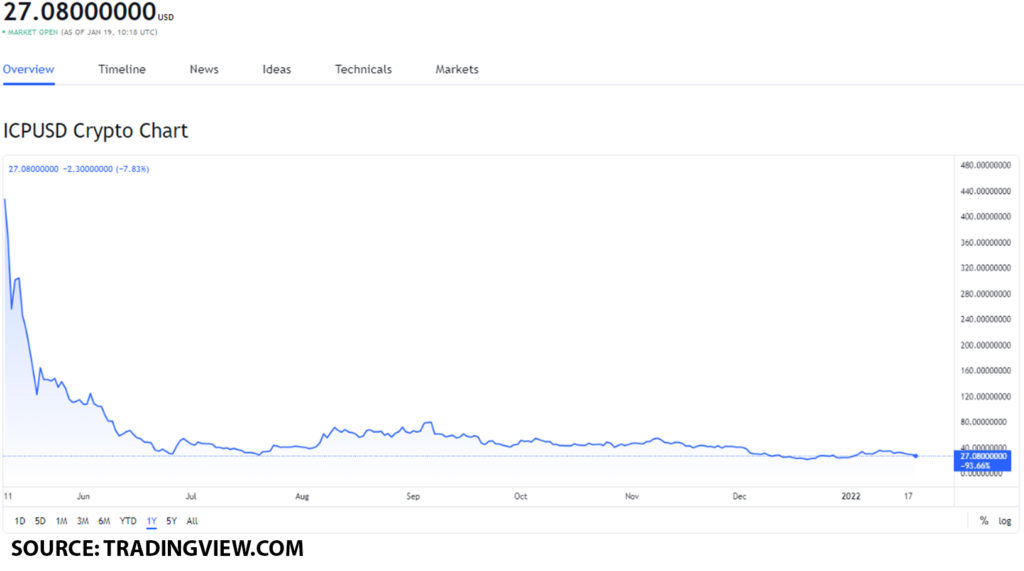 To get a better perspective into what this value point means for the ICP token, we will be going over it's all-time high value, alongside its performance throughout the previous month.
Internet Computer (ICP) had its all-time high value on May 10, 2021, when the token reached a value of $700.65.
This gives us an indication that at its all-time high point of value, the token was $673.57 higher in value, or by 2487%.
When we go over the performance of the token throughout the previous month, we can see that its highest point was achieved on December 1, when ICP reached a value of $42.84.
However, when we go over its lowest value point, we can see that the token decreased in value to $21.07 on December 20. Here, we can see that the token saw a decrease in value by $21.77 or by 50%.
However, from the span of December 20 at $21.07 to January 19 at $27.08, the ICP token has grown in value by $6.01 or by 28%.
With this in mind, we can expect ICP to reach $30 by the end of January 2022, which makes it a worthwhile token to buy.
---
Source
---
Back to the list