Back to the list
MATIC Technical Analysis: Selling Pressure At $.245 Triggers Fear of Bearish Downfall, Is It The Time To Sell?
cryptoknowmics.com
15 January 2022 10:52, UTC
Reading time: ~2 m
---
MATIC coin price struggles to overcome selling pressure of $2.45 despite constant support from rising EMAs. Will the bears overtake trend control? Polygon utilizes a modified variant of the Plasma framework, which is based around proof-of-stake checkpoints as a part of the Ethereum mainchain. This innovative technology lets each sidechain on Polygon process as high as 65,536 transactions per block. Polygon currently has support for only the Ethereum sidechain. The network plans to expand support for other base chains in response to suggestions from the community and consensus. This will make polygon an interoperable and decentralized layer 2 blockchain platform. Let us move ahead to read about Polygon technical analysis.
Past Performance of MATIC
The MATIC coin price action reflects a rise of 20% in the last five days after finding demand near the support trendline in action. However, the price struggles to rise above the resistance zone at $2.45 in the daily chart. It is evident by the recent bearish candle and a higher price rejection in the present daily candle.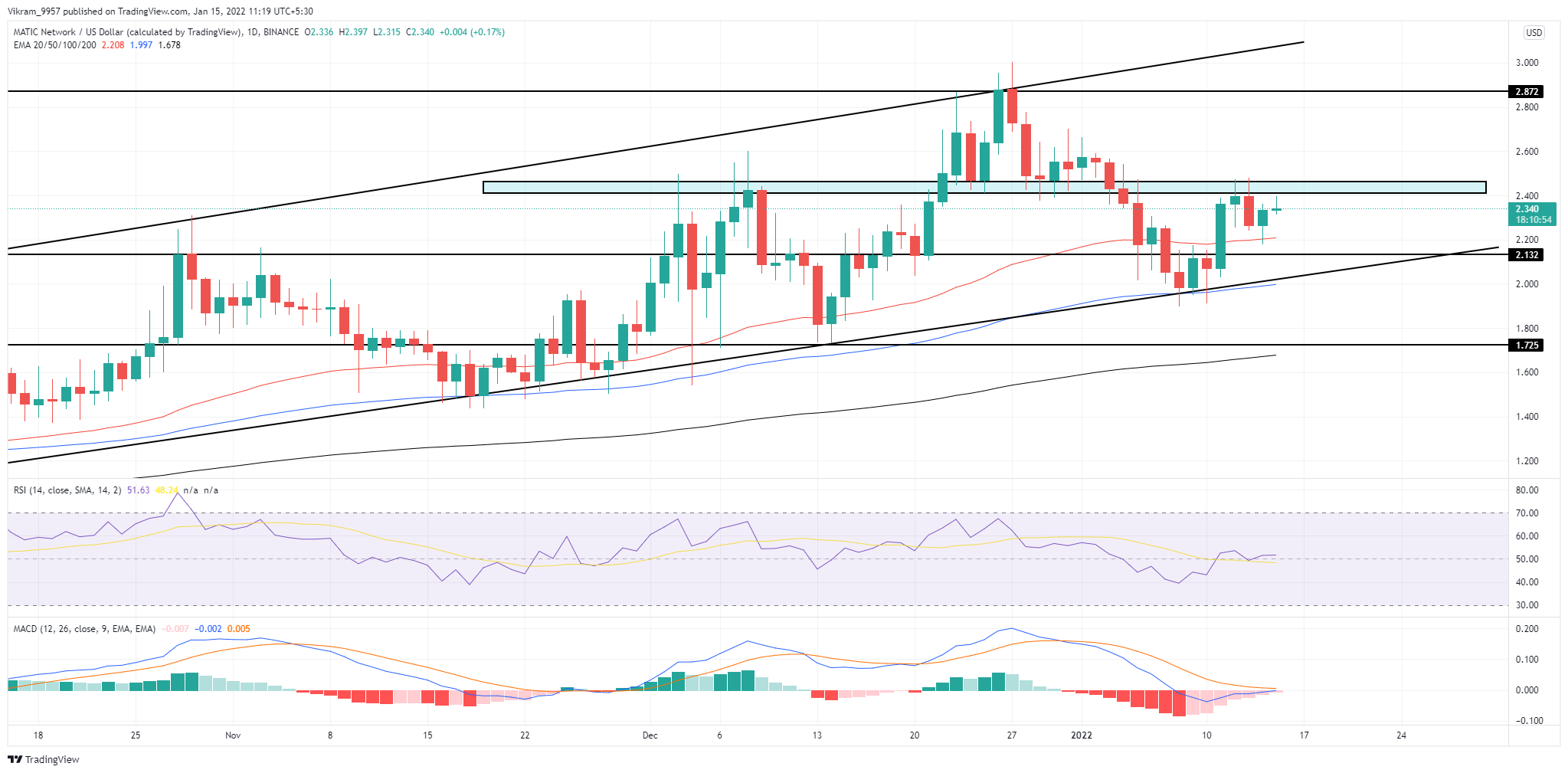 MATIC/USD Daily Chart
MATIC Technical Analysis
The MATIC coin price action finds support, after a 30% fall, near the high confluence support area near $2, 100-days EMA, and the support trendline. However, the push from the high-demand zone struggles to overcome the selling pressure at $2.45.  Crucial EMAs (50, 100, and 200) rise higher in a bullish alignment helping maintain a bull run in action. It is evident by the constant dynamic support of 50 and 100-day EMAs. The RSI indicator at 65% shows a sideways movement as the slope flattens slightly above the central mark in the daily chart. However, the 14-days SMA falls below the central mark, giving a bearish warning. The MACD indicator shows a spark in the fast line as it rises to give a bullish crossover, but it flattens as it approaches the signal line. Nonetheless, the falling distribution of the bearish histogram reflects a solid bullish revolt. Therefore, the MATIC technical analysis reflects high selling pressure at $2.45, but the gradual growth in the underlying bullishness might soon overcome it. 
Upcoming Trend
The constant support from the crucial EMAs to the MATIC coin price indicates a solid underlying bullishness. Therefore, the chances of bullish reversal rising above the zone at $2.45 are high. Thus, traders can find an excellent breakout entry opportunity shortly. The price action suggests high supply areas at $2.70 and $3 can post-breakout bull run. And, in case of a bearish trend, the price can find support at $2.15 and the 50-day EMA. At the time of writing, the sentiments chart gives a "BUY" signal for the Polygon token.
---
Source
---
Back to the list