Back to the list
Tezos (XTZ) and Avalanche (AVAX) Technical Analysis: Making a Good Buy?
cryptoknowmics.com
01 December 2021 10:58, UTC
Reading time: ~2 m
---
Tezos bulls are back in contention following XTZ 50 percent dump. Avalanche, on the other hand, may surge to new highs, placing AVAX above $148.
Tezos (XTZ)
The self-amending staking platform competes with Ethereum. Central to this network is their XTZ currency.
Past Performance of XTZ
After dropping over 50 percent from the October 2021 high of around $8.5, the Tezos token is now bouncing back.
The XTZ coin is up over 34 percent from November 2021 peaks, outperforming the greenback in the last four days.
Day-Ahead and what to Expect
Technically, there is a turnaround of fortunes for XTZ crypto bulls based on their performance in the daily chart.
Tezos coin buyers are optimistic about what lies.
As long as the primary support at $4.3 stands, the XTZUSDT might print higher, even retesting $8.5—the October 2021 high in a buy trend continuation pattern.
Tezos Technical Analysis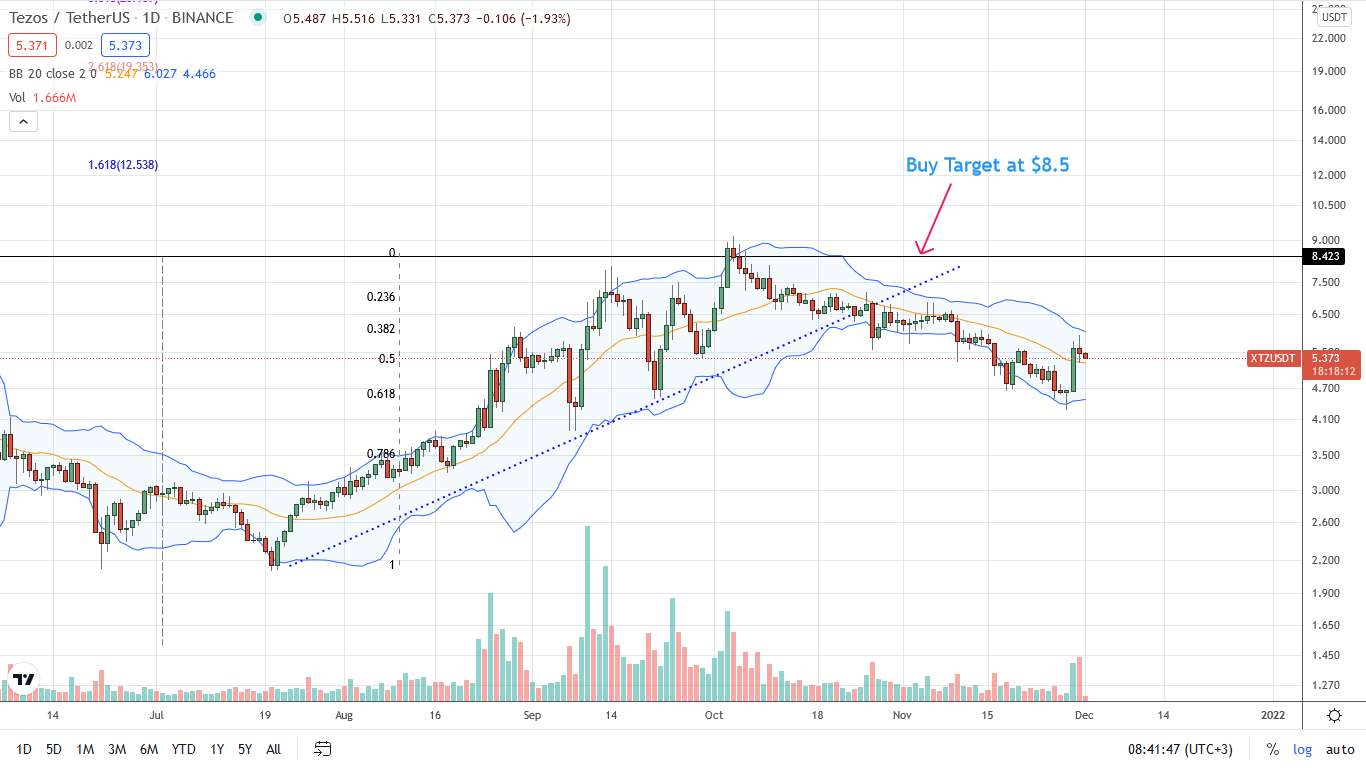 From the daily chart, XTZ token prices are trending higher.
Specifically, the rebound is from the 61.8 percent Fibonacci retracement level of the H2 2021 trade range.
Following the resurgence, the break above the middle BB—the 20-day moving average—yanks price action in favor of XTZ token buyers.
Based on this development, every low above $4.3 might provide entries for traders targeting H2 2021 highs.
On the flip side, a dump below $4.3 cancels the bullish outlook. In that case, XTZ prices might dump to $3.5—or worse--in the sessions ahead.
Avalanche (AVAX)
The DeFi-centric smart contracting platform distinguished by its sub-second transaction settlement relies on AVAX.
Past Performance of AVAX
The Avalanche coin expansion is near perpendicular as per the AVAX technical analysis in the daily chart.
Visible, AVAXUSDT prices are trending at new all-time highs, bouncing from $100 to continue the primary trend.
Day-Ahead and what to Expect
Overall, AVAX coin buyers are in the driving seat.
The quick recovery and rejection of bear attempts signal strength, confidence among Avalanche token buyers.
Therefore, as long as AVAXUSDT prices are above $100, buyers might have an opportunity to double down, targeting the November 2021 high of $148.
Avalanche Technical Analysis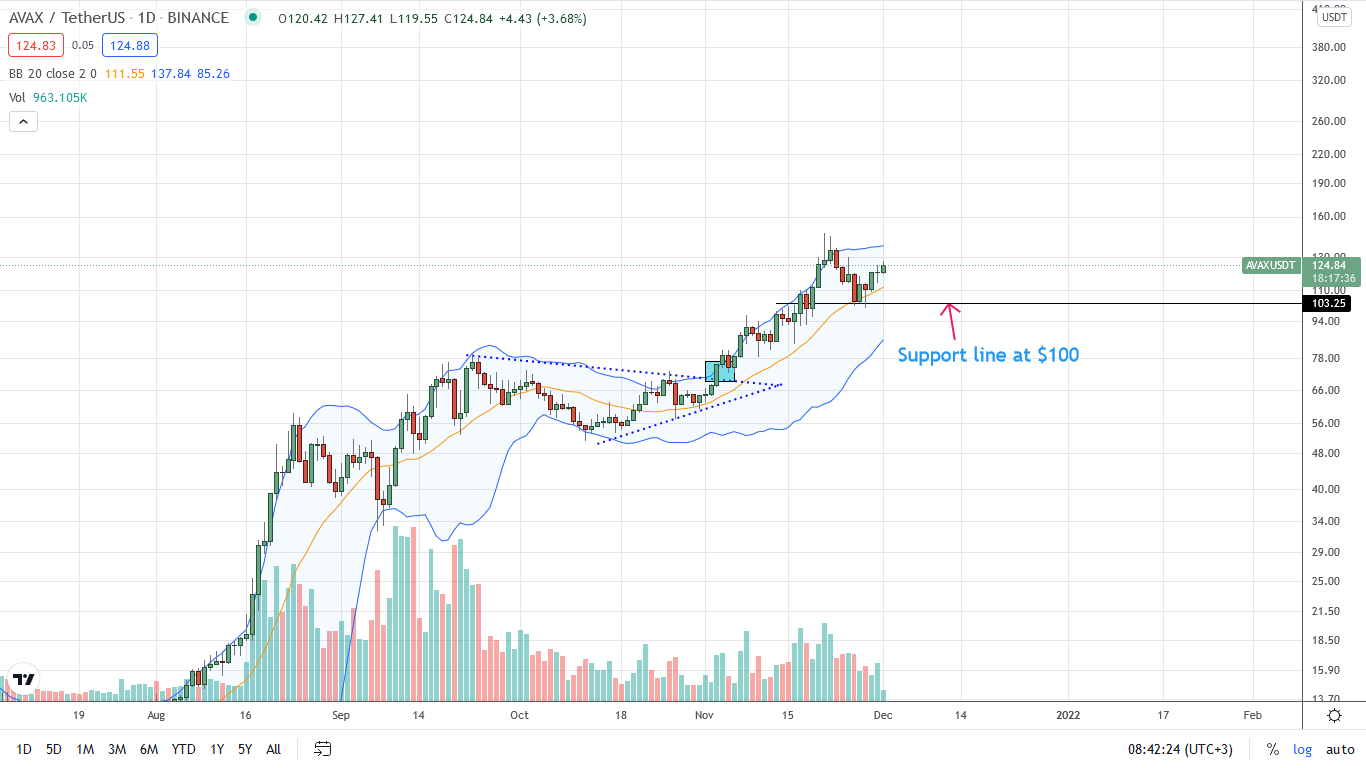 The AVAXUSDT price is within a bullish breakout pattern following upswings of early November 2021.
AVAX coin buyers are currently firm, rejecting lower lows and keeping prices above the middle BB—the main support line.
Additionally, with prices above $100, traders are bullish.
As such, every low might offer entries for optimistic traders targeting $148.
On the other hand, losses below $100 and the middle BB may slow down Avalanche buyers.
---
Source
---
Back to the list