Back to the list
LUNA Technical Analysis: High Growth, Hoarding for Impending Airdrop
cryptoknowmics.com
01 December 2021 10:51, UTC
Reading time: ~2 m
---
Terra is a blockchain protocol that uses fiat-pegged stablecoins to power price-stable global payments systems. According to its white paper, Terra combines the price stability and wide adoption of fiat currencies with the censorship-resistance of Bitcoin (BTC) and offers fast and affordable settlements. Terra's native token, LUNA, is used to stabilize the price of the protocol's stablecoins. LUNA holders are also able to submit and vote on governance proposals, giving it the functionality of a governance token.
Let us see the technical analysis of LUNA.
Past Performance of LUNA
LUNA grew 16 percent on November 30, 2021 owing to the advantages of a network upgrade in October,as demand for the network's UST stablecoin surged and users chased multiple incentive programs.One of the major developments from the network's Columbus-5 upgrade in October is a new design for keeping stablecoins pegged to their fiat value: whenever UST is minted, LUNA with the same amount of value is burned. The price is governed by the demand in UST. Also, demand for Terra-based decentralized finance (DeFi) platforms has gone up thus, benefiting the coin.
It opened today at $59.9 and touched a high of $59.71 though it has only fallen by 6 percent in the last 24 hours.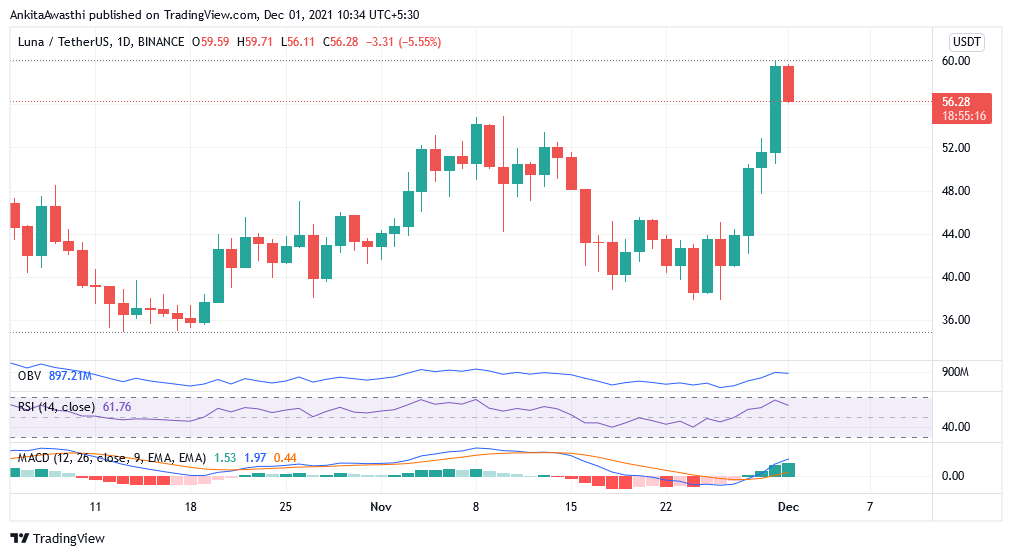 Source: https://www.tradingview.com/x/pNUdyiVn/
LUNA Technical Analysis
Astroport will launch the lockdrop event on December 6, allowing users to lock their LUNA tokens in exchange for a "drop" of the protocol's own not-live-yet ASTRO tokens. People have been trying to get their hands on LUNA tokens pushing the price up.
The On-balance Volume is at 897 million, working on increasing interest from investors. Prices look to be stable but will surely go up.
RSI has gone down to 62% and is in the overbought region with stability to say up.
The MACD line is going up and is above the signal line with consistency in price and increase in histogram. This shows the pace of increase will be evened out.
The price has been seeing a steep rise and we hope to see similar prices owing to short-term hoarding.
Price Trends for the Day-Ahead and Tomorrow
LUNA is receiving STRONG BUY signals as per oscillators and indicators. The sentiment on its DeFi use-capabilities is recognized. If it stays at the pivot level of $59.25, expect the resistance to be broken to reach $60.99 and $66.14.
---
Source
---
Back to the list