Back to the list
WAVES Technical Analysis: Bullish Reversal Struggles Near $22 Mark
cryptoknowmics.com
01 December 2021 10:50, UTC
Reading time: ~2 m
---
The V-shaped recovery in the WAVES coin price needs to sustain above the $22 mark to continue the bull run. Will it be able to sustain?
Waves is a multipurpose blockchain platform that supports a variety of use cases, including smart contracts and decentralized apps. To improve on its original design, the platform has been subject to numerous changes.
Let us now move ahead to the technical analysis of the WAVES token.
Past Performance of WAVES
The WAVES coin price shows a V-shaped recovery in the daily chart as the previously falling prices find demand near the $19.5 mark. The bullish retracement breaches above the $22 zone indicating increased trend momentum. If the prices sustain above this zone, we can observe a jump up to the $26.5 mark.
However, a sword of bearish reversal still hangs on WAVES' neck. If the prices fail to sustain and give higher price rejection, a downfall to the $19 and then to the $16 is possible.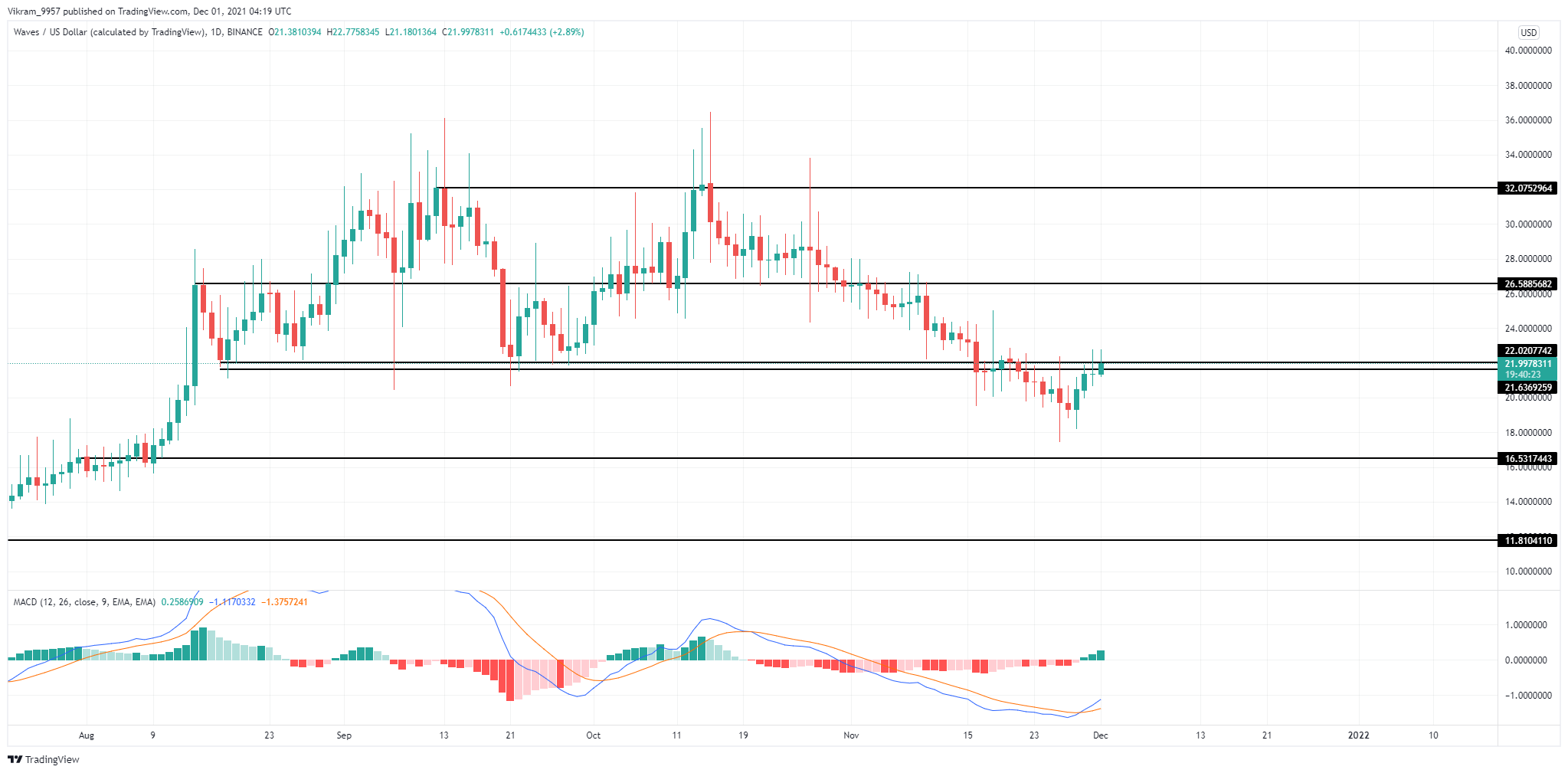 WAVES Technical Analysis
The recent collaboration between the WAVES and Ergo marks the start of a partnership to build the future of the next generation's future pools. Fault-tolerant smart contracts, distributed Infrastructure, and Ergo's highly anticipated Oracle Pools will empower business. 
The coin price hovers above the crucial zone of the $22 mark with a 4 percent growth in price and a 30 percent growth in the trading volume in the last 24 hours. 
The price action of the coin indicates that the resistance levels are at $26.5 and $32. And, in case of a bearish reversal, the support levels are at the $19.5, $16, and $12 marks.
The RSI slope spikes higher from the bottoms of the oversold zone and approaches the 50 percent mark in the daily chart. Hence, indicating a rise in bullish powers in WAVES price. 
The bullish crossover of the MACD and signal line in the daily chart drives the lines higher. Hence, the indicator showcases a bullish reversal in the lines and forecasts a rally above the $22 mark. 
Upcoming Trend
The partnership between the WAVES and the Ergo companies brings positive news for both teams. This is a mission-critical problem that must be addressed if Defi is to gain wider acceptance. Therefore, the aim to change the future of Oracle pools can bring more bullish investors for the WAVES token. 
However, the price has a dire need to sustain above the $22 mark to continue the bull run. If it fails to do so, a bearish downfall is possible to the next support levels.
---
Source
---
Back to the list