Between September 26 and 27, Floki Inu (FLOKI) pumped from $0.00001561 to $0.00001596, in a move that caught the crypto market's attention. Although FLOKI has retraced to $0.00001590, there were talks about the meme preparing to have a superb performance in October.
One person who led the FLOKI conversation was Crypto Tony, the NFT and crypto investor. According to Tony, the likelihood of Dogecoin's (DOGE) price increase could spur FLOKI's rally. Tony also opined that FLOKI was in a macro support zone and intense accumulation could take place in that area.
$FLOKI / @RealFlokiInu – Update #Flokitober is around the corner, and with $DOGE looking hot for a pump, well i expect some magic from the leaders

Also note that #FLOKI is sat on a macro support zone. Accumulation time legends pic.twitter.com/XVNrkXoIo1

— Crypto Tony (@CryptoTony__) September 27, 2023
It is noteworthy to mention that FLOKI did not have a great October in 2022. However, in 2021, shortly after the crypto launched, it moved from $0.000068 to $0.0027 between October and November. Interestingly, it was also during this period that DOGE had a similar performance.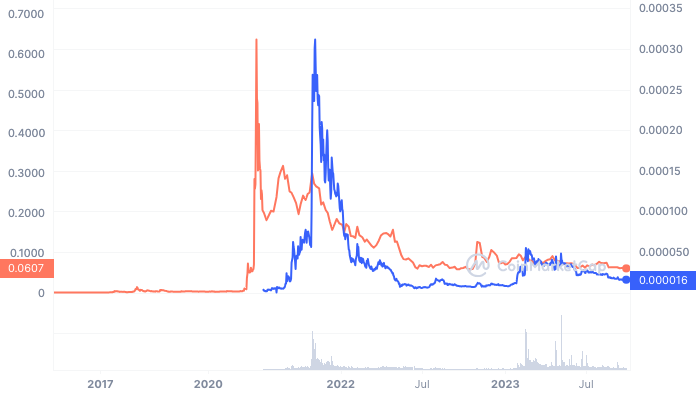 FLOKI and DOGE Correlation (Source: CoinMarketCap)
FLOKI's Next Targets Are Interesting
From the daily chart, FLOKI has been hovering between $0.0000153 and $0.0000164. This tight trading range implies that there has been a lack of liquidity flowing into the market. However, at press time, FLOKI was showing signs of an uptrend as the price moved from $0.0000155 to $0.0000158 within a few hours.
Another indicator that reinforced this projection is the Awesome Oscillator (AO). At the time of writing, the AO was -0.00000090. As the difference between the 34-period and 5-period Simple Moving Averages (SMAs), the negative AO would have implied increasing downward momentum.
But from the chart displayed below, the AO had formed higher highs with appearing green bars. The state of the indicator suggests a possible entry position at $0.0000158. But for FLOKI to drive in the upward direction, it would require an increase in buying pressure.
If the accumulation forms at $0.0000158 as Crypto Tony pointed out, then it's possible to see FLOKI hit $0.000019 in the coming days. Furthermore, the Relative Strength Index (RSI) seemed to back up this forecast.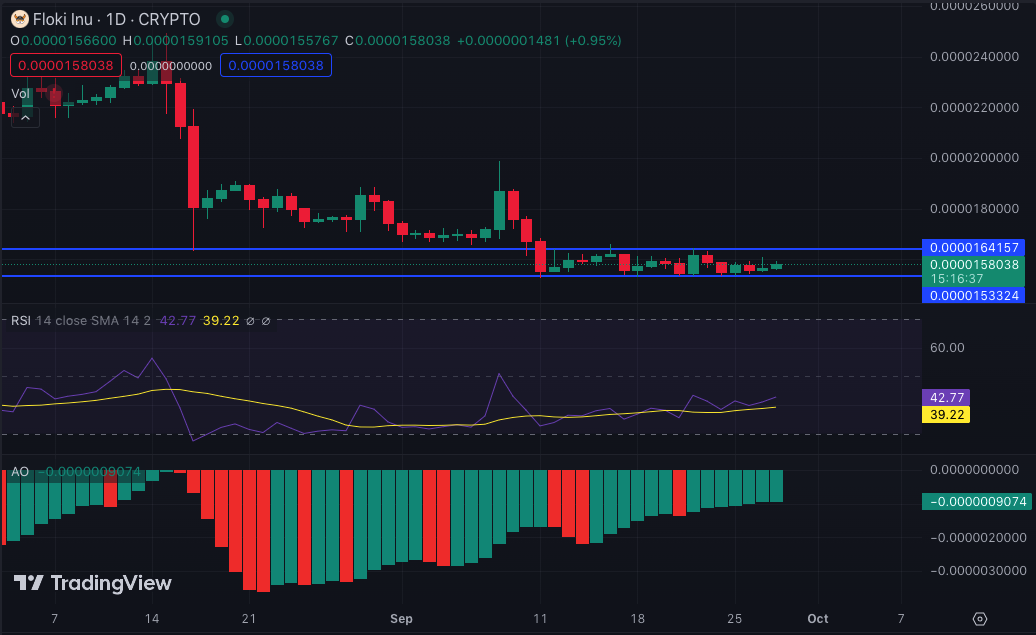 FLOKI/USD Daily Chart (Source: TradingView)
As of this writing, the RSI was 42.77— a notable increase from 35.09 on September 21. This hike suggests that more buyers have appeared and have been responsible for FLOKI's mild increase. Should the RSI cross into the 49.50 to 55.00 zone, then FLOKI's first target could be $0.000018.
Disclaimer: The views, opinions, and information shared in this price prediction are published in good faith. Readers must do their research and due diligence. Any action taken by the reader is strictly at their own risk. Coin Edition and its affiliates will not be liable for direct or indirect damage or loss.