A bearish trend has been prevalent in the Dogecoin (DOGE) market for the previous 24 hours until support was found at the 7-day low of $0.06055. As a result, bullish momentum reclaimed control of the DOGE market, driving the price to a 24-hour high of $0.0612 before slumping into solid resistance. However, DOGE bulls had retreated at press time, resulting in a 0.02% drop to $0.06084.
During the bull-bear attempts for supremacy, DOGE's market capitalization and 24-hour trading volume fell by 0.01% and 26.19%, to $8,588,616,300 and $99,088,309, respectively.
If the bears break through the 24-hour low of $0.06055, the next support level to look for is around $0.0602. Conversely, bulls may be able to break over the resistance around $0.0612, with the next target being around $0.0625.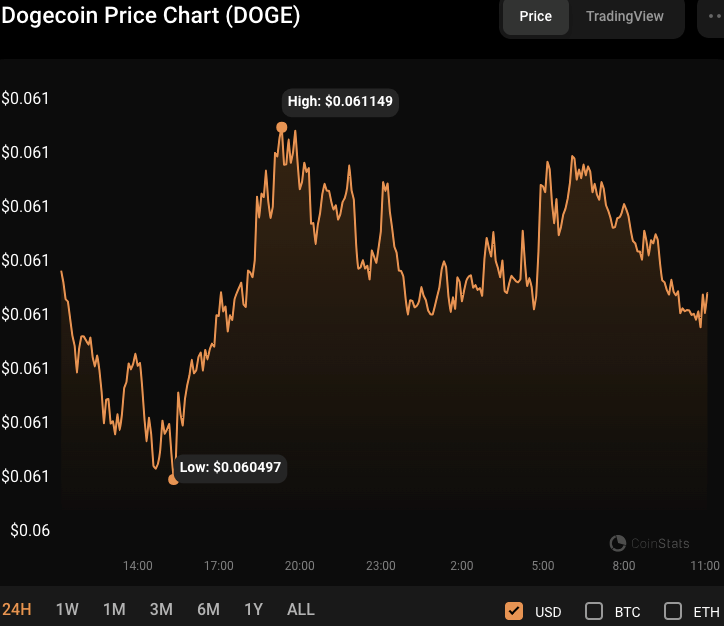 DOGE/USD 24-hour price chart (source: CoinStats)
The 20-day moving average (blue) on the DOGEUSD price chart has crossed below the 50-day moving average, indicating a death cross, which is a bearish indication. This trend suggests that the general trend for DOGEUSD is now negative, and cautious investors may want to consider selling or waiting for a possible comeback before establishing any new holdings.
The 20-day MA and 50-day MA, respectively, touch at 0.0612 and 0.0617, indicating this movement. The forming green candlestick pattern below the MAs, on the other hand, implies that DOGE USD may enjoy a modest price gain before continuing its downward trend. Moreover, DOGEUSD would need to break above the resistance level at 0.0612 and demonstrate sustained buying pressure for a positive reversal.
Furthermore, the Chaikin Money Flow (CMF) trend in the negative zone with a rating of -26 indicates that the market for DOGE USD is now under selling pressure. This pattern implies that further negative movement may soon occur unless there is a significant increase in purchasing activity.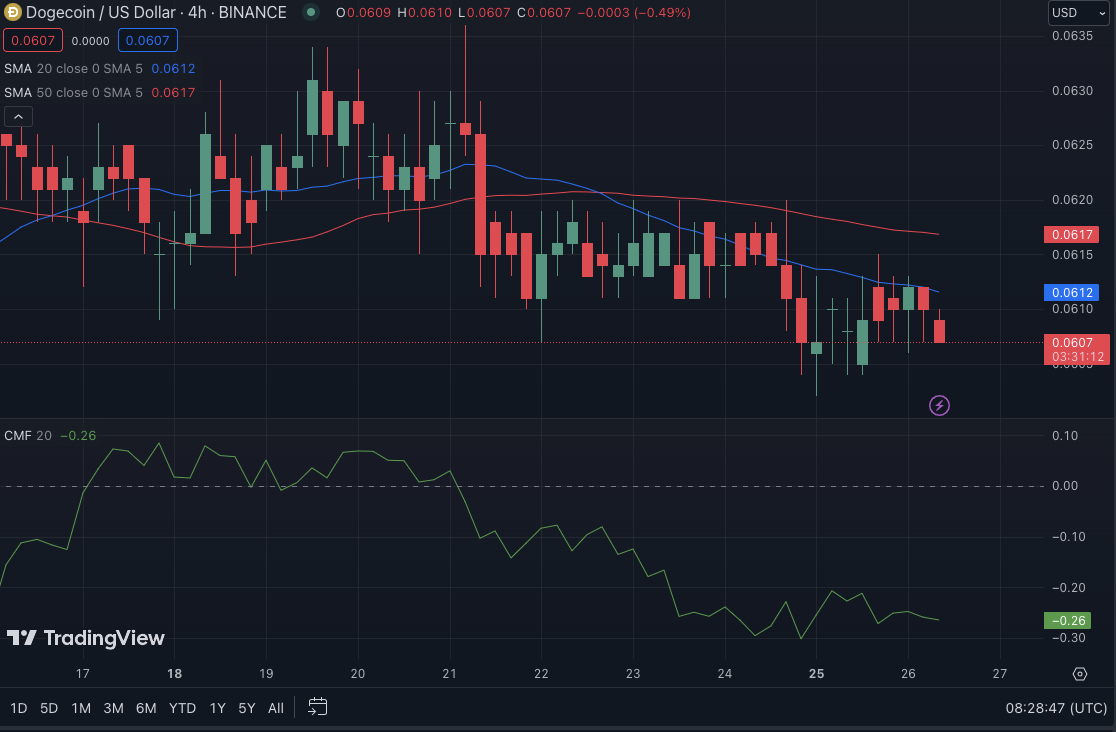 DOGE/USD 4-hour price chart (source: TradingView)
The stochastic RSI is heading lower on the DOGEUSD price chart, with a level of 73.15, indicating that the current uptrend is losing steam and a possible reversal is on the horizon. This pattern coincides with the negative CMF rating, signaling a likely market decline for DOGE USD.
Similarly, the 45.48 reading on the Money Flow Index (MFI) is consistent with the idea of a possible decline in the market for DOGE USD. While not yet in oversold territory, the MFI reading indicates that selling pressure is building and could soon outstrip purchasing demand.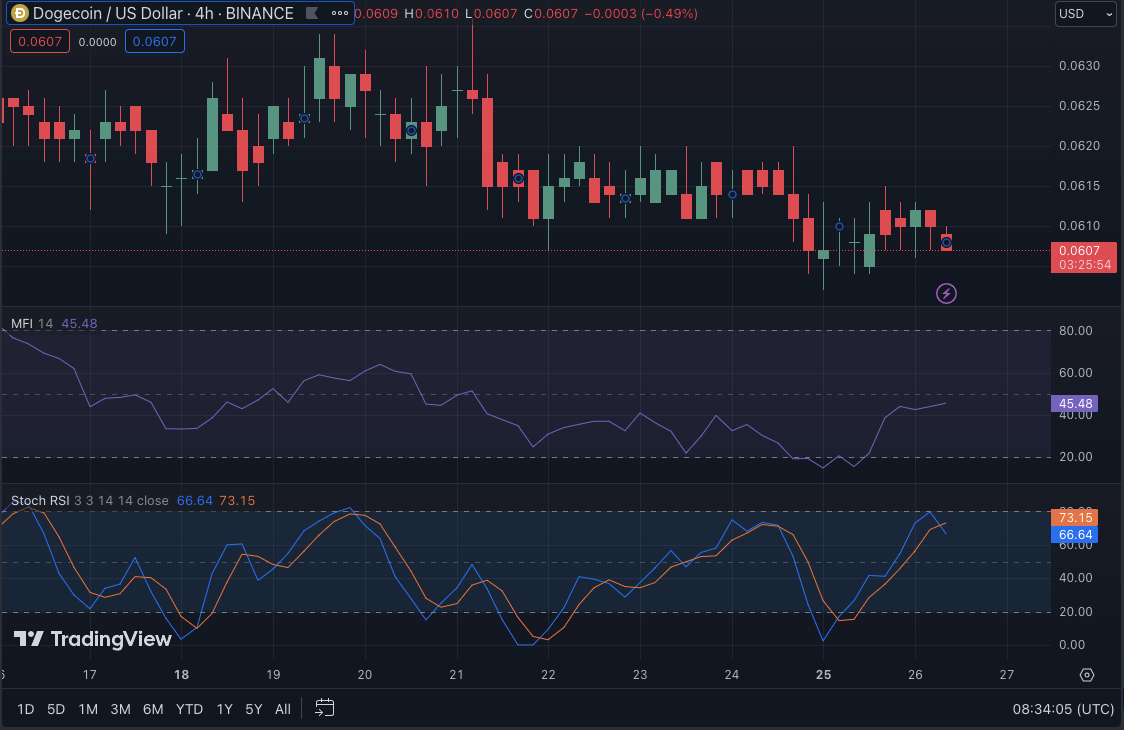 DOGE/USD 4-hour price chart (source: TradingView)
In conclusion, Dogecoin faces a challenging road ahead as bearish indicators outweigh the bullish signs, suggesting a potential market decline soon.
Disclaimer: The views, opinions, and information shared in this price prediction are published in good faith. Readers must do their research and due diligence. Any action taken by the reader is strictly at their own risk. Coin Edition and its affiliates will not be liable for direct or indirect damage or loss.