Historical data suggests that XRP could drop by as much as 63% from the $0.93 yearly high to retest a 4-year trendline before staging a massive rally.
Rob Art, a Dubai-based crypto analyst, called attention to this pattern in a recent report. The market watcher confirmed that XRP has continued to revisit a particular trendline in periodic crashes over the past four years.
According to him, each time the asset retests the support at the trendline, it stages a massive rally afterward. Rob Art asserted that it would be sensible to assume that XRP would again retest this trendline before embarking on an explosive rally.
The analyst shared an XRP daily chart to substantiate these claims. Interestingly, data from the chart highlights the periodic crashes witnessed in the XRP market over the past four years.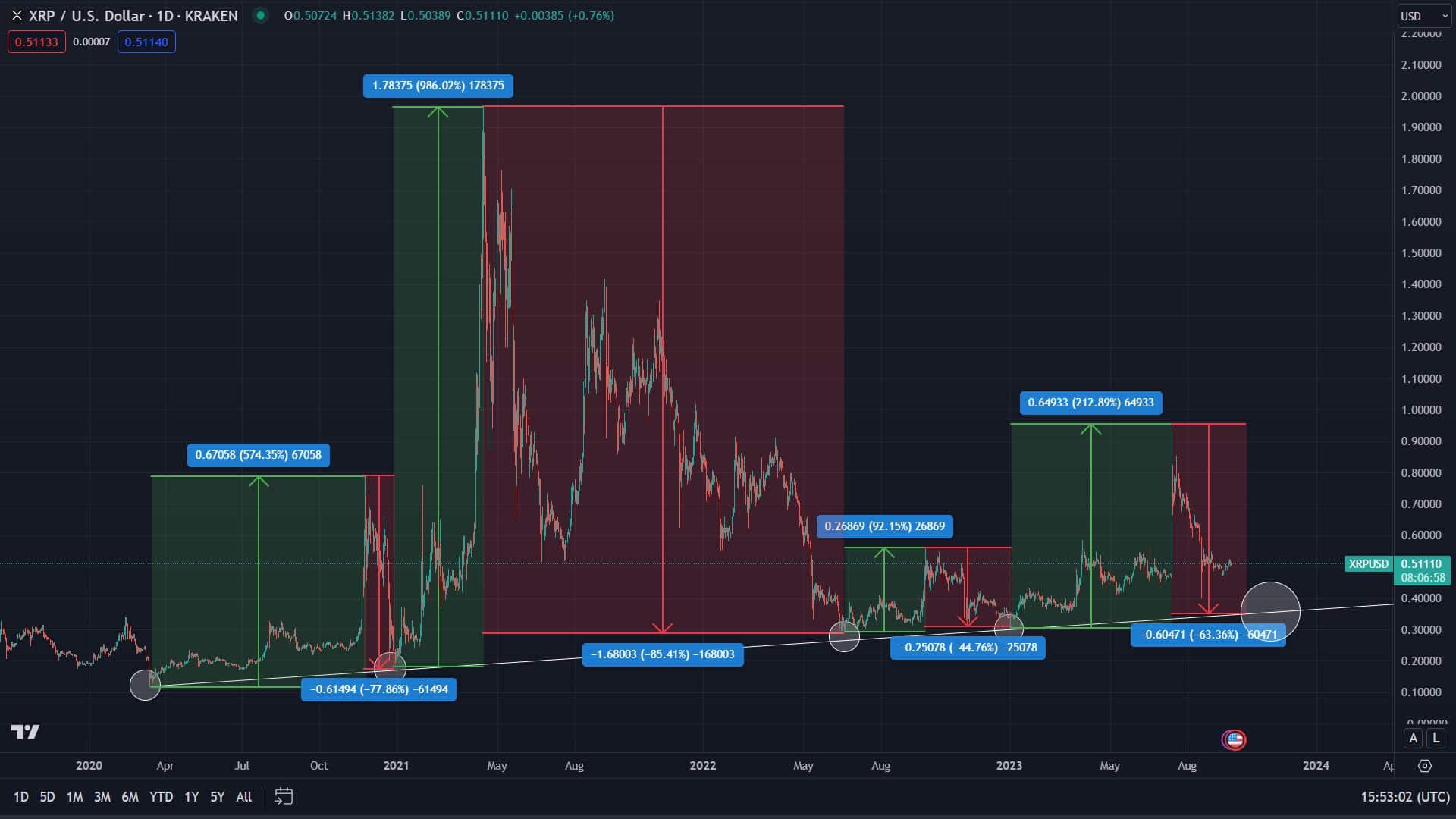 XRP Daily Chart | Rob Art
Historical Data
The first retest of the trendline came from an XRP drop to $0.1165 in March 2020. Following this drop, XRP staged an impressive rally, soaring to a high of $0.7871 on Nov. 24, 2020. This increase represented a 575% surge after the retest.
XRP witnessed another drop after hitting the $0.7871 high, dropping by over 77% to a low of $0.1720 on Dec. 29, 2020. The SEC's charges against Ripple, which came up on Dec. 22, 2020, created a massive selling pressure in the XRP market, contributing to this decline in price.
However, the downtrend was short-lived, as XRP had hit the support at the trendline upon dropping to $0.1720. Following this retest, the asset rallied 986% to $1.9659 in April 2021. A correction followed this upsurge, spanning several months.
After over a year of an intense battle with the bears, XRP eventually plummeted by 85% from $1.9659 to $0.2874 on June 18, 2022. Upon hitting this floor, XRP retested the trendline again. What followed was a modest 92% increase.
XRP Poised to Retest the Trendline
Notably, XRP revisited the trendline in January this year when it dropped to $0.3000. It eventually surged to this year's high of $0.9380 on July 13 following the lawsuit victory. However, the asset is now facing a correction from this high, having retraced most of the gains picked up.
Amid this expansive correction, XRP is down 51% from the $0.9380 high. Rob Art believes the asset will continue to plummet until it finds support at the trendline. The analyst predicts a 63.36% decline from $0.9380, setting the support point at $0.3437.
Rob Art is convinced that XRP must drop to this value before it can stage a massive rally. However, he has not set any price targets. XRP changes hands at $0.5122 as of press time, up 1.89% over the past week. Despite the declines, the asset is up 51% this year.