Terra Luna Classic (LUNC) has surged by 12%, from $0.00005667 to $0.00006372.
LUNC's new proposal, 11785, calls for Binance to burn 50% of USTC monthly.
While major cryptocurrencies, including Bitcoin, grapple with a downtrend in the market, the low-cap altcoin Terra Luna Classic (LUNC) has jumped to life with a significant breakout of a descending channel pattern. The cryptocurrency has gained nearly 12% (from $0.00005667 to $0.00006372) in intraday trading, and this unexpected surge has propelled LUNC to the top of the gainers' list.
LUNC has been on the radar of both crypto enthusiasts and investors. But its recent price collapse has left many scratching their heads. Since mid-August, this altcoin has been trapped in a pronounced downtrend, along with the global crypto market.
According to the data from CoinMarketCap, LUNC is currently trading at $0.00006216, marking a substantial 9.48% rally in the past 24 hours. Over the past week, it has witnessed a surge of 7.5%.
Notably, LUNC has already touched the 50-day moving average (MA), signaling a positive shift. Now, the focus is on breaking above the 200-day MA, which could indicate further bullish momentum. Maintaining a position above these moving averages would be a favorable sign for Terra Luna Classic.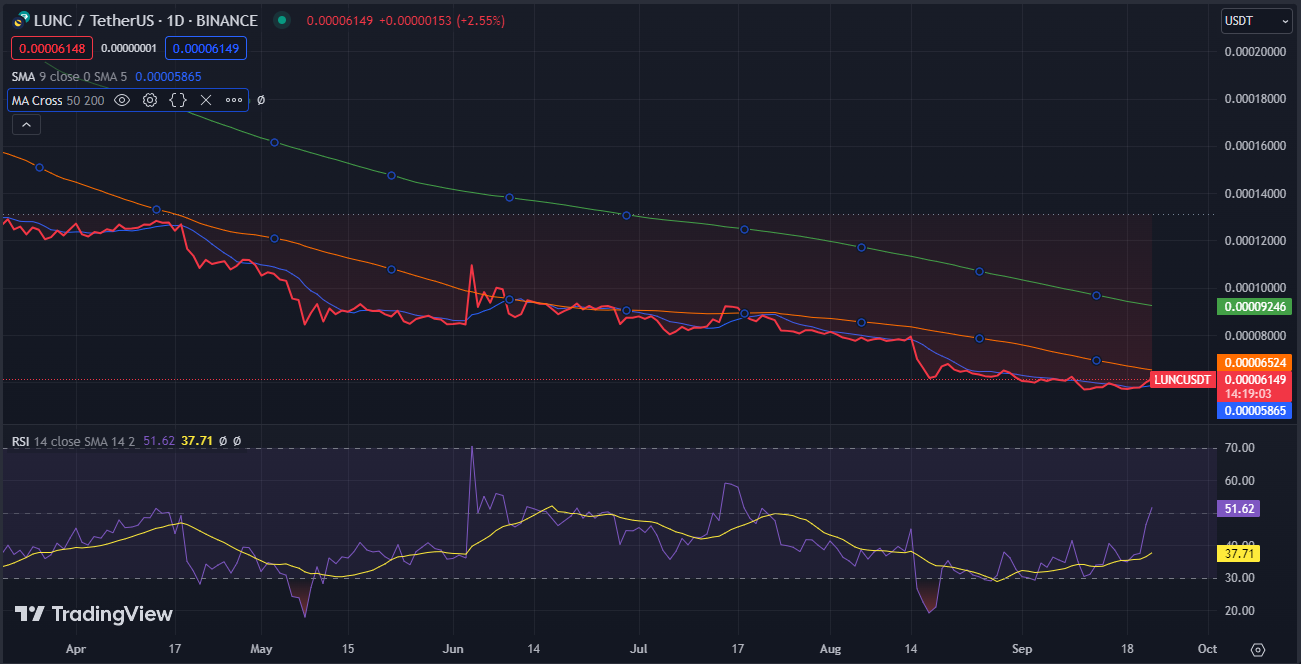 Terra Classic (LUNC) Price Chart (Source: TradingView)
If the upward trend persists, LUNC has the potential to drive the price to $0.00008138, $0.00011247, and even reach as high as $0.00018537. However, if the cryptocurrency fails to sustain its position above $0.00006, this could expose it to the risk of a decline. Possibly landing at the support level of $0.00005103 and further to $0.00003637.
LUNC's New Proposal
In addition to its technical prospects, a new proposal numbered 11785 has been put forth. That urges Binance to burn 50% of USTC (presumably a reference to a stablecoin) monthly, alongside the current 50% LUNC burn. After implementation, this proposal could potentially accelerate the burn rate and positively impact LUNC's price.