The New York Department of Financial Services (NYDFS) unveiled on Monday, September 18, revised regulations pertaining to its supervision of virtual currencies, concurrently eliminating Ripple (XRP) from its roster of permitted cryptocurrencies.
In the recent update, the DFS has excluded a number of cryptocurrencies, such as XRP, which is associated with Ripple, and Dogecoin (DOGE), from its approved list of digital tokens and coins.
The omissions align with revised rules aimed at providing clarity about the department's criteria for listing and delisting regulated firms in the cryptocurrency market.
DFS press statement
DFS Superintendent Adrienne Harris issued a press statement detailing new procedures for listing tokens.
For organizations that deal with retail clients, the new guidelines establish regulations and increase the bar for assessing the risk of introducing new cryptocurrencies. A DFS-licensed business could previously vouch for and add digital assets for storage or trade without any outside involvement.
The new rules require the DFS to take a more active role in supervising financial institutions and do away with the previous laxity. There are currently just eight tokens and coins on the new greenlist, which may have an effect on how crypto firms in New York operate.
XRP price analysis
XRP is currently displaying notable resilience in the crypto market, with its price standing at $0.5077. This marks an impressive uptick of 0.94% over the course of the day and a remarkable 6.09% increase in the span of just one week.
Over the past year, XRP price has surged by an impressive 44%, this performance positions it ahead of the majority, outperforming a substantial 85% of the top 100 cryptocurrencies within the same timeframe, despite it retracing its significant gains from the SEC case victory.
In terms of technical levels, XRP appears to be well-supported at $0.48034, providing a solid foundation for potential price fluctuations. Conversely, it faces resistance at the $0.53342 mark, indicating a key battleground for traders.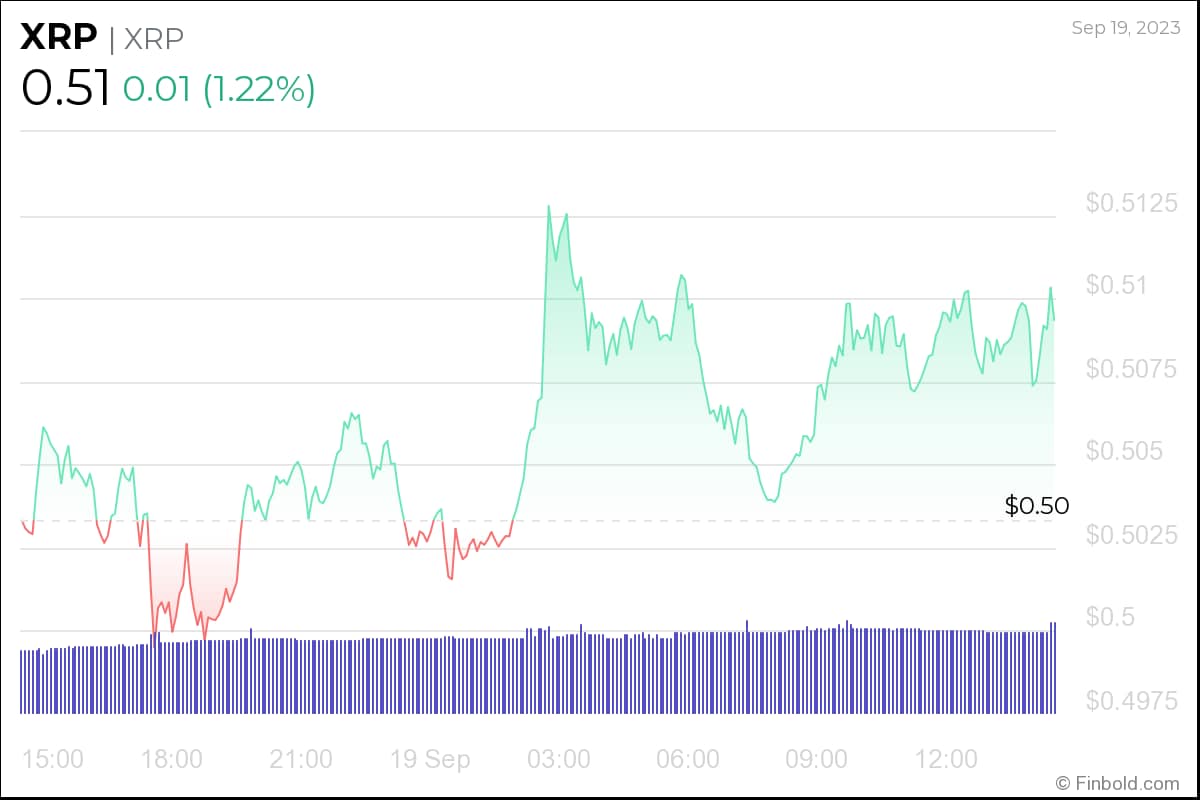 Analyzing recent trading activity, XRP has recorded 16 green days out of the last 30, constituting 53% of its recent trading history.
However, it's worth noting that XRP is currently trading below its 200-day simple moving average, which suggests a bearish trend. Furthermore, the yearly inflation rate for XRP stands at 15.26%, which warrants careful monitoring as it can impact the token's long-term value and purchasing power.
Disclaimer: The content on this site should not be considered investment advice. Investing is speculative. When investing, your capital is at risk.