With the majority of the cryptocurrency market taking a cue from Bitcoin (BTC) and improving its prices, Litecoin (LTC) has been no exception, having recorded an increase of over 20% in the last week, during which it surpassed the $100 threshold.
Taking into account the recent chart patterns of Litecoin, crypto trading expert Michaël van de Poppe has predicted that it will "probably continue running" but that it might first drop to $99-$102 before that happens, as he said in a tweet shared on July 4.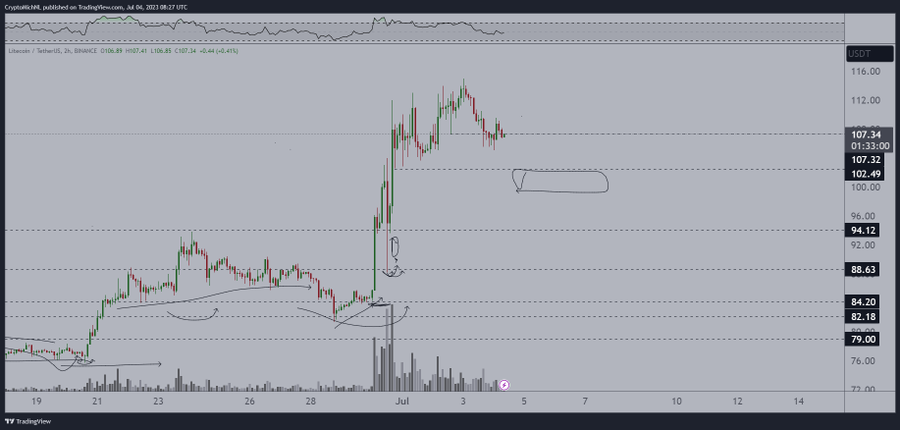 At the same time, the self-learning machine algorithm deployed by the crypto tracking platform CoinCodex predicts that Litecoin will, indeed, increase its price in the near future, setting it at $114.58 (+7.08%) in five days, $131.29 in the next month (+22.7%), and $124.33 (+16.2%) in the next three months, suggesting bullish sentiment (76%) and high greed index (64).
Notably, Litecoin is currently trading above the 200-day simple moving average (SMA) of $87, as this indicator has been flashing a 'buy' signal for the past 14 days. In the meantime, its resistance is currently resting at $120, while its support area is lying at $95.09.
On top of that, the general sentiment on Litecoin's technical analysis (TA) 1-day gauges supports both van de Poppe's and machine learning predictions of a price increase continuation, its summary suggesting a 'buy' at 15 – the result of moving averages (MA) in the 'strong buy' zone at 13 and oscillators pointing at 'neutral' at 7.

Litecoin price analysis
Meanwhile, Litecoin was at press time trading at the price of $107. Despite losing 2.77% on the day, this cryptocurrency has gained 20.23% in its price in the last seven days, while on its monthly chart, it is recording an increase of 11.33%, as per the latest data.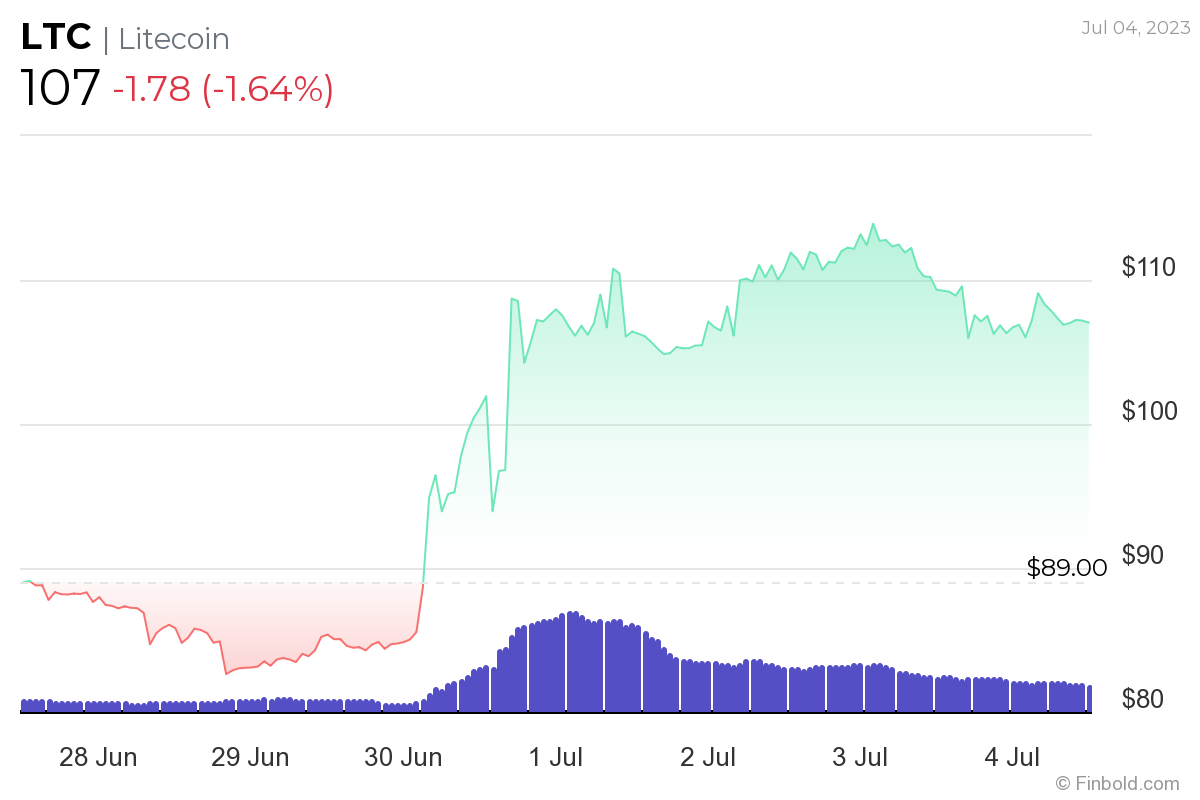 Earlier, van de Poppe shared his views of Litecoin's future as it nears its halving in late July or early August, arguing that the crypto asset, often referred to as the 'silver to Bitcoin's gold,' might follow in the footsteps of Bitcoin Cash (BCH) and increase its value twofold to around $200.
Disclaimer: The content on this site should not be considered investment advice. Investing is speculative. When investing, your capital is at risk.