1

KAVA TVL has seen a surge from the start of this year and may touch the $1 Billion mark.

2

KAVA technical indicators are favoring a bearish momentum in price. It has seen a loss of 1.7% in the intraday session.

3

MARA stock price rises by 7.5% in the intraday session.
KAVA is a layer-1 blockchain that combines the features of Cosmos and Ethereum. It has emerged as a leading player in Defi solutions. It leverages the power of the Cosmos blockchain to enable secure cross-chain transactions. KAVA Price has an EVM-compatible environment that enables Solidity developers and app developers to use the scalability of the KAVA network.
The network is supported by independent foundations and was developed by over 100 protocol teams. There are over 125 apps (and counting) on the KAVA platform. There are more than $625 Million in assets on the blockchain. KAVA has an average transaction fee of $0.0001 with 100 active validators. The inflation rate of KAVA is 59.5% as per Mintscan. The current TVL of KAVA is $506 Million which has observed a rise in the past few months. KAVA platform is recording an increase in adoption and can see a new high in the future.
KAVA has a market cap of $579 Million and is ranked 68th on CoinMarketCap (CMC). The staking APR of the asset is around 13.49%. The social engagement of the KAVA has been observing a decline in the past few days.
Are the Bulls Of KAVA Ready to Rally For a New High?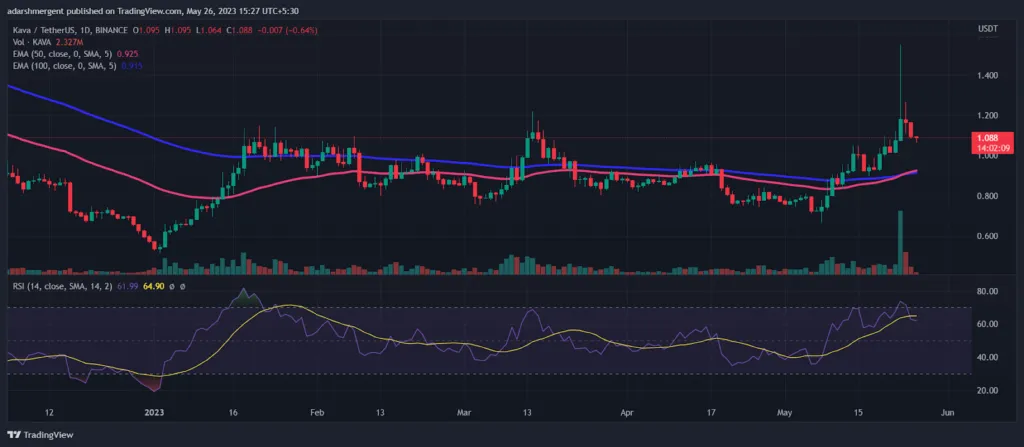 The weekly technical chart of KAVA suggests a weak upside trend in price. On the daily chart, the asset price is forming strong bearish candles. KAVA's price is currently near the value of $1.09 with a small drop in the intraday session. The upside trend of KAVA could halt near $1.2.
The support of the asset price can be seen as close to $1. KAVA price is trading above the 50 and 100 Exponential Moving Averages. The 50 and 100 EMAs can act as support in case of downside trends.
The RSI of KAVA is near 60 with a downside slope. The overall sentiment of the indicator is bearish.
Summary
KAVA has been seeing an increase in the TVL in the past few months. KAVA price is currently on a downward trend but can see a new high in the future.
Technical Levels
Major Support:$1
Major Resistance:$1.2