Back to the list
Ripple (XRP) Forecast: Will Price Recover Above $0.60 as SEC Ruling Nears?
beincrypto.com
26 May 2023 18:10, UTC
Reading time: ~3 m
---
Ripple (XRP) price has delivered a 10% growth in the last three weeks. On-chain data suggests that bullish action among crypto whales is one of the major factors behind the price pump. Will the bulls now push for the $0.5 XRP price forecast?
XRP has outperformed BTC and ETH in May 2023 so far. Crypto whales appear to be frontrunning a potential XRP price rally as the Ripple community grows increasingly confident of closing out the long-running SEC case in the coming weeks.
Considering that social sentiment surrounding XRP is currently negative, what are the chances that the ongoing pump will evolve into a prolonged bull rally?
Crypto Whales are Stacking up XRP
Crypto whales have doubled down on their bullish XRP positions this month. On-chain data shows that crypto whales holding 10 million to 1 billion XRP balances has been pivotal to the recent price pump.
Between April 30 and May 26, they added 290 million XRP coins to their wallet balances.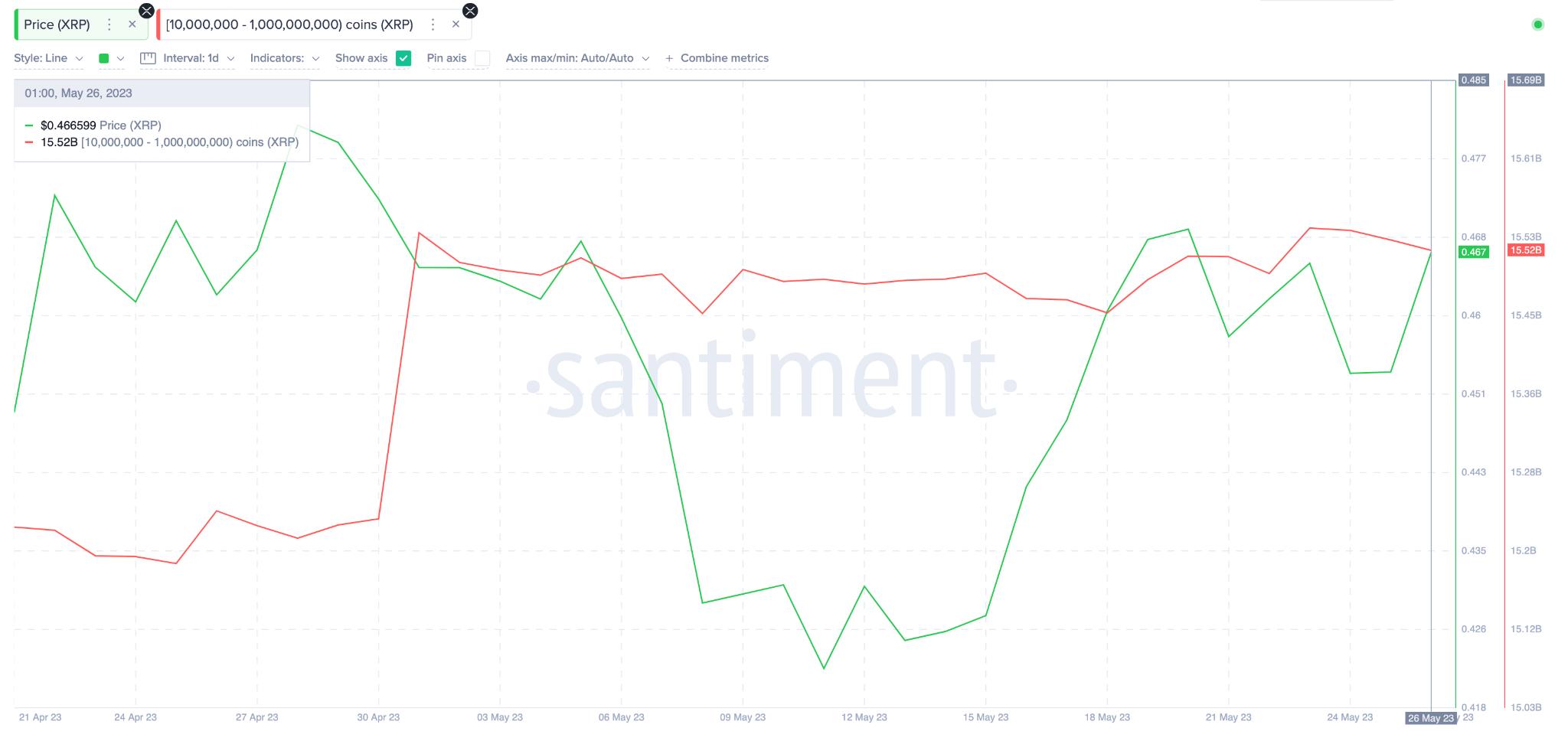 Ripple (XRP) Price Prediction – Whales Wallet Balances. May 2023. Source: Santiment
At the current market value of $0.47, the fresh investment made by the whales this month is worth approximately $136 million.
Notably, the whale cohort holds a significant portion of the total XRP circulating supply. With their influence, they can easily sway other retail investors to become bullish themselves.
If they keep buying in the coming weeks, it is only a matter of time before the $0.60 XRP price forecast is validated.
The Potential Victory Over SEC is Not Yet Priced In
The general sentiment within the XRP community is currently trending negatively. This suggests that the potential victory in the Ripple vs. SEC case is not yet priced in.
After approaching the neutral area on May 19, XRP Weighted Sentiment has recently dropped deeper into the negative zone toward -0.8 as of May 26.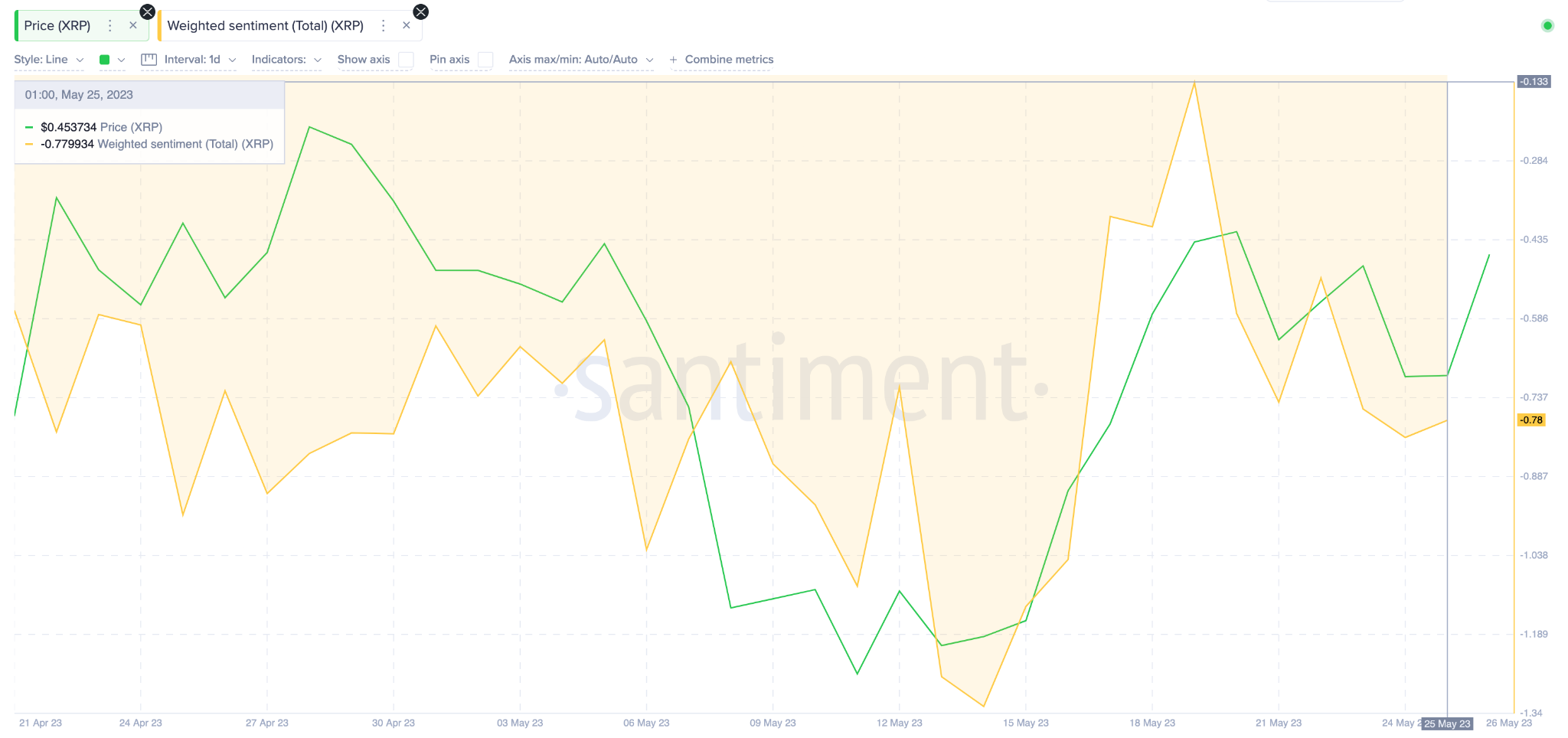 Ripple (XRP) Price Prediction – Weighted Sentiment. May 2023. Source: Santiment
Santiment's Weighted Sentiment metric compares the ratio of positive mentions of an asset to the negatives. When it trends downwards into the negative zone during a price surge, it indicates that the asset is still flying under the radar of many investors.
Potentially, other stakeholders will turn bullish when the SEC ruling victory hits home. This could make the XRP price gain more ground as the final court ruling approaches.
XRP Price Prediction: $0.60 is a Viable Target
Despite the recent 10% pump, Santiment's Market-Value to Realized-Value (MVRV) data, most crypto investors that bought XRP within the past month are holding profits of only 2%.
The historical trading pattern suggests they will likely hold out for 7% gains. This means that XRP could reach $.05 before facing significant resistance.
And If XRP can break beyond that $0.5 resistance level, the bulls can garner enough momentum to push for $0.60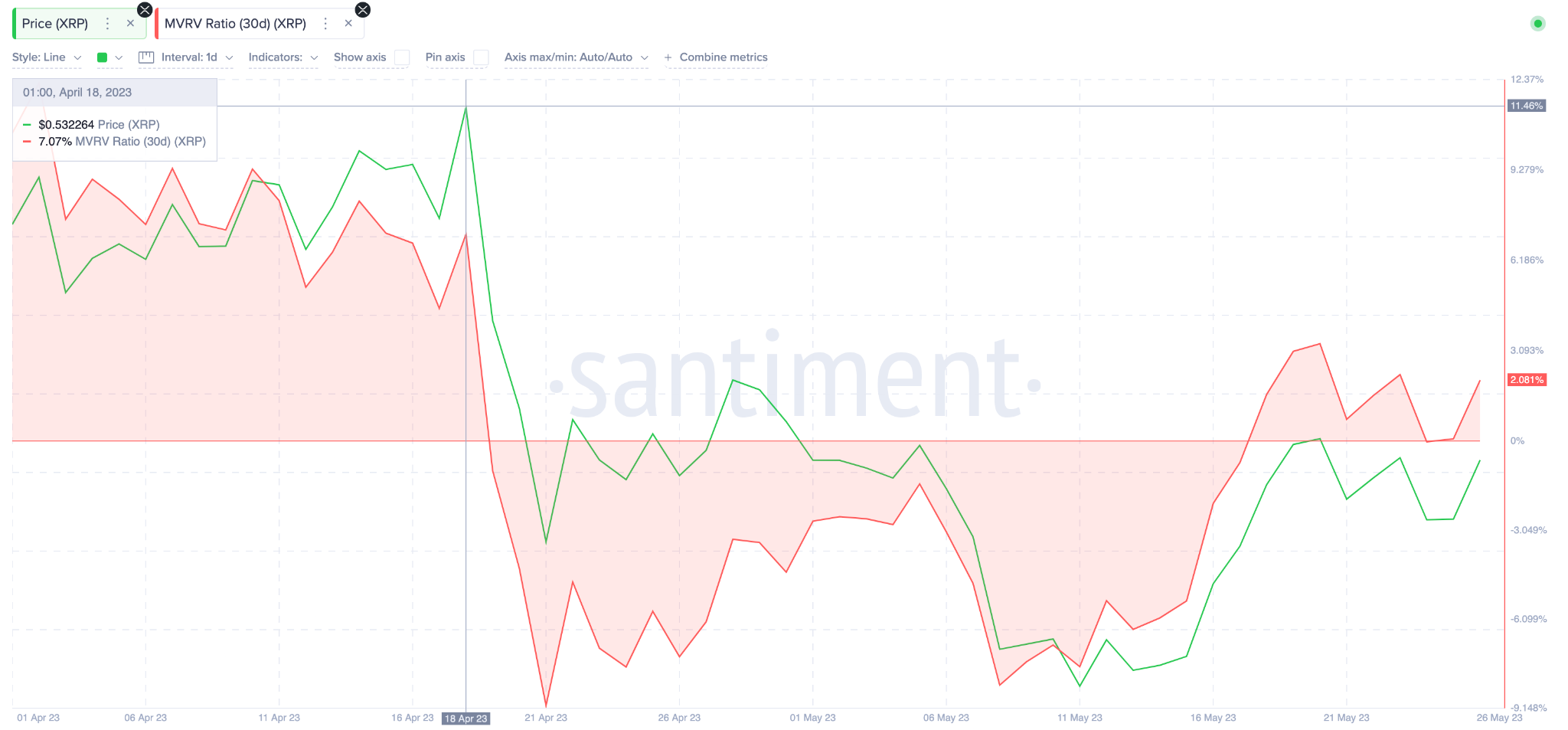 Ripple (XRP) Price Prediction – MVRV Ratio. May 2023. Source: Santiment
Conversely, the bears could still negate the bullish narrative if the XRP price drops below $0.45. Nevertheless, investors will likely offer bullish support at this level as they look to avoid slipping into a net-loss position.
Otherwise, XRP could drop much lower toward the next significant support level at $0.40.
---
Source
---
Back to the list