Back to the list
Crypto Analyst Expects 200- 250% Rally in IOTA's Price Soon
coinedition.com
26 May 2023 15:38, UTC
Reading time: ~2 m
---
Earlier today, a crypto analyst by the name of Captain Faibik took to Twitter to share his belief in the potential for a significant price surge in IOTA (MIOTA) in the near future. The analyst highlighted that IOTA has been trading within a bullish Falling Wedge Formation on its weekly chart for a considerable period of time.
Moreover, the analyst revealed their optimism regarding the possibility of IOTA finally breaking free from this formation. In the event of an upward breakout, he confidently predicted a substantial rally of 200% to 250% for the IOTA price in the mid-term.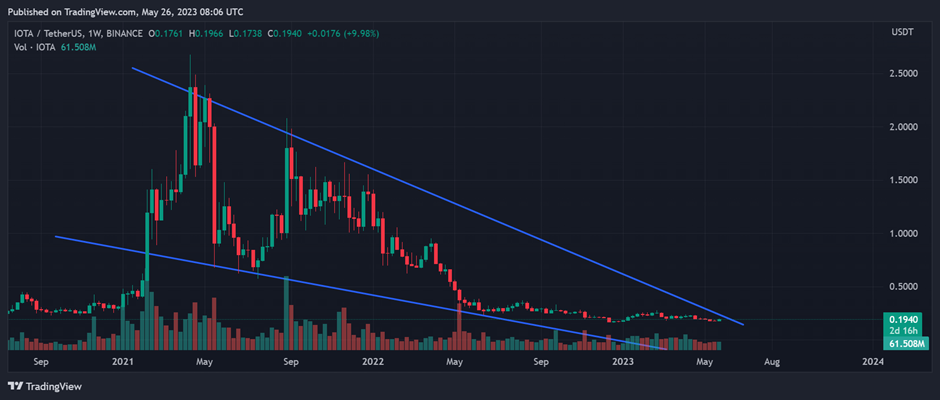 IOTA / Tether US 1W (Source: TradingView)
CoinMarketCap indicated that IOTA was one of the cryptocurrencies trading in the green heading into the weekend. The altcoin was worth around $0.194 after it experienced a price increase of 3.76% over the past 24 hours. As a result, the crypto was trading close to its daily high of $0.1966.
IOTA's price increase allowed it to strengthen against both market leaders, Bitcoin (BTC) and Ethereum (ETH) throughout the past day. IOTA was up against BTC by about 2.55% and up against ETH by 1.99%. In addition to this, IOTA's positive performance also pushed its weekly performance even further into the green at 5.65%.
On the other hand, the altcoin's 24-hour trading volume experienced a more than 15% drop, which left it standing at $9,683,276. Its market cap of $539,399,542 ranked it as the 75th biggest crypto in terms of market capitalization.
Disclaimer: The views and opinions, as well as all the information shared in this price analysis, are published in good faith. Readers must do their own research and due diligence. Any action taken by the reader is strictly at their own risk. Coin Edition and its affiliates will not be held liable for any direct or indirect damage or loss.
---
Source
---
Back to the list