The demise of FTX late last year has had wide-reaching repercussions on the crypto industry. Solana is among its victims as on-chain and DeFi activity have slumped.
Solana on-chain activity has not recovered since the demise of FTX in November. The once touted "Ethereum killer" appears to have been killed due to associations with Sam Bankman-Fried, who backed the blockchain.
According to the Solscan analytics platform, Solana's active wallets have declined by 60% over the past three months.
Furthermore, active wallets on the network have been down trending since May 2022, long before the FTX collapse.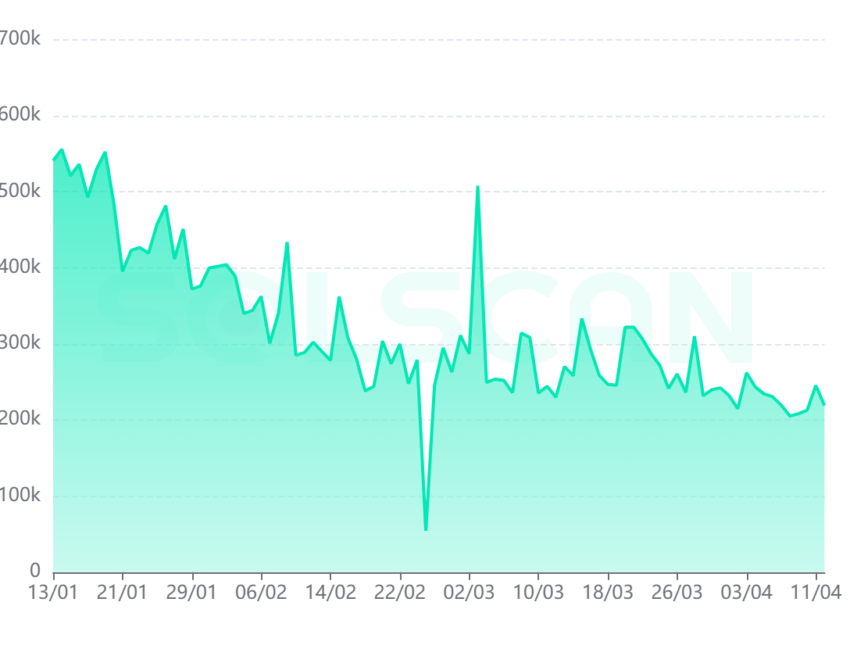 Solana Active Wallets 3-month Chart – Solscan
Solana DeFi Slumps
New token accounts on Solana have exhibited a similar pattern. They have also declined by almost 60% over the past three months, according to Solscan.
Furthermore, the number of newly minted SPL tokens on Solana has dropped by over 80% in the past three months. SPL tokens are fungible tokens on the blockchain that are based on the Solana Program Library.
There has also been a decline in nonfungible token (NFT) activity. Aside from a few spikes, a consistent daily volume of around 30,000 new NFTs in January had fallen to under 10,000 by mid-April, according to Solscan.
Moreover, Solana DeFi is also in the doldrums. The total value locked in Solana DeFi is currently $519 million, according to DeFiLlama. DeFi TVL is about half of what it was just before the FTX collapse.
Additionally, it is down 95% from its all-time high of $10 billion in November 2021. Comparatively, the metric for the entire DeFi ecosystem has fallen by 70% in the same period suggesting a larger exodus from Solana DeFi.

Solana DeFi TVL – Defillama
Little Love For SOL Tokens
The once crypto darling, SOL, has now dropped out of the market capitalization top ten. Token prices have been slowly recovering over the past month or so, but they remain battered when compared to previous highs.
SOL is currently trading at $24 following a 6% gain on the day. Today's gain is likely to do with the FTT token surging on rumors of a potential return of FTX.
However, SOL remains down 33% from its pre-FTX price level. Comparatively, the wider crypto market has recovered all losses since the collapse of SBF's exchange and is now trading higher.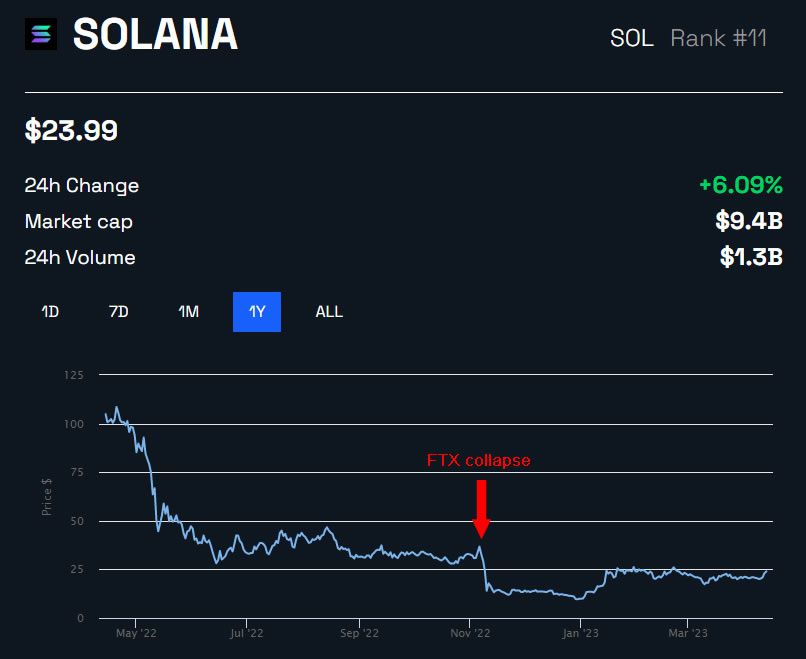 SOL/USD Price Dip After FTX Collapse Chart By BeInCrypto
Furthermore, SOL remains down a painful 91% from its November 2021 all-time high of $260. Crypto markets, in general, are down 58% from their peak levels of just over $3 trillion in the same month.
Solana and its native token are struggling to recover from the epic fallout of Bankman-Fried's crypto empire.