Compound loans and deposits are showing a decline for the past few weeks
Technical indicators of COMP favor a consolidated trend. It has seen a drop of over 2.6% in the BTC pair
Compound is a decentralized lending platform whose token launched in 2020 and has seen strong growth since. COMP token incentivizes the users and lets them participate in the voting proposals. They are also used to distribute rewards to the users who lend and borrow. The compound protocol has loaned out approximately $763,365,000 with a total deposit of $1.6Bn. Lending and borrowing have been seeing a decline over the past few weeks. USDC is the highest borrowed asset on the Compound Protocol. Compound daily net borrowing has also been seeing a decline. ZRX has the highest liquidation on the COMP protocol which is more than the liquidation of USDT and USDC. LINK and AAVE have had the highest weekly interest rate compared to others.
It has a total supply of 10 Million and 73% is currently circulating in the market. The cumulative unique address on the COMP is also growing and has reached 6126.
COMP has a market cap of $309,332,358 and is ranked 118th in the crypto-verse. The volume of the asset price has seen an increase of 17 % in the intraday session. It has a negative ROI but can see an upside move. The volume-to-market cap ratio of COMP suggests a consolidated trend in price.
COMP Bears Pushing The Price Down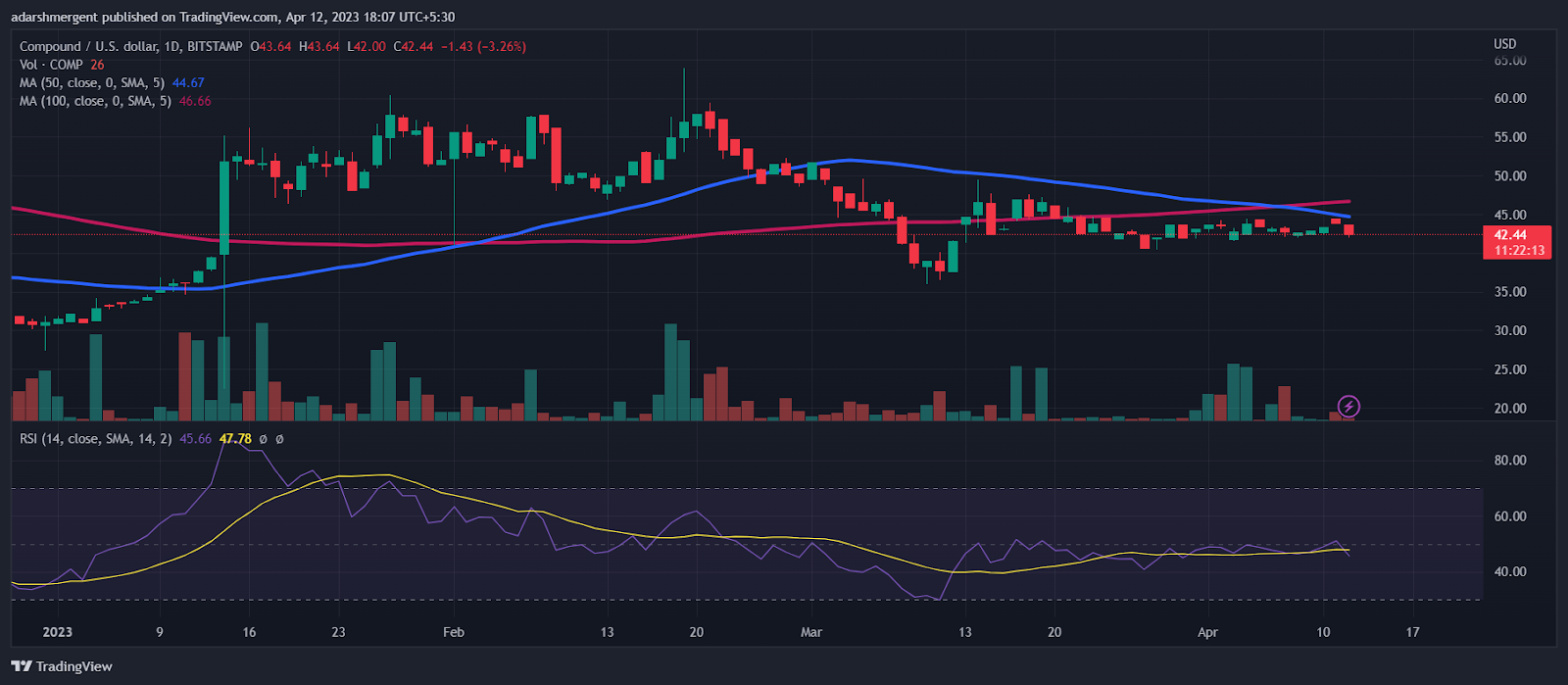 Source: TradingView
The weekly technical chart of COMP suggests that both bulls and bears are struggling to gain the move.It has been seeing a downside consolidation in the daily chart.COMP is trading near the value of $42 with a drop of 2% in the intraday session. The upside momentum of COMP can see a halt near the value of $50.Meanwhile, the downside trend in price can see a bounceback from $35. It is trading below the 50 and 100 Daily Moving Averages. There can be a negative crossover in the future which can push the price further down to a new low.
The RSI of COMP is currently near 46 suggesting its presence in the neutral zone. There is a weak downside slope in the RSI which suggests towards a bearish move.
Summary
COMPOUND has been seeing a decrease in loans and deposits. COMP price is currently observing a consolidated downside move but can see a reversal in future.
Technical Levels
Major Support:$35
Major Resistance:$50
Disclaimer
The views and opinions stated by the author, or any people named in this article, are for informational ideas only. They do not establish financial, investment, or other advice. Investing in or trading crypto assets comes with a risk of financial loss.