Aptos price defended $10.00 and is consolidating in a narrow range.
APT crypto price struggles to climb above the 50 day EMA.
Aptos crypto price fell by 4.23% in the previous month.
Aptos price fell by approximately 4.23% last month, forming a Doji candle pattern which shows selloff was absorbed in the demand zone. APT crypto price defended the $10.00 support, giving a decent bounce of approximately 24%. It indicates some genuine buyers are active at the lower levels and are expecting recovery in the coming months. However, Aptos crypto price struggled to climb above the 50-day EMA and is consolidating in a narrow range.
Aptos price is trading at $11.4547 with an intraday decline of -5.80%. The 24-hour volume to market cap ratio is 0.3218. The pair of APT/BTC is trading at 0.00041228 BTC with an intraday decline of 4.51% indicating weak correlation between BTC and APT.
At the beginning of January, APT crypto price performed well and rallied around 350% from the lows in a month. Later, it hit a high at $20.00 and minor profit booking visible from the higher levels. Aptos price consolidated in the supply zone but slowly the bears took control and prices began to decline, forming lower lows swings.
Will Aptos Price Take a U-Turn From the Demand Zone?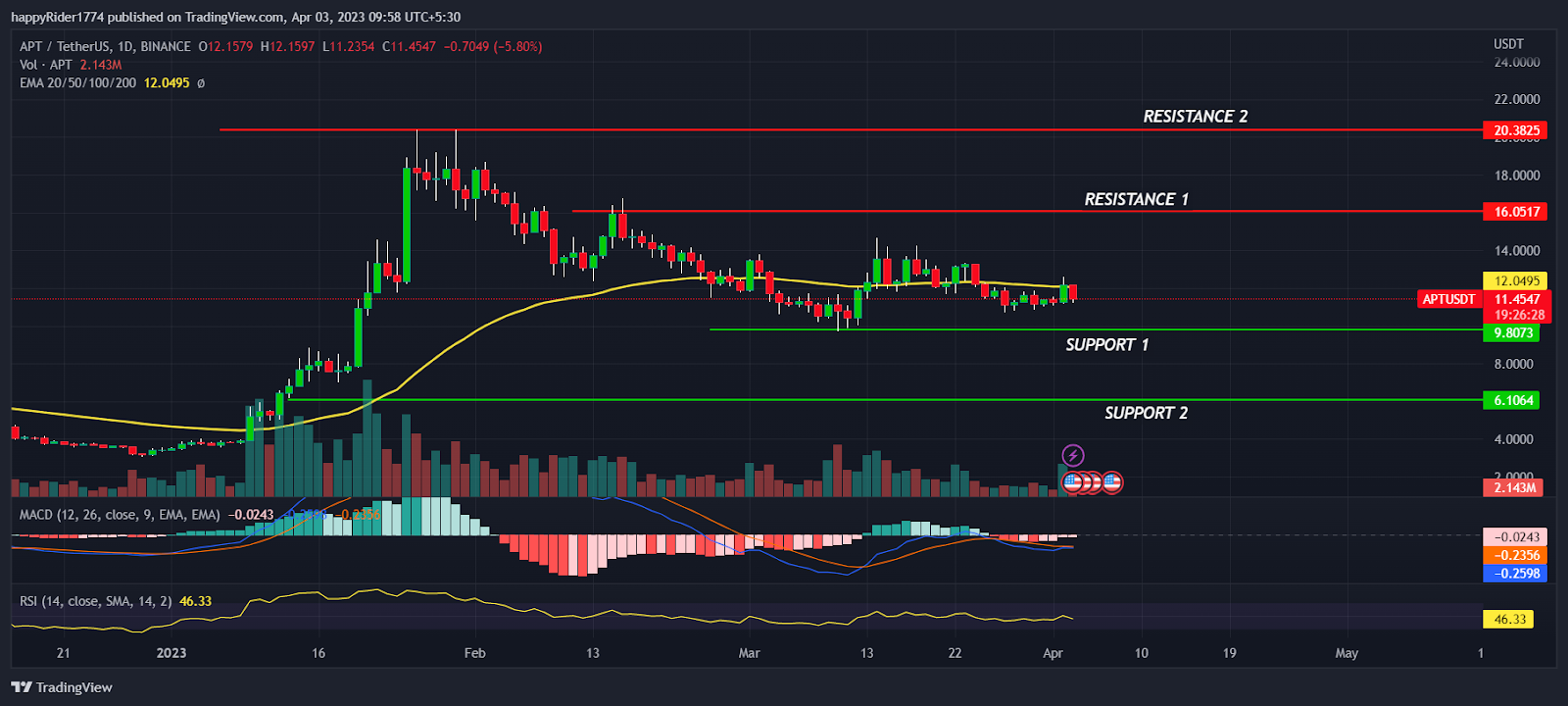 Source: APT/USDT daily chart by TradingView
Aptos price dropped below the 50 day EMA. Mid-March, APT crypto price took support at $10.00 and ended up forming a bullish hammer candle. It created a hope for the bullish trend reversal but prices entered into consolidation and showed signs of base formation.
Technical analysis suggests, if Aptos price succeeds in climbing above the 50 day EMA, then the possibility of upward range expansion will increase. Else, it may remain in consolidation for some more time.
APT Crypto Price Lost Downside Momentum
APT crypto price is near the demand zone and buying volume is also on the rise. Aptos price corrected nearly 45% from its recent peak and the bears seem to be losing the momentum near the demand zone.
The MACD is reversing upward and might generate a positive crossover indicating mild bullishness. However, the RSI at 46 sloping sideways denotes neutral territory.
Conclusion
Aptos price fell 4.23% last month but defended the $10.00 support level. Technical analysis says APT crypto price is consolidating for the base formation and that the probability of upward range expansion is high. However, the re-bound is reliable if APT price sustains above the 50 day EMA.
Technical levels
Resistance levels : $16.0517 and $20.3825
Support levels : $9.8073 and $6.1064
Disclaimer
The views and opinions stated by the author, or any people named in this article, are for informational purposes only, and they do not establish financial, investment, or other advice. Investing in or trading crypto assets comes with a risk of financial loss.