Tezos has recently implemented 'Mumbai' upgrade which will have a maximum of 1 Million TPS
Technical indicators of XTZ are favoring a consolidated move. It has seen a drop of 1.24% in the intraday session.
Tezos was launched in 2018 as an open-source blockchain platform, Tezos has been designed to be more flexible, adaptable and self-governing. Tezos allows for seamless upgrades to its protocol without requiring a hard fork, for example Mumbai upgrade. Tezos has a self-amending blockchain, which enables stakeholders to vote on proposed upgrades to the protocol. It means that the Tezos blockchain is more democratic, transparent and decentralized than other cryptocurrencies, which are often controlled by a small group of developers.
Tezos also has a unique consensus algorithm, known as Liquid Proof of Stake (LPoS), which allows users to participate in the network's consensus process by staking their XTZ tokens. This helps to secure the network and ensures that all participants have a say in the decision-making process. Tezos Mumbai upgrade will help the protocol to reach 1 Million Transaction per second
XTZ has a market cap of $1.04 Billion and is ranked 51st in the cryptoverse.Volume of XTZ has seen a jump of 4% in the intraday session.Volume to market cap ratio of XTZ hints towards a consolidated trend in price.
Bulls Of XTZ Are Pushing For An Upside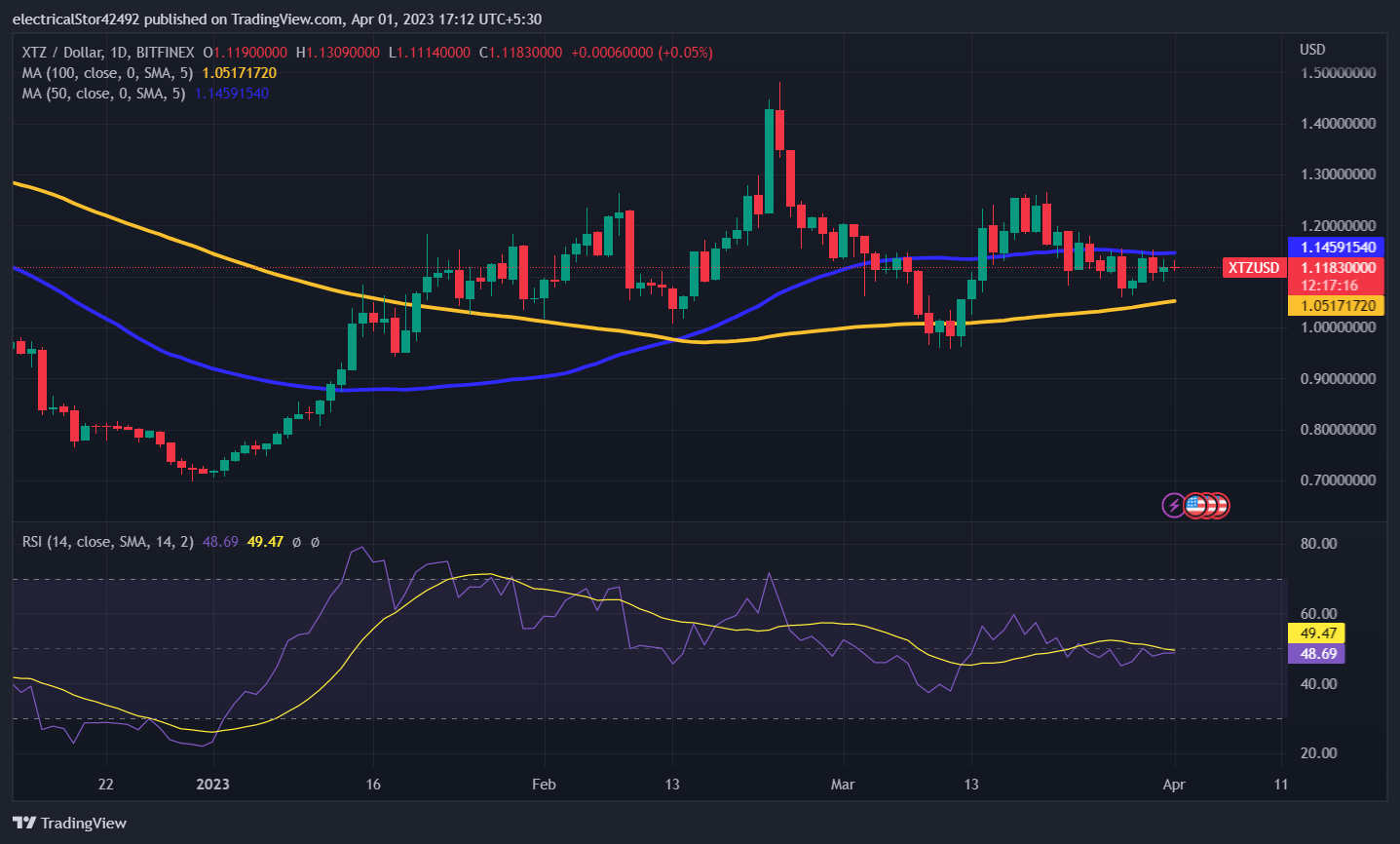 Source: TradingView
Tezos has an active stake of 693.08Million with transactions on a slight decline.The weekly technical chart of Tezos suggests a consolidated momentum in price.On the daily chart it is trading near the value of $1.11 with a drop of 1% in the intraday session.The asset price is currently trading in between the 50 and 100 Daily Moving Average. It can observe a negative crossover which can push the asset price to a new low. XTZ upside trend can see a halt near the value of $1.5.Meanwhile the support of the asset price can be seen near $1. Various analysts are expecting a strong growth in the asset price.
RSI of the XTZ is near 46 suggesting its presence in the neutral zone.There is a downside slope in RSI hinting towards a bearish momentum.
Conclusion
Tezos Mumbai upgrade will push its scalability and reachability to new highs. XTZ is currently observing a consolidated trend and can see a new high in the future.
Technical Levels
Major Support: $1
Major Resistance: $1.5
Disclaimer
The views and opinions stated by the author, or any people named in this article, are for informational purposes only and do not establish financial, investment, or other advice. Investing in or trading crypto assets comes with a risk of financial loss.