Immutable X reclaimed $1.50 for the first time since May 2022 crypto crash. On-chain metrics show that declining network growth could slow down a potential IMX price rebound.
Immutable X (IMX) long-term holders appear to have been taking profits since February.
IMX Network is Not Growing
Immutable X (IMX) is a layer-two scaling solution for NFTs on the Ethereum smart contract network. It allows NFT traders and creators to carry out fast transactions at near-zero gas fees.
IMX rose to prominence as global interest in NFTs reignited in early 2023. However, with the NFT boom now cooling, critical on-chain metrics reveal that IMX appears to be struggling to find new demand.
The number of new addresses created on the IMX network has been declining, according to on-chain data from Santiment.
As seen below, network growth peaked along with the price on March 17. Since then, it has declined from 594 to 84 new addresses created as of March 24.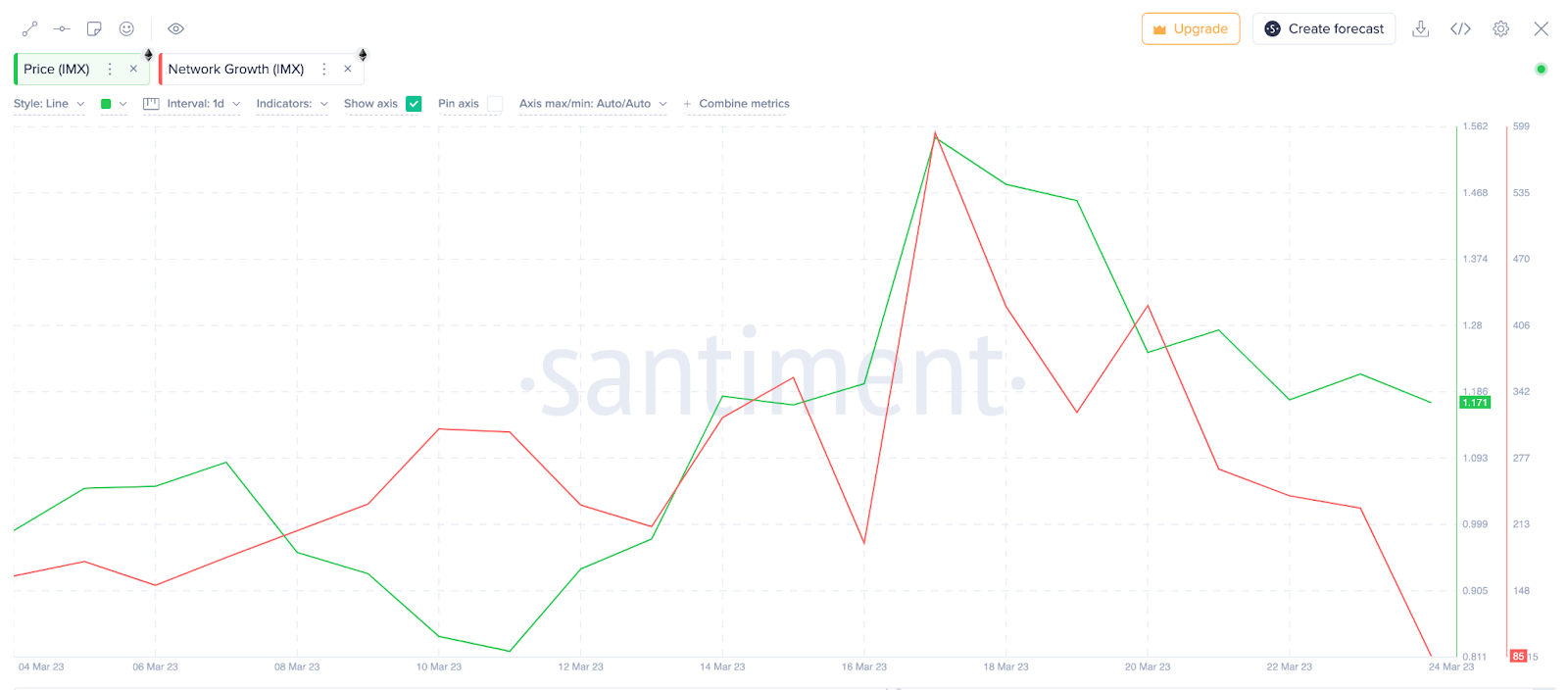 Immutable X (IMX) Net Work Growth, March 2023. Source: Santiment
When network growth declines persistently, it is a bearish signal that the underlying token may struggle to find new demand. Hence the current network traction downtrend may hurt the growth prospects of IMX in the coming weeks.
Also, the profit-taking frenzy among IMX long-term holders further validates the bearish outlook. As illustrated by the red line in the chart below, long-term holders appear to have been selling since early February.
In the Santiment chart below, IMX Mean Coin Age (90d) has dropped from 60.43 on Feb. 2 to 28.78 as of March 24.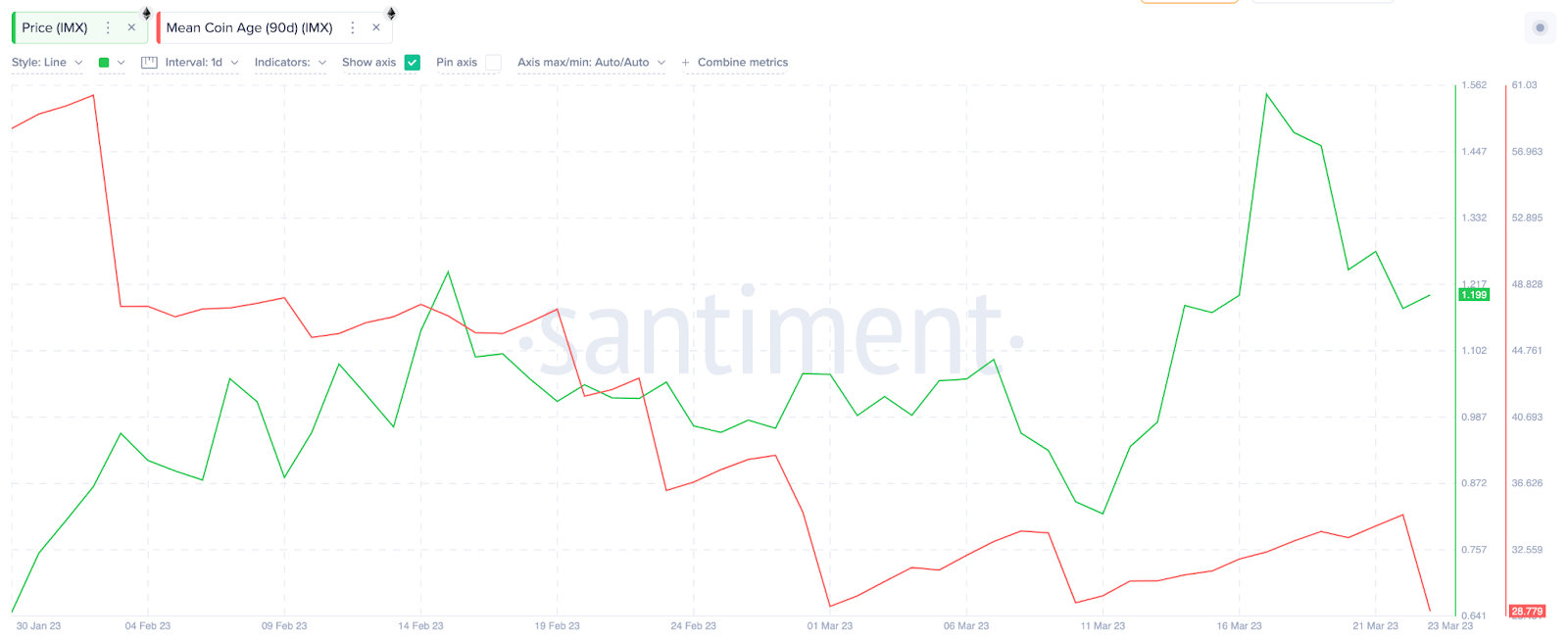 Immutable X (IMX), Mean Coin Age (90d), March 2023. Source: Santiment
The Mean Coin Age (90d) metric computes the average number of days recently traded tokens stayed in their previous addresses. A downtrend usually indicates selling pressure among long-term holders of the native token.
Ultimately, if Immutable X cannot find new demand and long-term holders keep selling at the current rate, other crypto investors may panic and trigger further IMX price downswing.
IMX Price Prediction: $1 is the Next Stop
According to the Global In/Out Of Money (GIOMAP) data compiled by blockchain forensics firm IntoTheBlock, IMX price could soon drop below $1.
Immutable X may drop below $1 if it fails to stay above the $1.05 support zone, where 2,550 addresses had bought 664m IMX coins. Failure to hold this support level could see IMX slide further to reach $0.83. Here, another 4,000 addresses that bought 588 million coins can ease the slump.

Immutable X (IMX), Global In/Out of Money. March 2023, Source: IntoTheBlock
Still, the bulls invalidate the downswing if IMX breaks above $1.33, which is the maximum price that 2600 addresses paid for 32 million coins.
If the $1.33 resistance is broken, IMX can head on a prolonged rally toward $1.66, where another 3,400 addresses had bought 14.5 million coins.