Back to the list
Cosmos Price Analysis: Will ATOM Price Hit A High Of $50 In 2023?
www.thecoinrepublic.com
03 February 2023 18:45, UTC
Reading time: ~2 m
---
Cosmos DEX osmosis has made cross chain transactions easier for the users with NEON upgrade.
Technical indicators of Cosmos suggests a downside trend in price.
Atom is a decentralized cryptocurrency that is built on the Cosmos network, which is a blockchain ecosystem designed to enable the interoperability of different blockchains. It is designed to be fast, secure, and scalable, making it a promising alternative to other cryptocurrencies like Bitcoin and Ethereum. One key difference between Atom and other cryptocurrencies is its focus on interoperability. The Cosmos network allows Atom to interact with other blockchains, enabling users to move funds between different cryptocurrencies without having to go through a centralized exchange. This enhances the functionality of Atom, making it a more versatile asset for users. Another difference is Atom's consensus mechanism, which is called Tendermint BFT. Tendermint BFT is a fast and efficient consensus algorithm that allows for quick transaction processing and block creation, making Atom much faster than other cryptocurrencies that use proof-of-work consensus. Atom's governance structure is unique in the sense that it allows for decentralized decision-making. Atom holders can vote on important protocol changes and upgrades, giving them more control over the future direction of the cryptocurrency
ATOM has a market cap of $4.2 Billions and is ranked 19th in the cryptoverse. Volume to market cap ratio of the ATOM suggests an upside move in price.
Are Bears Of ATOM Ready To Give Up?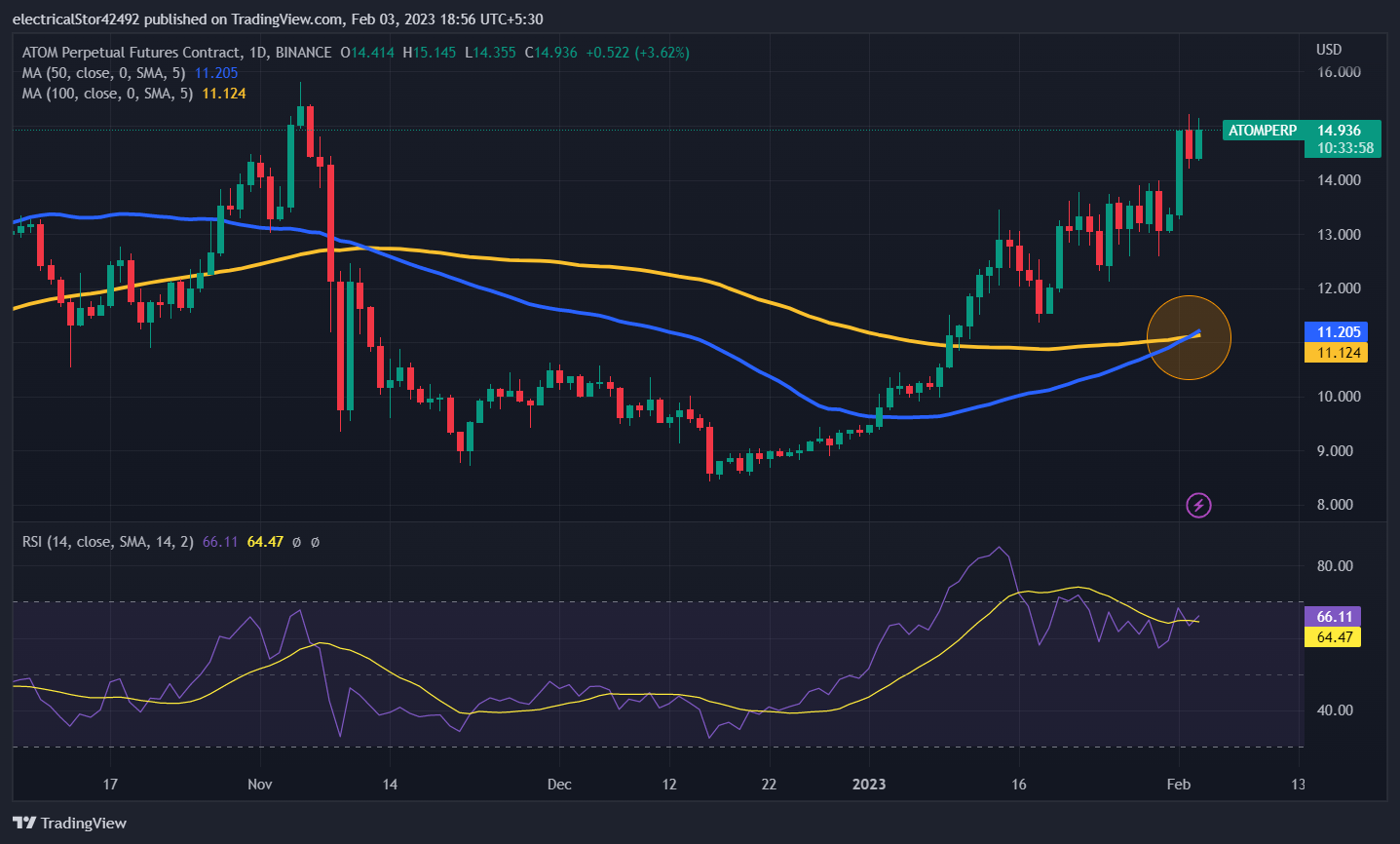 Source: TradingView
The weekly technical chart of the Cosmos suggests a weak upside trend in the price. On the daily chart it is trading near the value of $15 with a gain of 4% in the intraday session. It is forming a strong upside trend and can hit a new high in the future. The upside trend of the ATOM can see a halt near $20.Meanwhile the support of the asset price can be seen near $10. It is trading above the 50 and 100 Daily Moving Average. There is a positive crossover in DMA which can push the asset price to a new high. Various analysts are expecting a strong growth in the near future.
Conclusion
ATOM price has been in an upside move with the BTC crossing over $23k. Cosmos price may hit $50 this year as per the analysts prediction.
Technical Levels
Major Support:$10
Major Resistance:$20
---
Source
---
Back to the list