Back to the list
'$ADA & $XRP Want to Pump So Bad': Crypto Netizen, Dan Gambardella
coinedition.com
24 November 2022 16:45, UTC
Reading time: ~2 m
---
Dan Gambardella, a crypto netizen, tweeted that Cardano's token, ADA, and Ripple's token, XRP, want to pump so badly.
$ADA & $XRP want to pump so bad. I can just see it!

— Dan Gambardello (@cryptorecruitr) November 23, 2022
Notably, the CEO of Ripple, Brad Garlinghouse, while speaking to an interview recently, said that Ripple was working on cross-border transactions, which was a major problem to its users, as far as speed and cost was concerned.
Meanwhile, XRP is up 0.78% in the last 24 hours and as of press time, it is trading at $0.3790, according to CoinMarketCap.
As shown in the chart below, XRP's bullish overview started on November 14. However, the bull run was short-stayed and came to an end in two days. The prices of XRP fell from $0.39 to $0.36 within a day, November 16. The price of XRP has been moving sideways for four days since then.
XRP seems to be following a bearish rising wedge. Although it has been registering new higher lows, the new gap between the new higher low seems to be decreasing.
The 200-day MA is vertical to the horizontal axis indicating the prices will move sideways, while the 50-day MA is sloping upwards, predicting a bull run. Moreover, the market could correct the oversold price as XRP is touching the lower Bollinger band. If the bulls dominate, XRP will target hitting Resistance 1, positioned between $0.43-$0.45. Contrastingly, if the bears dominate, XRP will land on the Support Level, which is between $0.32 – $0.33.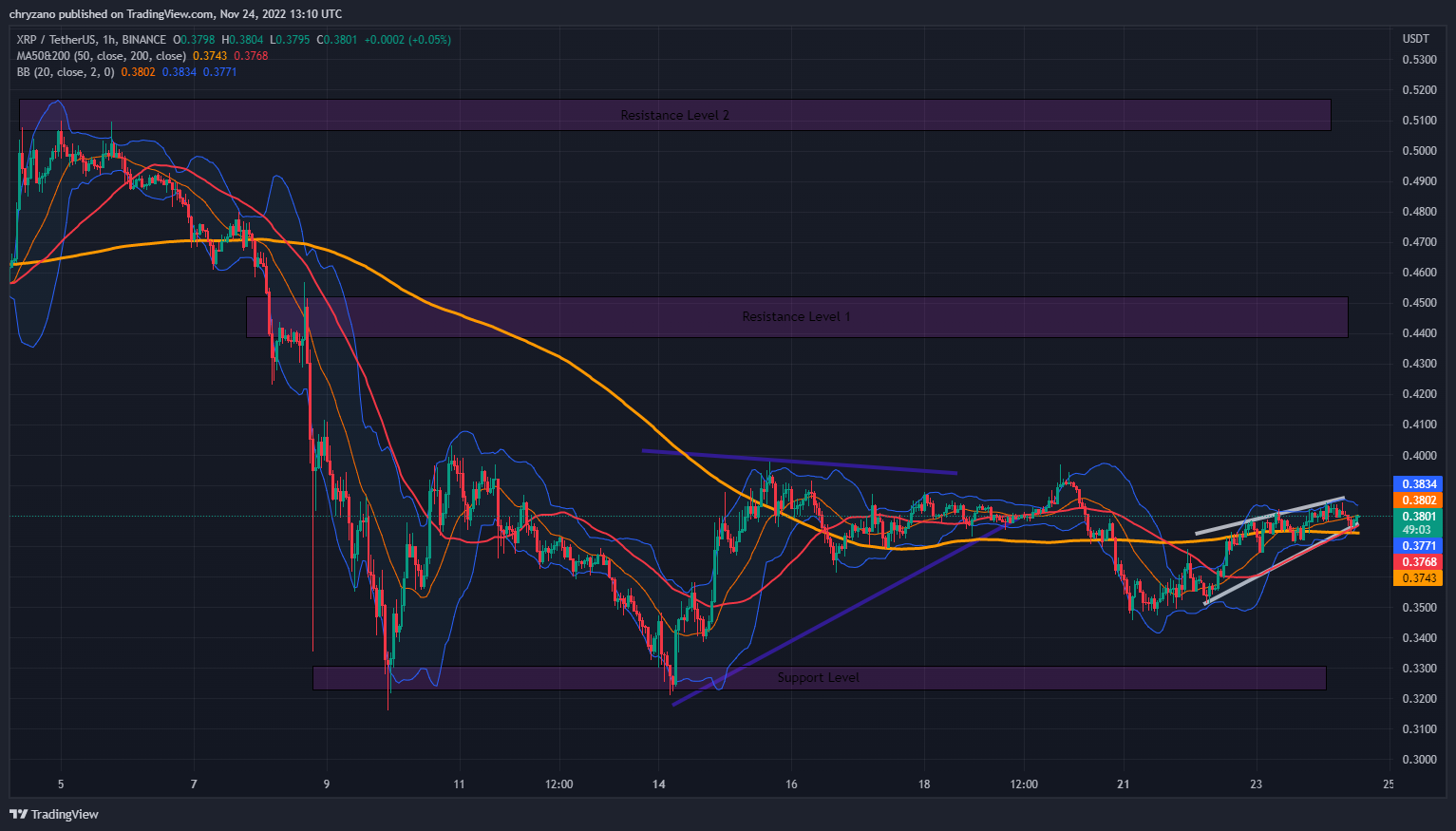 XRP/USDT 1h Trading Chart on TradingView
Cardano is up 0.22% in the last 24 hours and is currently trading at $0.31. Notably, from the chart below, Cardano experienced a steep fall in quick succession. ADA fell from $0.33 to $0.29. However, the price of ADA seems to be gaining some momentum as it fluctuates in a rising wedge.
Interestingly, while the 200-day MA is sloping down, indicating a bearish signal, the 50-day MA is sloping up, signaling a bullish trend.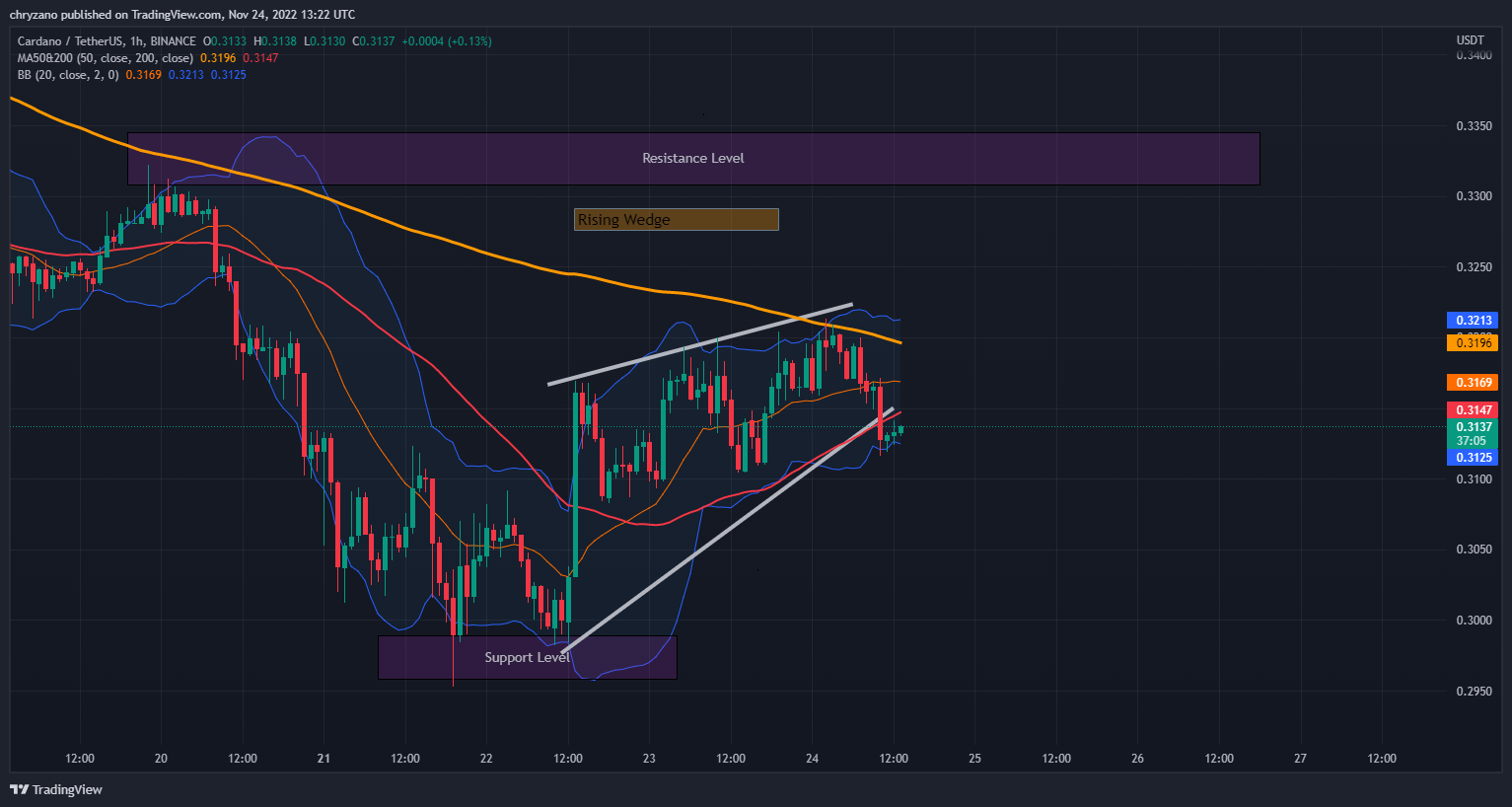 ADA/USDT 1h Trading Chart on TradingView
ADA is touching the lower Bollinger band indicating that the market could correct the price of ADA. If the bulls push harder then ADA will target Resistance Level near $0.335. However, if the bear dominates the market, then ADA will land on the Support Level based near $0.29.
Disclaimer: The views and opinions, as well as all the information shared in this price prediction, are published in good faith. Readers must do their research and due diligence. Any action taken by the reader is strictly at their own risk. Coin Edition and its affiliates will not be held liable for any direct or indirect damage or loss.
---
Source
---
Back to the list