Back to the list
Cardano Continued Developments Despite Harsh Market Conditions
coinedition.com
20 November 2022 10:41, UTC
Reading time: ~2 m
---
Despite the harsh conditions in the crypto market over the last few weeks, the team at Cardano has continued building and developing. One of these developments is the launch of a new product called Midnight. This is a data protection-based blockchain that will safeguard sensitive commercial and personal information.
This new development in the Cardano ecosystem could have a very positive impact on the perception of the project, and it seems like this is already becoming a reality. According to LunarCruch, Cardano's social mentions increased by 18% in USD one week.

Weighted sentiment ADA (Source: Santiment)
In addition to this, Cardano's weighted sentiment has also witnessed an increase. Data from the market intelligence firm Santiment indicates that the weighted sentiment for Cardano is overwhelmingly positive at the moment. This, in part, could be due to the fact that Cardano had very little exposure to FTX.
Cardano's NFT volume is also looking good as the NFTs being traded increased by 57.98% over the last thirty days. The NFTs sold also saw an increase of about 37%. Blue chip NFTs on the Cardano network also recorded good performances.
On the other hand, there might still be some hard times ahead for Cardano. Santiment data also indicates that the daily active addresses on the Cradano network declined significantly over the last week. Its velocity also recorded decreases.
Cardano's (ADA) volatility grew by 188% over the last month as well, which means that people could consider it to be very risky to invest in the altcoin.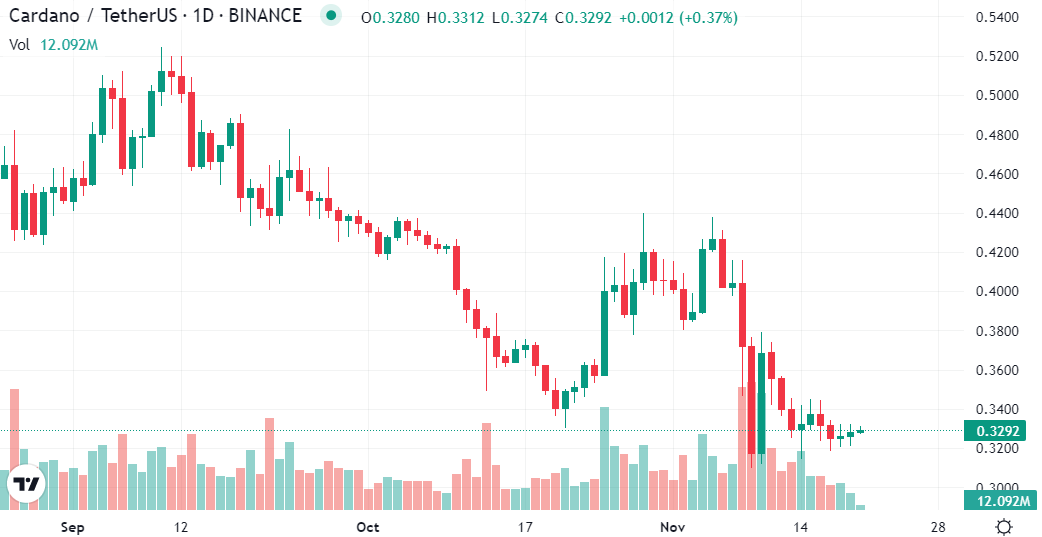 Cardano / TetherUS 1D Source: CoinMarketCap
According to CoinMarketCap, ADA is currently trading at $0.3291 after a 1.24% increase in price over the last 24 hours.
Disclaimer: The views and opinions, as well as all the information shared in this price analysis, are published in good faith. Readers must do their own research and due diligence. Any action taken by the reader is strictly at their own risk. Coin Edition and its affiliates will not be held liable for any direct or indirect damage or loss.
---
Source
---
Back to the list