Back to the list
Bitcoin [BTC]: Euro overtakes JPY in BTC-to-fiat trading; USD surges to take majority
ambcrypto.com
22 May 2019 08:30, UTC
Reading time: ~2 m
---
Bitcoin [BTC], the strongest cryptocurrency in the market, has met its fiat equivalent, the US Dollar [USD] and together, the pair continued to hold firm as the most dominant crypto-fiat trading pair in the market. As USD continues to consolidate, the runners-up continues to be an evolving position.
Euro [EUR] ascended the currency ladder and for the month of April, recorded the second highest trading volume against Bitcoin, after the unassailable BTC-USD pair. According to CryptoCompare's exchange review for April, the BTC-EUR pair overtook BTC-JPY in Bitcoin trading volume.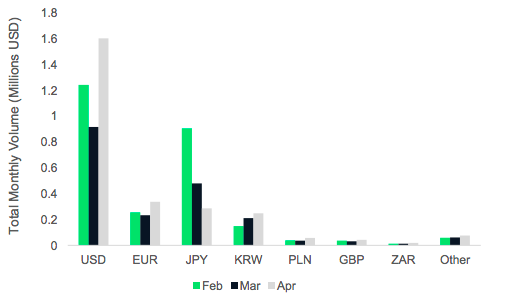 Source: CryptoCompare
April saw USD dominance increase by a whopping 74.7 percent from 0.92 million BTC in March to 1.6 million BTC, the following month. In the month of March, the USD market share was at 46 percent and in April, the same surged to 60 percent of the total BTC to fiat market.
For the second straight month, trading into Japanese Yen continued to fall. Bitcoin trading into JPY accounted for one-tenth of the total volume, while the same pair held almost one-fourth of the market, a month prior. The absolute decline was from 0.48 million BTC to 0.29 million BTC, a 40 percent fall.
The other dominant Asian fiat currency, the Korean Won [KRW], continued to rise. Bitcoin into KRW surged from 17.6 percent at 0.21 million BTC in March, to 0.25 million BTC in April.
Other notable fiat currencies on the list were the Polish Zloty [PLN], the Pound Sterling [GBP], and the South African Rand [ZAR]. Notably, the Russian Ruble [RUB] didn't make the top-7 in April. The top pairs, USD, EUR, JPY, and KRW accounted for 95 percent of the total Bitcoin to fiat market.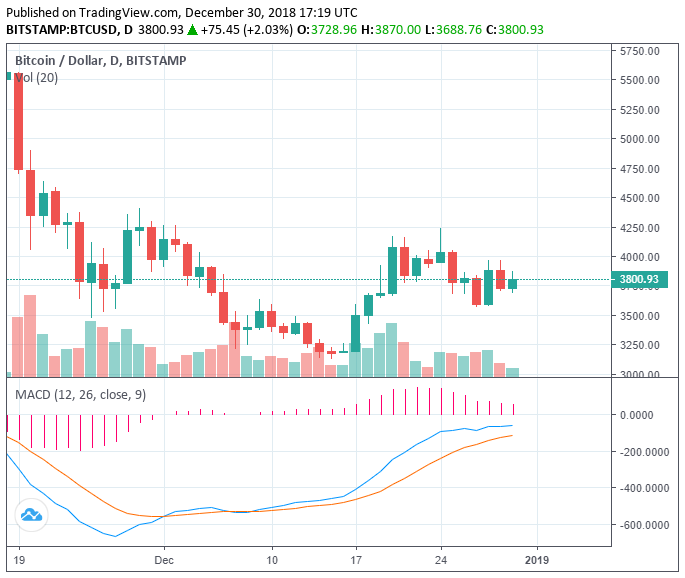 Source: Trading View
The JPY month-on-month decline is quite important, given the currency's performance in December 2018. According to a Coinhills report, JPY surged ahead of USD in BTC-to fiat volume, holding 48.34 percent of the market to USD's 43.77 percent share.
It should be noted that the USD slump against the Yen was due to the American government shutdown that lasted till January 2019. During this period, the USD-JPY trading pair fell to its lowest point in eight months. Over the four months of 2019, the USD has been making strong gains. However, the same has stalled owing to the recent trade war with China.
---
Source
---
Back to the list
Similar news