Back to the list
DODO and Serum (SRM) Technical Analysis: What's Next?
cryptoknowmics.com
17 August 2021 13:28, UTC
Reading time: ~2 m
---
DODO and Serum bulls are firm. SRM/USDT buyers are angling for $12.5, while DODO/USDT looks likely to reach $2.5 in the short term.
DODO
The DEX uses a PMM pricing mechanism and incorporates oracles resulting in better stability. DODO is the protocol's native currency.
Past Performance of DODO
The price is ripping higher, buoyed by increasing trading volumes and confidence in crypto markets.
Specifically, crypto prices are bottoming up, surging past July 2021 highs in a comprehensive and confirmed bullish breakout pattern.
DODO is up 22 percent against the USD at the time of writing, equally outperforming the greenback.
Day-Ahead and What to Expect
From the technical analysis in the daily chart, buyers are in control.
Accordingly, every pullback could be a loading opportunity for aggressive DODO traders targeting April 2021 lows of $2.5.
At this pace, DODO token buyers would have reversed losses of mid-May 2021, signaling a shift in fortune for holders who endured torrid price action through June and July 2021.
DODO/USDT Technical Analysis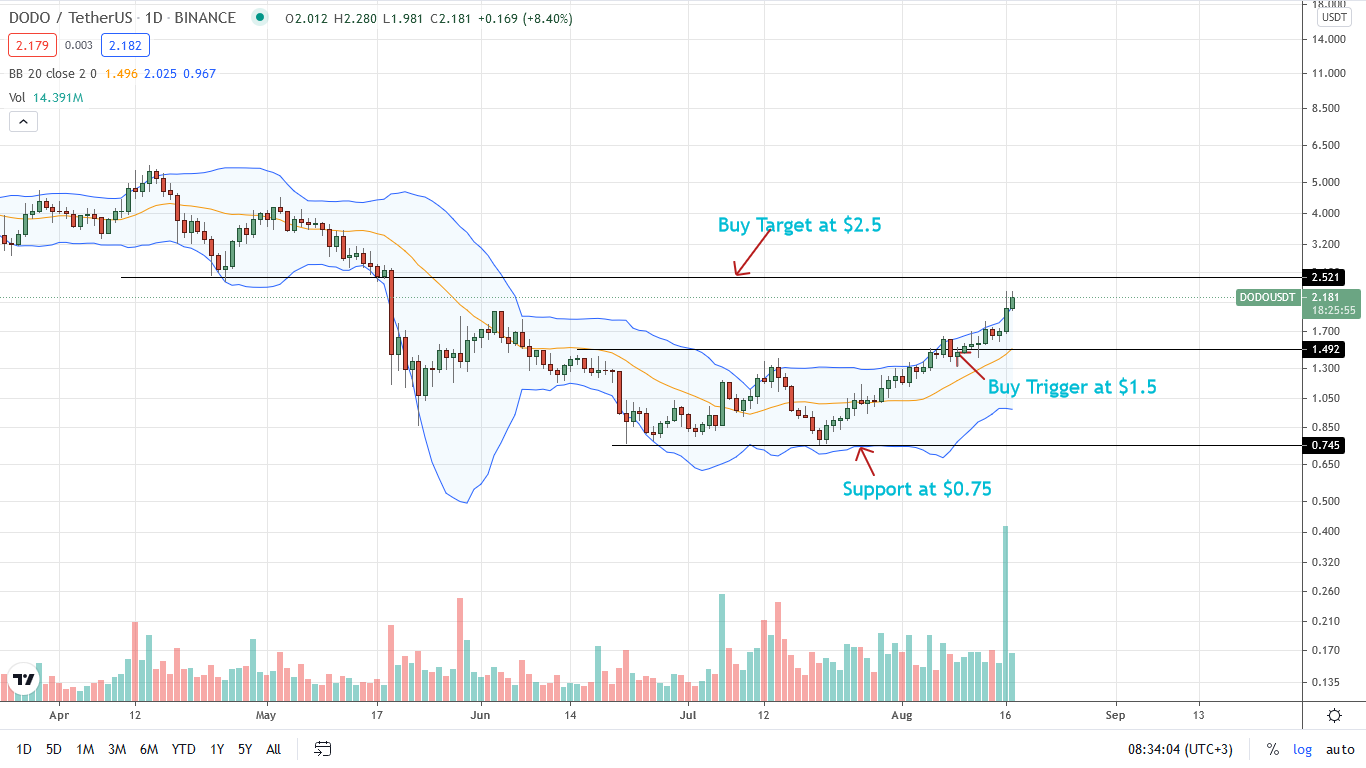 DODO is trading in a bullish breakout pattern, as aforementioned.
Technically, every low may offer a buying opportunity provided DODO token prices trend above $1.5—July 2021 highs.
At present arrangement, the immediate reaction point lies at $2.5—a key resistance level marking May 19 highs and flashing with April 2021 lows.
Serum (SRM)
Sam Bankman-Fried of the FTX exchange is the co-founder of DEX running on Solana. It utilizes the latter's speed to offer low transaction fees and high scalability using the in-house SRM token.
Past Performance of SRM
It has been a definite march for SRM bulls reading from Serum technical analysis in the daily chart.
Overly, SRM token gains have been near perpendicular, an indication of underlying solid momentum.
SRM is steady percent on the last trading day, slowing down after sharp gains on August 16.
Day-Ahead and What to Expect
SRM technical analysis reveals that Serum token bulls eased past July 2021 highs in a buy breakout.
At present, bars are banding along the upper BB, suggesting further strong momentum.
Serum bulls will be in charge as long as prices trend above $4.
The immediate target would be $12.5.
SRM/USDT Technical Analysis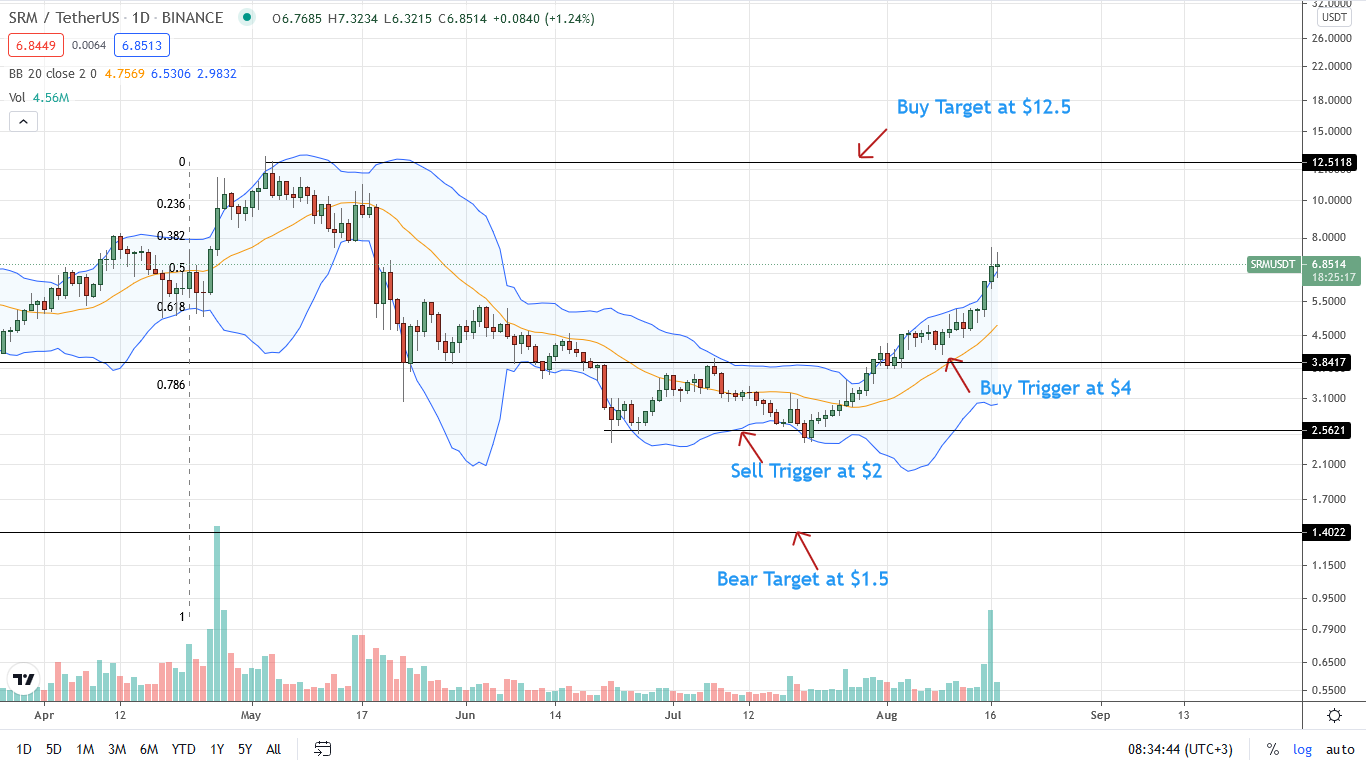 SRM buyers are firmly in charge, reading from stellar gains on the last day. As Serum bulls are rampant, every low could provide entries for SRM/USDT traders targeting $12.5 — May 2021 highs.
A sharp retracement below $5 and the middle BB may slow down the uptrend.
---
Source
---
Back to the list