Back to the list
ALGO Technical Analysis: Expect Price to Take Immediate Support at $0.81
cryptoknowmics.com
10 August 2021 09:40, UTC
Reading time: ~2 m
---
Algorand is a decentralized, blockchain-based, self-sustaining network that supports a wide range of applications. System security, scalability, and efficiency are essential features for real-world applications. Using Algorand, you can create new forms of trust based on computations that need reliable performance guarantees. Let us look at the technical analysis of ALGO.
Past Performance
On the 31st of July, the trade for ALGO opened at $0.8532 and on the 8th of August, it closed at $0.8254. During this week, the ALGO price decreased by 2.45% (approx). In the last 24 hours, ALGO traded between $0.80-$0.87.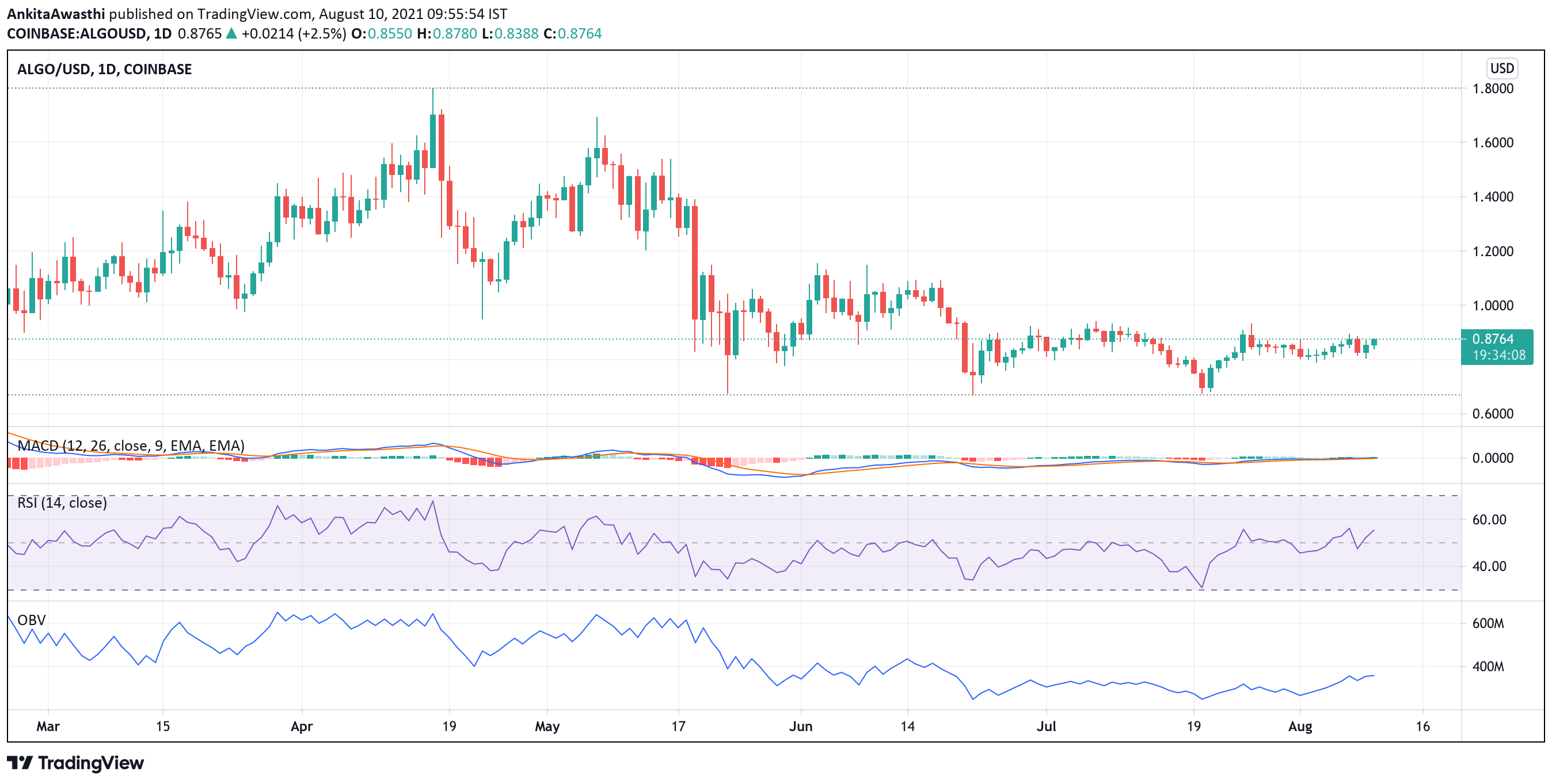 https://www.tradingview.com/x/dt1QY0xJ/
ALGO Technical Analysis
Currently, the RSI is at 55.29%. It took support at 47.46% and rose to this level, suggesting that the buying pressure has increased on this horizon. Also, it indicates that the price will rise for the rest of the day.
On the daily chart, MACD is all set to enter the positive zone. Moreover, with a bullish crossover. Therefore, the price is expected to rise for the rest of the day and tomorrow as well. Since it is a lagging indicator, any price fluctuation can bring in a trend reversal.
On the daily chart, the OBV is slowly and steadily pushing upwards. Thus, indicating that the buying volumes are slowly increasing in the market and over-powering the selling volumes.
The current trading price is below the FIB pivot level of $0.94. If the ALGO takes on a bullish trend, the price will test the immediate resistance level at $0.86. If the price breaks out of the level, it will highlight the next resistance, which is at $0.89.
However, if the price falls below, we can expect the price to take immediate support at $0.81. Post breaking this level, it can test the level of $0.78. Thus, traders can scalp in between these ranges.
Day-Ahead and Tomorrow
In the last 24 hours, the price has risen 6.47%. The indicators suggest that there is forthcoming bullish momentum in the market. The traders shall brace themselves for price fluctuations.
If the buying pressure continues, we could expect a bullish trend for tomorrow.
---
Source
---
Back to the list