Back to the list
DASH Technical Analysis: Resistance Level of $176 Yet to Be Tested
cryptoknowmics.com
10 August 2021 07:56, UTC
Reading time: ~2 m
---
Dash is an open-source blockchain and cryptocurrency that focuses on providing a fast, cheap and decentralized global payment network. According to the project's white paper, Dash aims to improve Bitcoin (BTC) by providing greater privacy and faster transactions. Let us look at the technical analysis of DASH.
Past Performance
On the 31st of July, the trade for DASH opened at $165.33 and on the 8th of August, it closed at $161.66. During this week, a decrease of 2.21% in the trading price of DASH was witnessed. In the last 24 hours, DASH traded between $156.99-$174.77.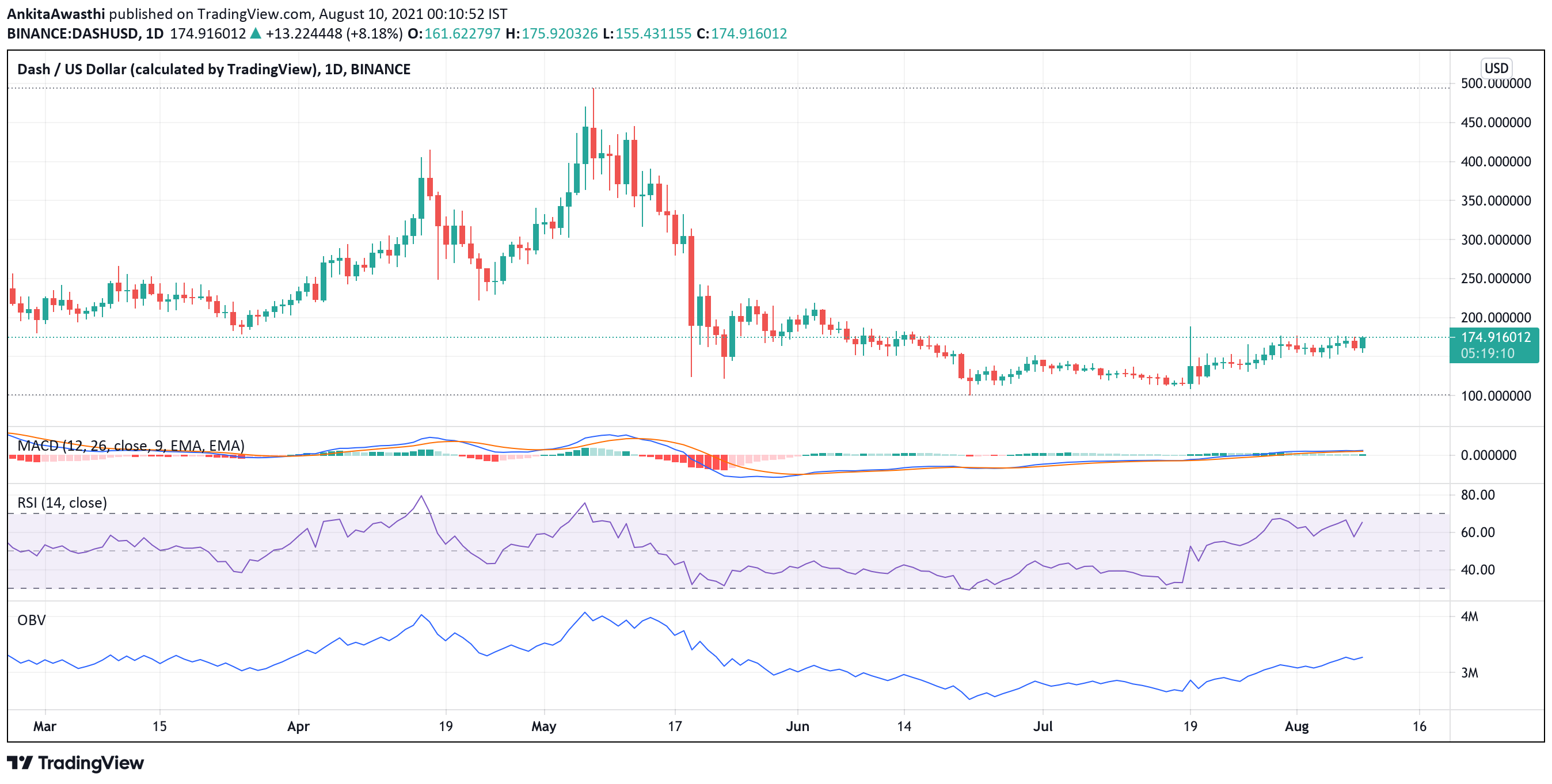 https://www.tradingview.com/x/zTaeyAbI/
DASH Technical Analysis
Currently, the RSI is at 63.85%. The buying pressures are high on this horizon. Also, the RSI had faced rejection at 67.07%, indicating a bearish divergence. We might expect the price to fall for the rest of the day.
MACD and EMA lines are above the zero range. Suggesting that the market is positive. We can expect a crossover of MACD and EMA, which may suggest that the selling pressure might overtake the buying pressure.
OBV is gradually rising on the daily chart, suggesting a net buying volume is increasing.
The current trading price is below the pivot point. The resistance level is at $169.29, suggesting there is some time for the price to test. If it breaks out of the resistance level, it will highlight the next resistance level, which is at $176.
On the other hand, if it falls below, it will try to take support at $159.7378, $156.78, and $152.00, respectively.
Day-Ahead and Tomorrow
In the last 24 hours, there has been an upsurge of 10.27% in the price. Though the indicators suggest more of a neutral market. The traders shall brace themselves for price fluctuations and shall wait to watch the market momentum.
We would expect the price to be in a range bound, for the first half of tomorrow as well.
---
Source
---
Back to the list