The price of XRP has jumped by 20% in 24 hours, reaching $0.512129 as of writing. This represents a surge of 56% in a week, as positive developments in the legal battle between Ripple and the SEC indicate that the case could be settled sooner rather later.
What's most promising for investors is that the rise of the past day is mostly XRP making up for lost ground, with the market downturn of the past week meaning that the altcoin is still down by 48% in the past 12 months. It's also down by 85% since its current all-time high of $3.40, set back in January 2018.
However, what this difference means is that, should the Ripple-SEC case end anytime soon (and end favorably for Ripple), XRP could see itself close in on this previous high.
Why XRP Price is Pumping
From a seven-day low of $0.324245 a week ago, XRP now stands at $0.512129, making for a 58% appreciation since last Friday's dip. On the other hand, it reached a four-month high of $0.552859 a few hours ago, meaning that it has climbed down by around 7% since this earlier peak.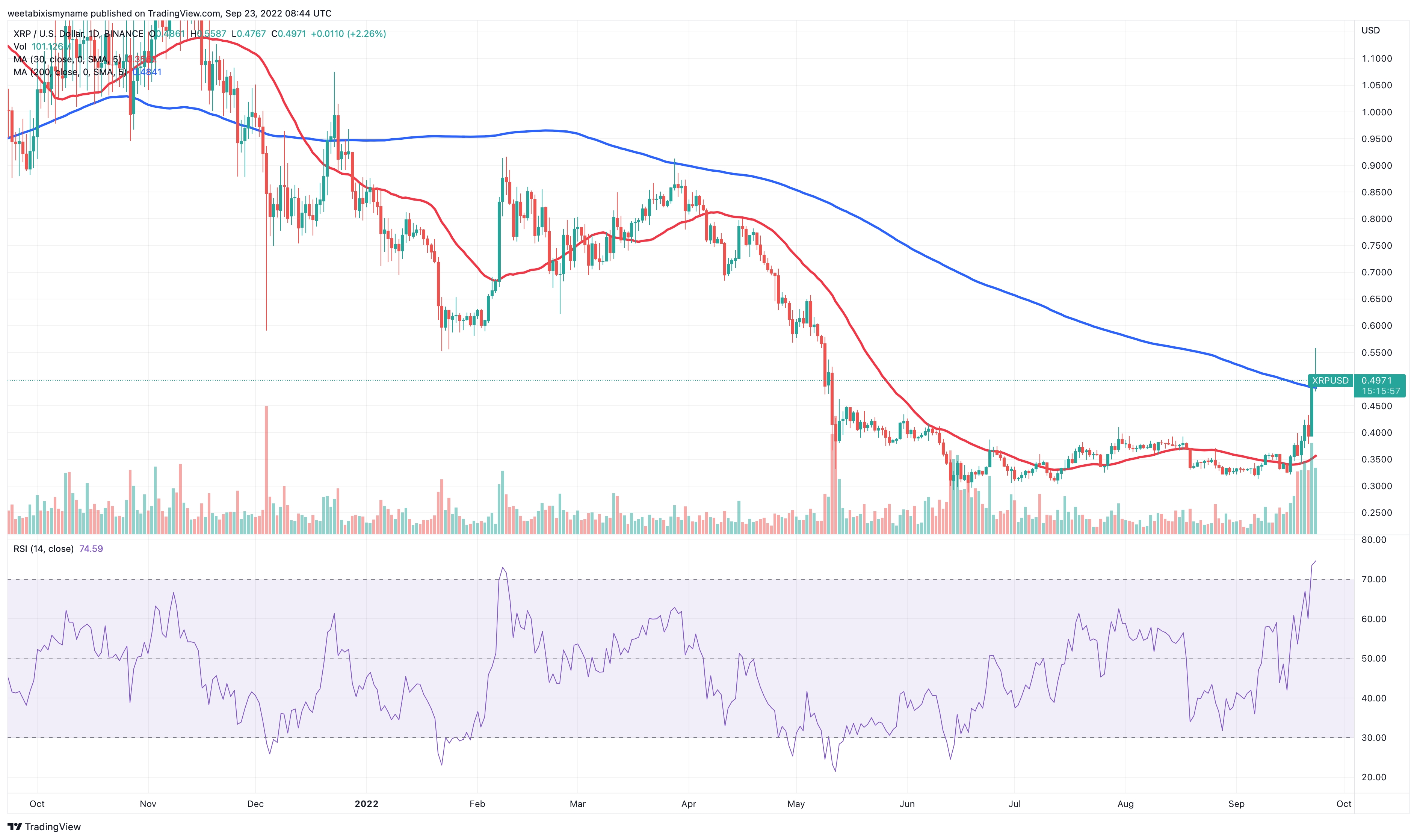 XRP's indicators suggest some very strong momentum right now. Its relative strength index (in purple above) has passed 70, and despite a slight dip this morning, remains close to 75. 
At the same time, XRP's 30-day moving average (red) has turned upwards and looks set to overtake its 200-day average (blue). Such an eventuality could signal a breakout rally, in which XRP potentially returns to levels seen last year, in the $1 to $1.30.
There's a fairly simple reason why the price of XRP is pumping right now, which is that the Ripple-SEC case has witnessed some developments in the past few days which suggest it could be coming to a positive close.
In particular, Ripple has sought a summary judgment from the presiding New York court that would, if accepted, bring the case to a close. And legal opinion suggests that Ripple has a good chance of obtaining such a judgment, which would likely fall in its favor.
How High Can XRP Rise?
While this latest development is perhaps the most bullish thing to happen for XRP during the Ripple-SEC case, there have been other rulings and events over the past year or so which have also strengthened the bull case for the altcoin.
For example, in January of this year Ripple won access to SEC emails and documents concerning an important 2018 speech in which its former chairman Bill Hinman declared that ETH and BTC weren't securities. Such documentation likely indicates that the SEC itself wasn't clear on whether XRP was a security.
Likewise, an April judgment saw the presiding court rule that the SEC could not withhold the aforementioned documents under a deliberative process privilege (DPP) ruling. Again, this was another bad development for the SEC.
More generally, commentators have noted that the SEC did not provide Ripple with fair warning that XRP would likely be considered a security. And given the evidence supporting this claim, there's a very good chance the court will agree.
This all points to a very positive outcome for XRP. In terms of where its price could lead following a positive judgment, there's an extremely strong probability that it will pass $1 again.
As for bigger gains, these should come sooner or later, especially when XRP was one of the few coins not to break its 2018 ATH during the 2020-21 bull market. However, the market currently finds itself in less positive circumstances, with high inflation and rising rates dampening sentiment, so it may be premature to expect XRP to break its four-year-old ATH in the immediate aftermath of the case ending.