Back to the list
Bitcoin Crashes Towards $18K, Crypto Markets Shed $80 Billion Daily (Market Watch)
cryptopotato.com
19 September 2022 09:10, UTC
Reading time: ~2 m
---
The price of bitcoin took another turn for the worse in the past 24 hours, dumping towards a multi-month low of $18,400.
The alternative coins are in even worse shape, with substantial double-digit losses coming from Ethereum, Ripple, Cardano, Polkadot, and more.
Bitcoin Heads Towards $18K
It was just over a week ago when the primary cryptocurrency was riding high, nearing $23,000. This was a multi-week peak of its own, but the asset failed to remain there for long.
As the US CPI numbers came out, BTC nosedived to $20,000. A day later, it was already suffering beneath that coveted line.
The weekend came with a bit of calmness and positivity at one point, as bitcoin tapped $20,000 on Sunday. However, the landscape changed in the past 12 hours.
BTC started dumping once more, first to below $19,000 and later to its lowest price position in three months – at $18,400. As such, its market cap has slid to $350 billion, and its dominance over the altcoins sits at just over 39%.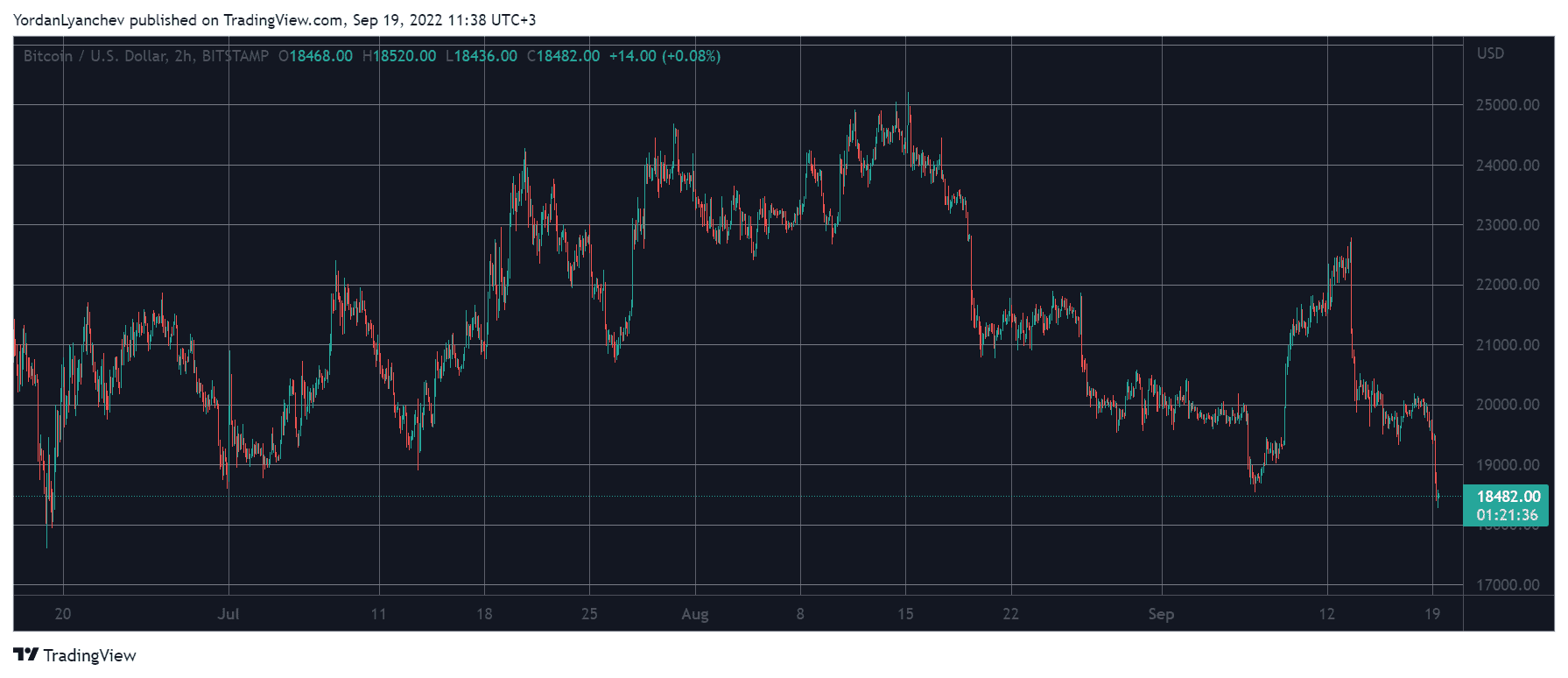 Altcoins Covered in Red
The alternative coins also charted some gains yesterday, but the situation with them now is even worse.
Ethereum is among the poorest performers, in contrast to what many expected after the Merge. The asset stood at $1,600 on Thursday when the migration from PoW to PoS was completed but plummeted to $1,500 hours later.
As of now, it struggles to remain above $1,300 after another 10% daily decline. ETH is down by more than $300 since the Merge took place.
The rest of the larger-cap alts are in pain, too. Binance Coin and Tron seem to be taking this retracement less violently, with drops of "just" 6.5% and 5%, respectively.
However, Ripple, Cardano, Polkadot, Shiba Inu, Polygon, Avalanche, and Uniswap have all dumped by double-digits on a daily scale.
With the lower- and mid-cap alts in a similar situation, it's no wonder that the overall crypto market cap has declined by almost $80 billion in a day. The metric is close to breaking below $900 billion for the first time in months.

---
---
Source
---
Back to the list