Back to the list
APECoin Price Analysis: APE Price is Going to See Bearish Weekend, Wait For Trend Reversal 
www.thecoinrepublic.com
18 September 2022 00:15, UTC
Reading time: ~2 m
---
APECoin price is moving towards the $4.1-support zone.
APE price is moving below the Parabolic SAR indicator on the daily price scale.
APE's market cap declined by $307.7 million from $1.73 billion in the past seven days.
APECoin's price traded lower from its 45-day high of $7.8. The price of the pair is attracting a high-low formation in the context of the daily price scale. Buyers also try to deposit APEcoin above the bullish trendline (bottom of the chart).
August was a bad month for APE investors; They lost more than about 40%. This month looks like a lot of ups and downs. Meanwhile, the APE token is trading at the $4.75 mark against the USDT pair as of press time. Moreover, the bitcoin pair corresponding to the bitcoin pair is down 1.2% at 0.0002392 satoshis.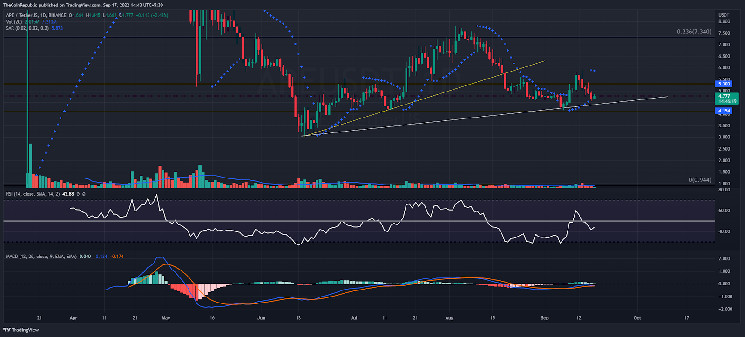 Source: APE/USDT by Tradingview 
The bears have registered a 15% decline in the APE price so far this week in the last five trading sessions. Later, buyers try to reverse the daily price scale to green with a gain of 2.27%. Thus, the market cap was recorded at $1.46 billion. However, APE's market cap declined by $307.7 million from $1.73 billion in the past seven days.
In the context of the daily price chart, the Parabolic SAR indicator started a move above the current price of the APE token. Now bears have low space pull asset price down to previous swing low. And trading volume is down 14% in the last 24 hours.
The RSI index dropped below the halfway point due to continued decline. Similarly, the MACD indicator remains below the neutral zone in terms of the price chart.
Conclusion
APECoin is approaching the support level, buyers may see a rally near the further support level. Traditional indicators like RSI and MACD are showing a downside for the altcoin price.
Support level- $4.2 and $1.0
Resistance level- $8.0 and $10
Disclaimer 
The views and opinions stated by the author, or any people named in this article, are for informational ideas only, and they do not establish financial, investment, or other advice. Investing in or trading crypto assets comes with a risk of financial loss.
---
Source
---
Back to the list